This air fryer broccoli recipe with parmesan is the best side dish or snack ever! It is easy to make and will be your favorite go to snack in no time! Not only does it come together in 5 minutes but it is a great way to get in those extra veggies!
As soon as I received my Ninja air fryer (this post is NOT sponsored) I knew I was going to go wild with it! From savory to sweet, I was as excited as can be to start air frying!
So today I wanted to bring you an eas-tu and delicious side dish or on the go snack for when you are tying to be healthier! Or just are craving some veggies!
More recipe you will love!
5 minute air fryer donuts – This is my other air fryer recipe that I posted on my blog, check it out if you want something quick and easy!
Pesto avocado pasta sauce- This is my 15 minute, as easy as can be dinner recipe. It literally takes 15minute to come together and will satisfy anyone that gets to try it.
What's so special about this air fryer broccoli?
This is my absolute go to snack when I have broccoli in the house! It is such an easy little snack that allows you to consume a whole lot more veggies… and when was it ever bad to consume extra veggies!!
This technique allows me to get in my daily dose of vegetables while still being super enjoyable. Another plus of this recipe is that it fits into so many diets. Whether it be KETO, Paleo, Whole 30, vegetarian, or low carb/Atkins!!
So next time you are looking for a healthy snack recipe that fits your specific diet, make these delicious air fried broccoli florets 🙂 .
More recipe you will love!
Ingredients for this air fryer broccoli snack
For this recipe you will need:
Broccoli- This is the base of this recipe!
olive oil– Make sure to use olive oil and not cooking spray. Cooking spray ruins your air fryer.
Red pepper flakes– If you are not a fan of red pepper flakes, feel free to omit!
salt- Salt to taste
fresh parmesan- I like using fresh parmesan because it taste 1000% times better than the stuff you put on pizza. If you can't get your hands on any fresh parmesan, you can also use the grated already packages parmesan cheese. It will be a bit different, but hey at least you are getting your veggies in!
Can I make broccoli in air fryer vegan ?
Absolutely!
This would be a great vegan option! Take the parmesan off and use vegan cheese instead for something equally as delicious!
My favorite air fryers
Ninja Air Fryer 1550 Watt– This is the exact same air fryer that I have. I have been using it for my veggies, meats, and even some desserts!
COSORI air fryer XL- This is THE air fryer you need if you want to make larger batches. Most air fryers tend to me on the smaller size but this one is a 5.8 quart and has 1700-watt, so a lot more powerful too!
How to make this healthy air fryer parmesan broccoli snack?
Scroll all the way down for a full ingredients list and printable recipe!
First you will need to prepare the broccoli, wash and trip the florets off the bunch. For this recipe I only e used the broccoli florets but feel free to use the stems as well. Just make sure to chop them up into bite sized pieces.
Now, add the broccoli to a bowl, add the olive oil, salt, pepper flakes, and toss using a rubber spatula.
Once everything is well coated, place the broccoli florets in the air fryer basket. Sprinkle one tablespoon of the grated parmesan cheese on top and and air fry for 3-5 minutes.
You can serve it as is or add a little more cheese on top!
Is air fryer broccoli healthy?
Absolutely!!! Air fried broccoli is amazing for you, not only does it use less oil than your regular oven roasting technique but it helps crisp up the broccoli even faster!
What is the nutritional value of broccoli?
One cup of broccoli contains about 31 calories, 0.3 grams of fat, 6 grams of carbohydrates, and 2.6 grams of protein. it also contains quite a lot of folate, manganese, potassium, phosphorus and vitamin C and K.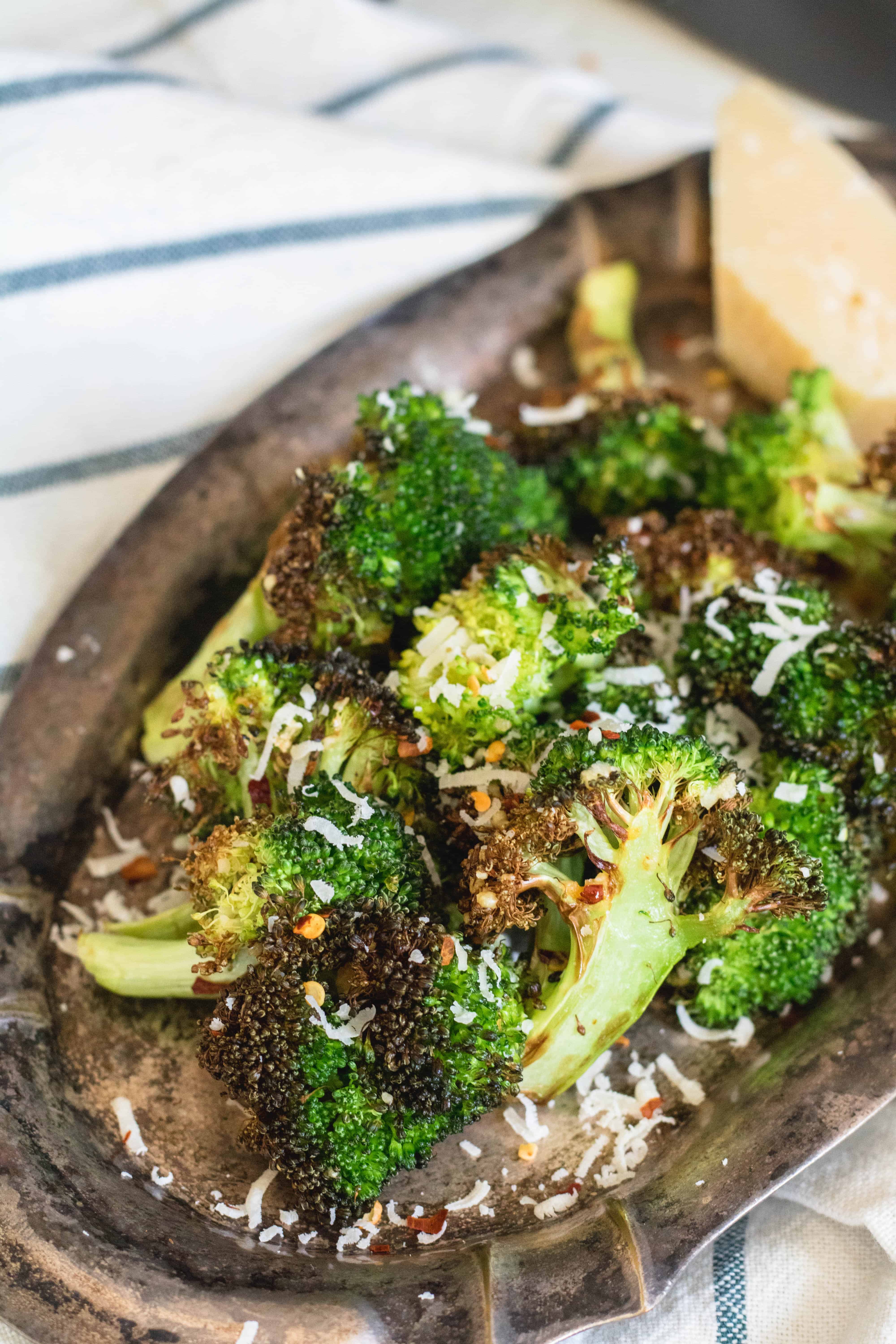 Can I double this air fryer roasted broccoli recipe?
Yes! You can definitely double or triple this recipe. Just keep in mind that the air fryer basket might not hold everything all at once.
So if you decide to make a bigger batch, you might need to cook it in multiple different batches.
IF YOU MADE SOMETHING FROM LIFESTYLEOFAFOODIE, I WOULD LOVE TO SEE ALL YOUR CREATIONS AND KNOW HOW EVERYTHING TURNED OUT! SO DON'T FORGET TO LEAVE A COMMENT BELOW AND FOLLOW ALONG WITH ME ON INSTAGRAM, PINTEREST, AND FACEBOOK.

Air fryer broccoli with parmesan
Air fryer parmesan broccoli
This air fryer broccoli recipe is the best snack or side dish. It is healthy and has a whole lot lower calories than any other fried veggies!
Ingredients
2

cups

broccoli florets

1

tbsp

olive oil

a sprinkle of salt

add more to suit your taste

1/4-1/8

tsp

red pepper flakes

depending on taste

2

tbsp

freshly grated parmesan cheese
Instructions
Start by preheating the air fryer to 360F.

Add the broccoli to a medium bowl and pour in the olive oil. Add the pinch of salt, the red pepper flakes and stir using a rubber spatula.

Once everything is well coated, place the broccoli florets in the air fryer basket. Sprinkle one tablespoon of the grated parmesan cheese on top and and air fry for 3-5 minutes.

You can serve it as is or add a little more cheese on top!
Shop this recipe
This post may contain affiliate posts, meaning that at no cost to you I will get a small percentage of every purchase you make!

If you enjoyed this air fryer parmesan broccoli