This easy recipe for pie crust article will teach you exactly how to make homemade flaky buttery pie crust every-time! I will also be showing you how to make a fluted pie rim as well as how to blind bake or pre-bake your pie crust!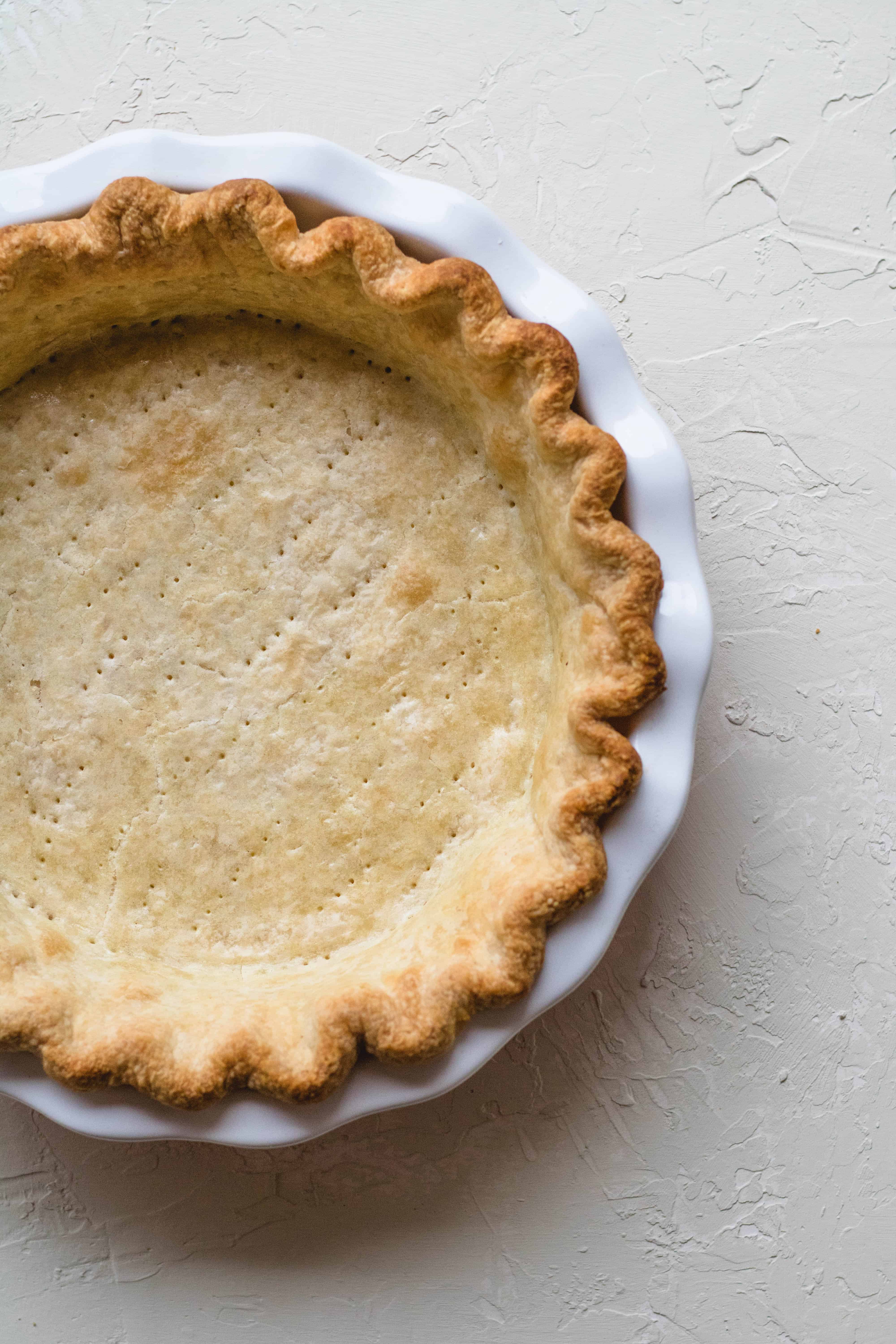 Hello friends!
The thanksgiving and black Friday craziness is finally over!! Yay! So that means I get to come back and post more amazing articles and recipes for you guys.
This how to article might be a little off timing wise since thanksgiving has just passed. But I would like to think that you guys enjoy pie for Christmas as well!
I made this homemade pie crust recipe for thanksgiving a couple of days ago and absolutely everyone loved it! Three people asked for the recipe and now I decided to share it with you guys too!
It worked amazingly when I added my cranberry curd and baked it for an additional 30 minutes. Topped it with a fresh swiss meringue and that did the trick!
It was the STAR of the thanksgiving meal… and trust me there was quite a lot of food.
How did this homemade pie crust come about?
Well… I wanted to experiment in the kitchen a bit so I decided to make something I've never made before. I did not create the al butter flaky homemade pie crust though even though I wish I did haha!
I've always made homemade tart crusts and multiple other types of crusts but I have never made a homemade American butter pie crust. To me it was always so heavy until I tried to make it myself!
Trust me store bough pie crust does not compare when it comes to this recipe. The best part is that It is literally the easiest thing to make… Like ever!
Ingredients for this easy recipe for homemade pie crust
Like I said before, this is an extremely easy homemade buttery flaky pie crust. So that means that you will most likely have the ingredients at home already! Here is what you will need:
Flour– For this recipe you will need all purpose flour, this is a flour that pretty much all of us have in our pantries so it's a win win! Make sure to measure out the flour correctly, to do so , you will want to use the spoon and level method. This is where you spoon your flour into the measuring cup and then level it off to have the exact flour measurement.
Salt and Sugar– Since this pie does not contain too many ingredients, the salt and sugar will add more depth of flavor. If you are making this pie crust for a savory pie, you can omit the sugar but make sure that you are still adding in the salt for that extra depth of flavor!
Butter- Many homemade pie recipes out there have a combination of butter, oils, and shortening, but for this recipe we ill be using just butter. It will make the crust a lot more flaky and will give it a better flavor. You will need to make sure that your butter is extremely cold before adding it to the flour mixture. Doing so allows us the tiny bits of fat in the pie crust to melt as the pie is baking and create little air pockets which makes the pie flaky! It's pretty much the same concept as puff pastry and croissants.
Ice water– This is another ingredient that will need to be ice cold. If you use water that is not cold enough the butter will melt in the crust and we would love all those beautiful flaky layers in the final product. So you will need to get a cup of something to put your water in and add some ice cubes to make the water extra cold. When you are ready to add in the water to the pie crust, use a table spoon to measure out how much you need, adding it one tablespoon at a time.
Recipes you will love!
Equipment to make this easy recipe for pie crust
Ok, the ingredients sound too good and easy, what do I really need to make this easy homemade pie crust…
Honestly, this recipe is a breeze. You will have yourself a nice slice of pie in no time because I got you!
To make this flaky pie crust you will need either a stand mixer, I like this kitchen aid. If you do not have a stand mixer, you could use a food processor. If you do noy have that either, you could do it by hand using a dough blender to incorporate the butter in with the flour .
See! I told you there are so many ways to make this. No matter what you have or don't have you will be able to make this recipe.
How to make homemade pie crust?
To make this simple buttery homemade pie crust, start by combining the flour, salt, and sugar together. You will then want to add the cubed cold butter into the flour and mix with a paddle attachment if using a stand mixer. If you are using a food processor, pulsate it until you get pea sized pieces of fat.
If you don't have a food processor of a stand mixer, you could always make this by hand using a pastry cutter/dough blender.
After adding in the butter and incorporating that into the mix, start adding the ice cold water one tablespoon at a time and gently mixing the dough. This recipe will need between 4-7 tablespoons of water. You do not need to use the full amount, use only enough ice water for the dough to come together.
Once the dough comes together, gently pack it together into a ball. Cut the dough in half and shape it into two discs. Wrap each disc individually in plastic wrap and refrigerate it for at least 1 hour.
Once ready to roll the dough, pull it our of the fridge and place it on a lightly floured work surface. Flour your rolling pin as well to avoid the dough from sticking to it and start applying even pressure and gently rolling the dough from the center. Make sure to flour the top of the dough as needed to prevent the dough from sticking.
Roll the dough into a 1/8 inch thick circle large enough to cover the bottom and sides of a 9 inch deep dish pie plate. You will have a little overhand and enough dough to flute the edges. If you have too much over hang you could cute the excess leaving about 1-inch of over hang.
Fold the overhand under so that there is enough thickness to flute the edges and start fluting :)! Freeze the dough for another 30 minutes while your oven is preheating to 425F. Then add the parchment paper and the dry beans and bake for 15 minutes. Remove the pie weights and bake for another 10-15 minutes or until crust is golden brown.
How to flute pie crust?
Even though this sounds pretty intimidating, it isn't hard to do at all. To flute your pie crust rim, hold your thumb and index finger an inch apart on the outside edge of the crust. Then press between the two with your index finger of the other hand. If you have long nails and you can't do it this way. You can always use your knuckle instead of your index finger to make the beautiful fluted shape.
IF YOU MADE SOMETHING FROM LIFESTYLEOFAFOODIE, I WOULD LOVE TO SEE ALL YOUR CREATIONS AND KNOW HOW EVERYTHING TURNED OUT! SO DON'T FORGET TO LEAVE A COMMENT BELOW AND FOLLOW ALONG WITH ME ON INSTAGRAM, PINTEREST, AND FACEBOOK.


Homemade pie crust recipe
Easy homemade pie crust
This super easy and homemade pie crust is the best buttery and flaky crust for your pies!
Equipment
A food processor or a stand mixer

Pie weights or dry beans or rice
Ingredients
2

cups

flour

1/2

tsp

salt

2

tbsp

sugar

11

tbsp

chilled butter

5-7

tbsp

ice cold water

1

egg white

for brushing the dough
Instructions
In a mixer fitted with a paddle attachment, combine the flour, salt, and sugar on low speed for about 30 seconds. If using a food processor, do the same thing and pulse a couple of times to get the dry ingredients combined

Cut the chilled butter into smaller cubed, then add all the butter to the flour mixture and combine on low speed for 1-1 1/2 minutes, until the mixture looks crumbly, with bits of dough the size of peas.

Add 5 tablespoons of ice cold water , 1 tablespoon at a time, mixing on low speed for 10 seconds after each addition. After the last addition, the dough should start coming together in a ball. If it doesn't, continue mixing about 10 seconds longer. If it still dry and somewhat crumbly, add an additional 1 tablespoon of ice water.

Gently mold the dough into 2 equally sized disks, wrap in plastic wrap, and refrigerate for at least 1 hour of overnight.

After cooling your pie dough in the fridge for about an hour, unwrap it and transfer it to a lightly floured surface. Roll each pie crust into a 1/8-inch-thick circle large enough to cover the bottom and sides of a 9-inch deep dish pie plate.

Gently wrap your pie dough over the rolling pin and set it in the un-greased pie plate.

Set it in place and gently crimp the outside edges with your fingers. Prick the bottom of the pie dough using a fork. then freeze the crust again for 30 minutes before baking. While the pie crust is cooling, start preheating the oven to 425F.

Cover the pie dough with parchment paper and fill the crust with dried beans or rice before baking.

Bake the crust for 15 minutes then remove the parchment and weights. Place the crust back into the oven for 10-15 minutes or until the crust if golden brown.

Fill the pie crust with whatever mixture your pie recipe calls for and follow the recipe instructions! I made a delicious cranberry pie for thanksgiving using this pie crust recipe.
Tips to make the best homemade pie crust
When rolling your pie dough, gently pick it up periodically as you rolled it our and rotate it in place. Adding more flour if necessary. This will keep it from sticking to your work surface.
What can I use instead of pie weights?
I often see pie weights being sold at boutique or specialty stores for quite a large amount of money. But with this trick that I learned while doing my pastry internship you're about to save a whole lot of it! Here are some alternatives to using store bought pie weights:
Dry raw beans- I remember it like it was yesterday. We were making 100 pecan pie at the bakery last year, and each pie was topped with red kidney beans before blind baking. So that's what I usually go for. These beans won't be usable after you start using them for blind baking though!
Dry raw rice- Rice is the other option you can go with when needing pie weights. Contrary to the beans, you can use the rice once and then use it making pilaf recipes. It will be nice and toasted!
What happens if you do not use pie weights?
Well, when you pre-bake your empty pie crust or blind bake it should I say… The dough usually will puff up and rise in the center. By using the pie weights of the dry beans, you will not run into that issue.
Can you freeze unbaked pie crust?
Absolutely!!!
Pie crusts freeze very well. It will also make your life easier if you ever need to make a pie to take with you somewhere when you don't have time to make it from scratch!
What you can do to freeze this absolutely delicious and easy homemade pie crust is to either freeze it in discs. Sicne this recipe makes two discs, you could use one and freeze the other one.
The second option would be to press the pie dough into a pie pan, created the fluted edges, cover it tightly with plastic wrap and
Shop this recipe
If you enjoyed this Easy Recipe for Pie Crust article make sure to pin it for later!