This grilled peanut butter banana sandwich is life changing! They combine both insane texture and amazing flavors together to give you this unbelievable grilled sandwich!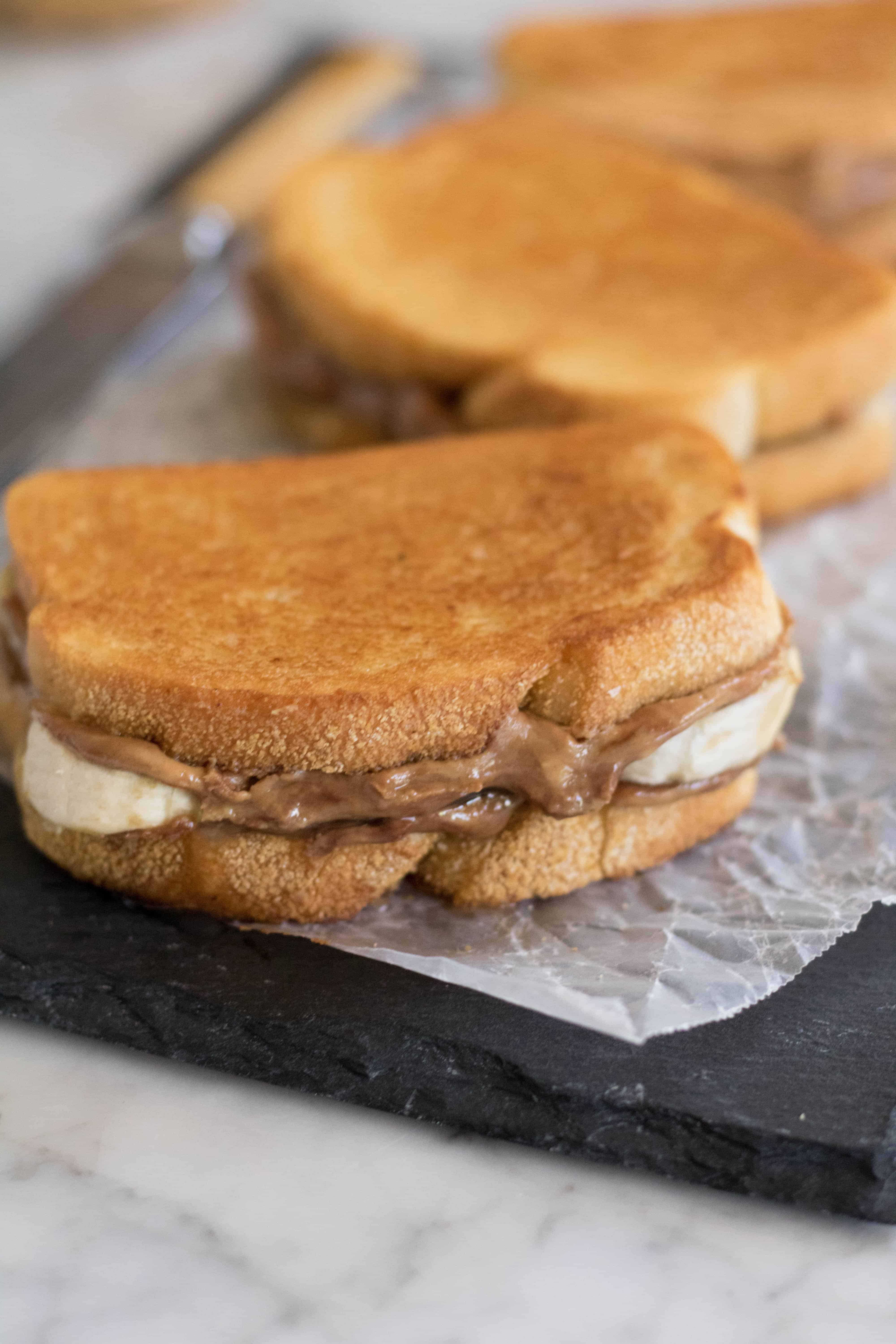 Hi everyone!
I have been having such a hard time this past week with life in general… I have been pretty sick for the past couple of years without knowing the reason. So this year I started going to literally every doctor to figure out what's wrong with my body and how can I fix it to start feeling better soon.
Unfortunately this misterious disease has wrecked havoc pretty much everywhere, my mouth/teeth included. So on monday I Went to the dentist to get filling for the cavities on one side of my mouth and have not been able to eat much ever since… Yay for weight loss but ughhh for recipe creations and giving you guys some UHHH-MAZING recipe to make over thanksgiving… *face palm*
But lucky me, I had a couple of recipe in my archives that I have been meaning to post at some point, the some point just never came until this week!
How did this Grilled peanut butter banana sandwich come about?!
I made this peanut butter banana sandwich around September I think, It was for a client that asked for some product photography as well as a couple of recipes using their peanut butter, which on a side note is FREAKING AMAZING…
I was supposed to make him 3 recipes with 4 photos each but ended up realizing there would be too many repeat photos so I gave 4 recipes with 3 photos each. So he ended up getting an awesome deal, plus this unbelievably delicious grilled banana sandwich! Like how can you be mad at that?!
So anyways, I had some leftover english muffin bread in the fridge so I thought I could make some sort of toast or sandwich with it for the last recipe I had to deliver. By the way if you have never had english muffin loaf slices, I urge you to find them and get them ASAP! I usually get mine at Smith's grocery store!
So I grabbed my bread and pretty fast ended up deciding that it was going to be a grilled cheese style sandwich! I spread the peanut butter on the bread added some bananas and toasted the whole thing. The flavor was out of this world and I just couldn't believe that as an ex fat kid I didn't think of making this before!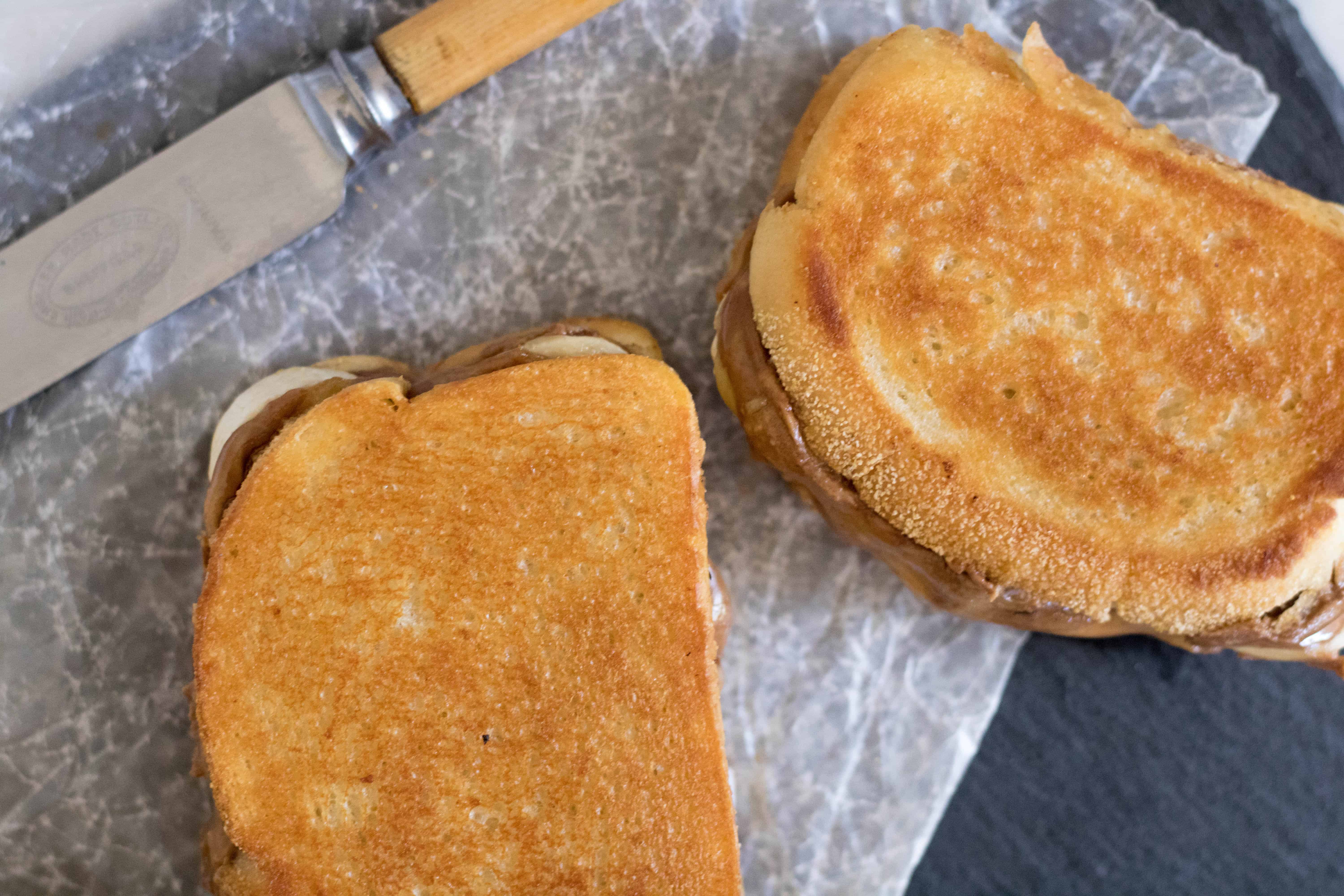 What ingredients do you need to make a grilled peanut butter banana sandwich?
When it comes to the ingredients for this sandwich, it is pretty simple!
Bread– Obvi… Any sandwich needs bread so get whichever bread you prefer or have at the house. I highly suggest getting an English muffin loaf! It had the perfect texture for this recipe and will crips up super nicely!
Banana– I chose banana because banana and PB might be one of the best combos ever but you can substitute it with raspberries, strawberries, or blueberries and still have something amazing to eat!
Peanut butter – For this recipe you can use any nut butter. I use the Fokken Nut cookie dough peanut butter, it is a little sweet and has chocolate chips in it. So if you'd like to make this sandwich as similar to mine without purchasing the peanut butter I have add some chocolate chips to your peanut butter before toasting!
Butter – the butter here is to spread on your toast before toasting it, so any butter would do. I usually prefer salted butter so give it that perfect balance between sweet and savory!
Tips and tricks to make this grilled sandwich
Honestly this is a grilled sandwich, I feel like making it is pretty common sense-y and super easy but some of the tips I'd like to giv eyou guys would be:
Be generous!

You're not having this sandwich every day for every meal, so treat yourself. Butter it well so the bread toasts nicely and add ample peanut butter so that you really feel like this is a treat.

Slice your bananas evenly!

You will want all your banana slices to be about the same size so that you sandwich sit evenly! We're aiming for perfection here my friends!

Keep an eye on your bread while toasting it!

You don't want this super easy recipe to turn into a burnt disaster so keep an eye on the bread when you're toasting it. Smell can also help when you're toasting these beauties. It should smell deliciously toasty and not burnt.
IF YOU MADE SOMETHING FROM LIFESTYLEOFAFOODIE, I WOULD LOVE TO SEE ALL YOUR CREATIONS AND KNOW HOW EVERYTHING TURNED OUT! SO DON'T FORGET TO LEAVE A COMMENT BELOW AND FOLLOW ALONG WITH ME ON INSTAGRAM, PINTEREST, AND FACEBOOK.


Grilled Peanut Butter Banana Sandwich Recipe
Grilled peanut butter banana sandwich
This Grilled banana and PB sandwich will satisfy all your cravings! From sweet to savory and from crunchy to smooth.
Ingredients
6

tablespoon

peanut butter

1

Banana

sliced

6

slices

thick bread

Butter

for spreading
Instructions
First, heat a medium skillet or griddle over medium heat, spread one tablespoon of peanut butter onto each slice of bread. Place the banana slices onto the peanut buttered side of one slice, top with the other slice and press together firmly.

Spread butter on the outer side of the bread slices and fry the sandwich until golden brown on each side. About 2 minutes per side.
Notes
This sandwich is highly customizable! You can use any of the nut butter you'd like and whatever fruit you prefer.
When should I have this PB and Banana Grilled Sandwich?
Well, there is specific time to have this really but I know that It really helps when you are PMSing really hard. It is sweet yet nutritious so It will help with those intense cravings for comfort foods!
This is also the perfect recipe for when you have a Hangover and don't feel like doing or eating anything. As per the wise words of the Hurry The Food Up bloggers, this recipe is absolutely worth it since it not only helps you get over your nasty hangover but is also super super easy to make!
I would not recommend having this recipe everyday, 3-times a day because it is still high in calories. But it works perfectly when made and enjoyed in moderation, or eaten as a pre or post workout!!!
Shop this recipe
This article may contain some affiliate links, meaning, at no additional cost to you, I will earn a commission if you click through and make a purchase.

If you loves this Grilled PB Banana Sandwich recipe, make sure to pin it for later!