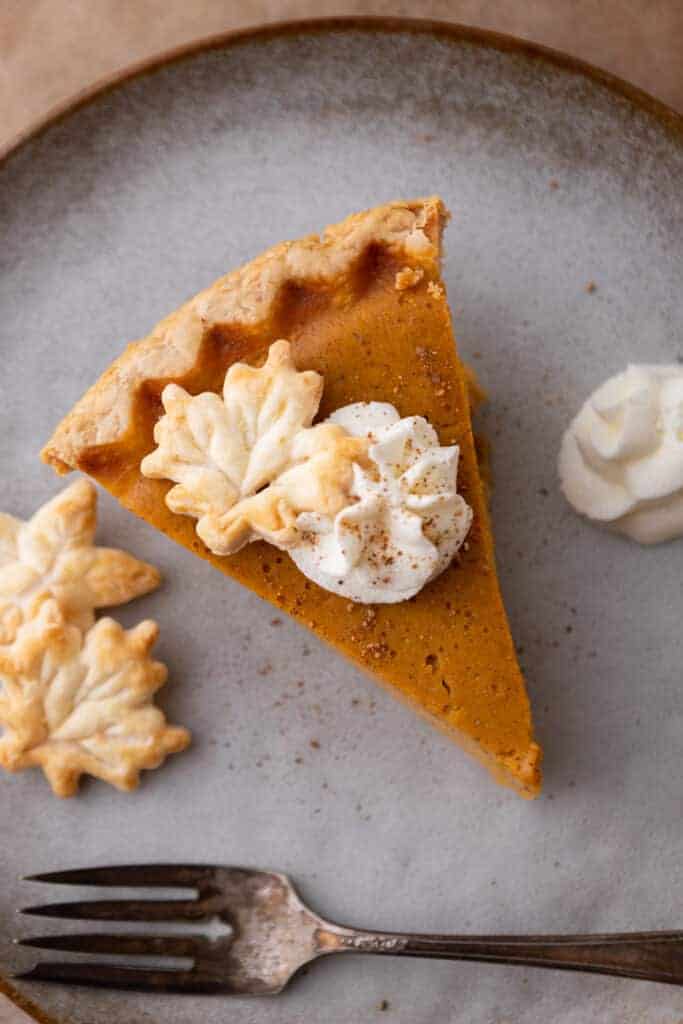 Are you tired of spending all day putting in the effort to make a beautiful pumpkin pie, just to be left without a single piece to take home for yourself? Or what if more people than what you had expected happened to show up at the holiday gathering, you'd rather over-prepare than under-prepare right? Rid yourself of your worries and give this recipe a try!
Pumpkin pie just has something special about it. As soon as the aroma and flavor hit your senses, you're immediately overcome with nostalgic joy and happiness. I know it's not just me. People everywhere, including myself, wait nine long months every year to be able to experience that child-like feeling that we get when we indulge in the flavors of pumpkin and holiday spices. Follow along with this perfect pumpkin pie recipe to find out how to get back to that state of euphoria you've been craving.
Why You Need To Make This Recipe For Two Pumpkin Pies
No offense to Libby's pumpkin pie recipe, but sometimes the traditional recipe isn't always the best recipe. Sometimes evolution takes its course, and sometimes rules are meant to be broken. This new recipe is an updated version of the classic pumpkin pie recipe we all love but with a modern touch.
This recipe is perfect for large gatherings and holiday parties!
It's great to bake with your kids or loved ones to make fun memories together.
This is hands down the best pumpkin pie recipe you'll ever come across!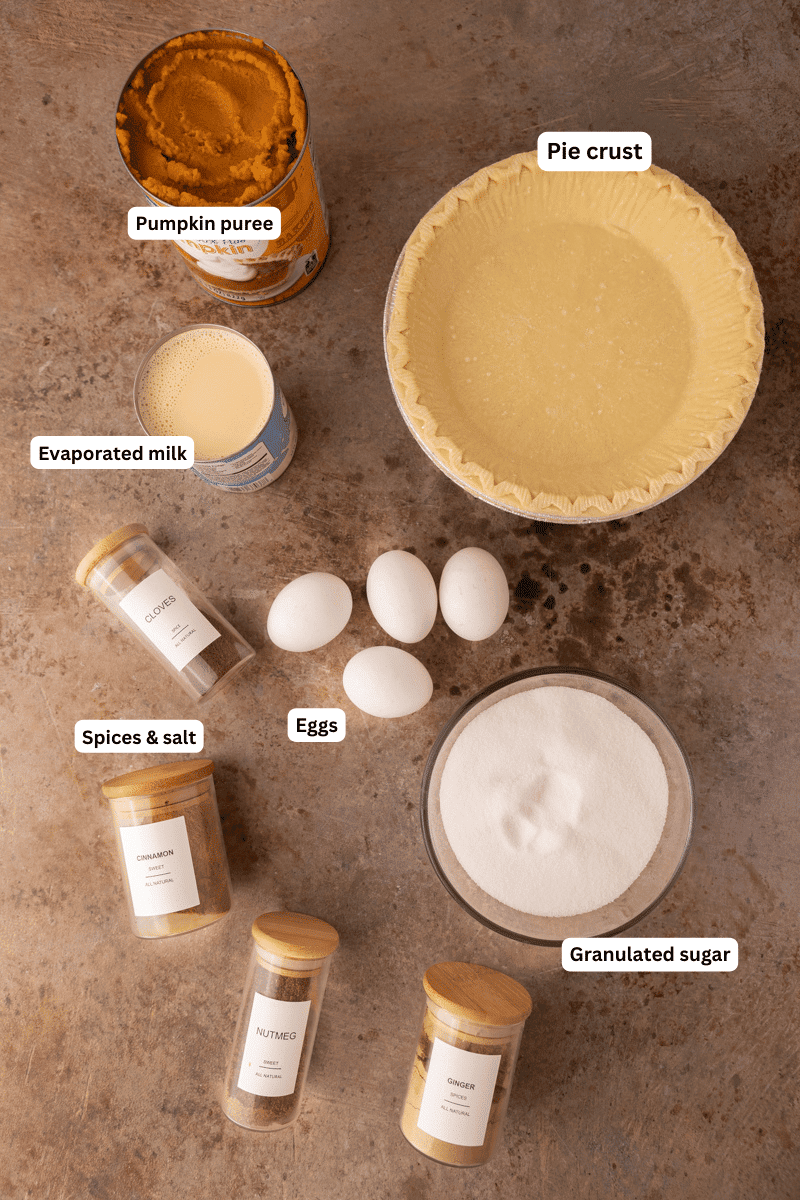 Ingredients For This Recipe For Two Pumpkin Pies
Scroll down to the recipe card at the bottom of the page for the detailed ingredient measurements.
Two 9-inch Deep-Dish Pie Crusts: You can use store-bought pie crust or homemade. For an easy recipe for homemade pie crust, click Here.
Canned Pumpkin Purée: Look for cans that are labeled "pure pumpkin", we don't want to go for the pumpkin pie filling since that is completely different and wouldn't work in this case.
Granulated White Sugar: You have to add sweetness to the pumpkin without altering the flavor so pure cane sugar is what we will use.
Ground Cinnamon: The main spice that is used to season the pumpkin pie filling. The sweet and spicy aroma of cinnamon will have your guests salivating as they're waiting for the pies to come out of the oven.
Ground Nutmeg: A classic pumpkin pie spice. You can use pre-ground powder or buy it in whole-seed form and shave it yourself for an even fresher flavor.
Ground Ginger: This root vegetable really accentuates the flavor of the pumpkin and brings it out even more.
Ground Cloves: Another renowned pumpkin pie spice that is always necessary in all holiday baked goods.
Salt: A very important ingredient. Some people don't know this, but it always helps to put a pinch of salt in all sweet dessert treats.
Eggs: Eggs combine with the canned pumpkin to create the body and texture of the pie filling.
Evaporated Milk: Evaporated milk gives the pie a lighter and more airy texture. This gives a more authentic feel.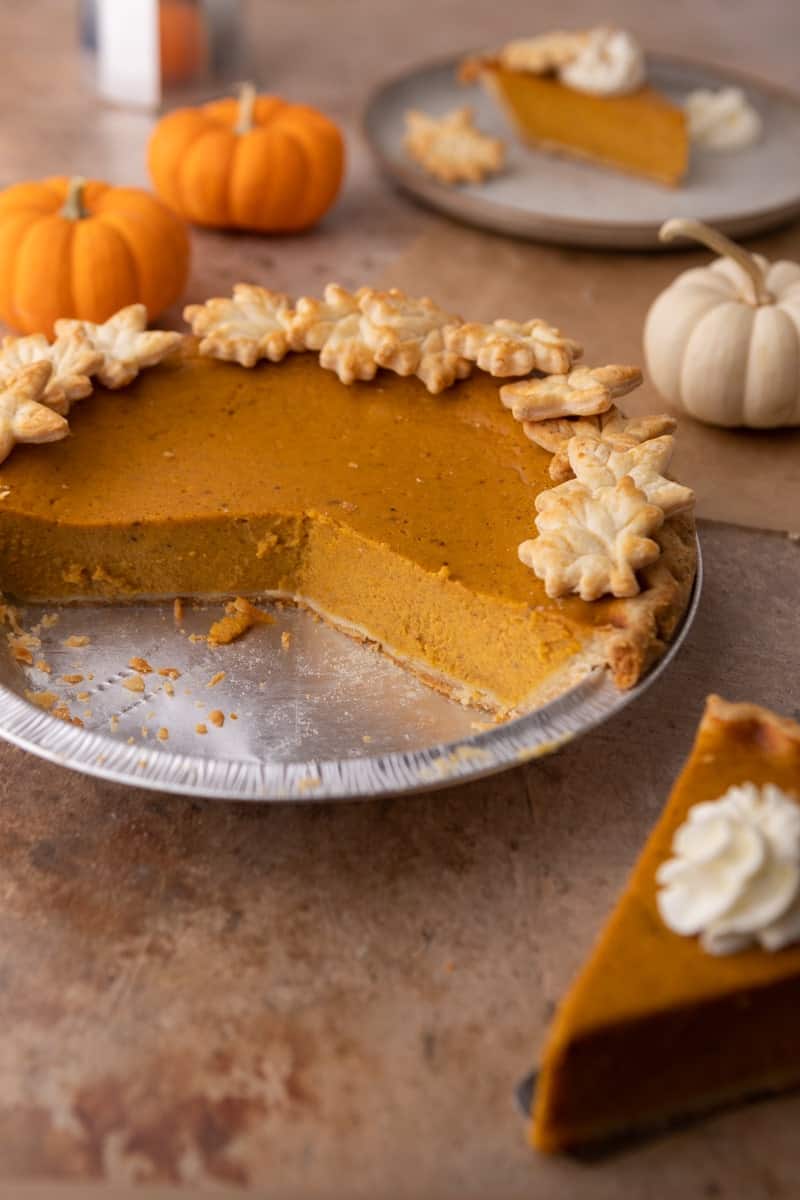 Utensils And Equipment You Need To Make This Recipe For Two Pumpkin Pies
Oven: You will need a conventional oven that can get hot and stay at a temperature for over an hour.
Large Bowl: A large mixing bowl is used to start the pumpkin pie filling.
Electric Mixer: An electric hand mixer can be helpful when it comes to combining the ingredients together.
Medium Bowl: A medium-size or even a small bowl is fine. You just need one big enough to hold the eggs as you beat them.
Wire Rack: A wire rack is used to cool the two pies. It allows more heat to escape than normal hot plates.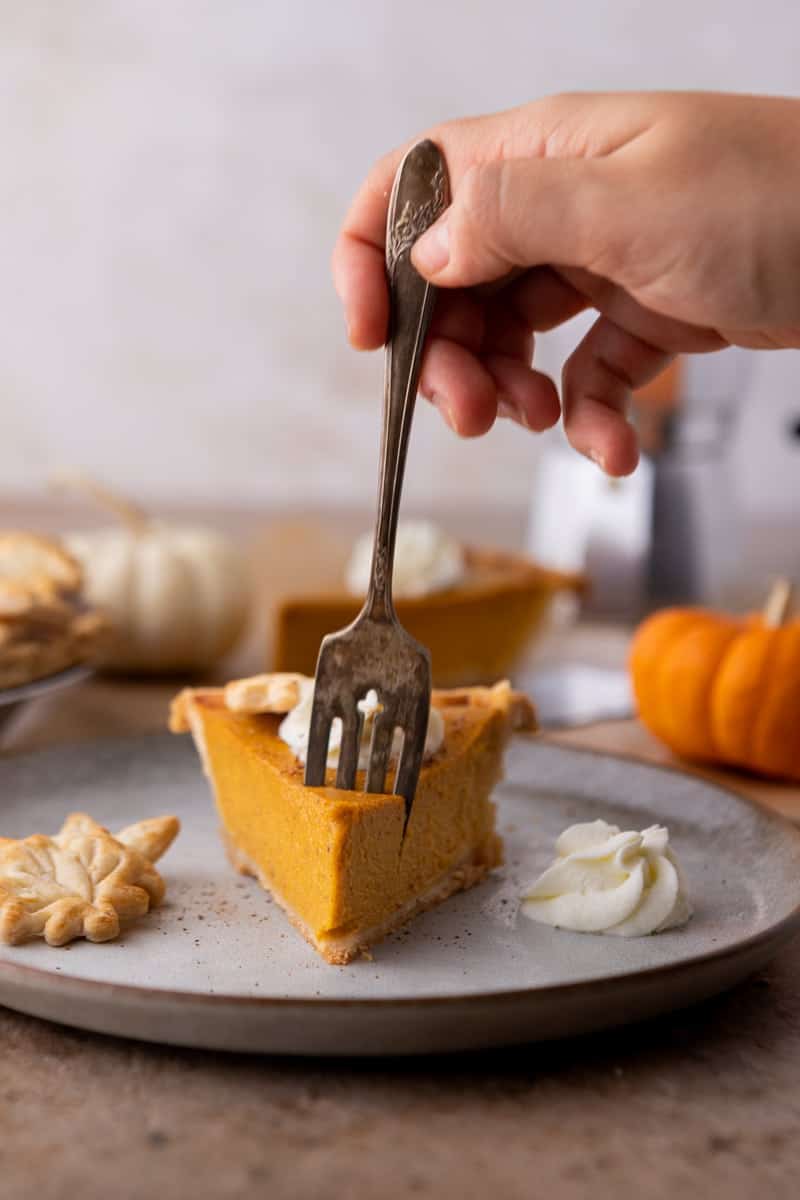 How To Make This Recipe For Two Pumpkin Pies
Scroll down to the recipe card at the bottom of the page for the full step-by-step instructions.
Prepare The Filling
Preheat the oven temperature to 425 degrees.
In a large bowl, pour in the pumpkin puree, sugar, cinnamon, nutmeg, cloves, and salt. Combine with the electric mixer until smooth.
In the second bowl, lightly whisk the eggs then add them to the pumpkin mixture.
Finally, pour in the evaporated milk and mix again until there are no clumps left.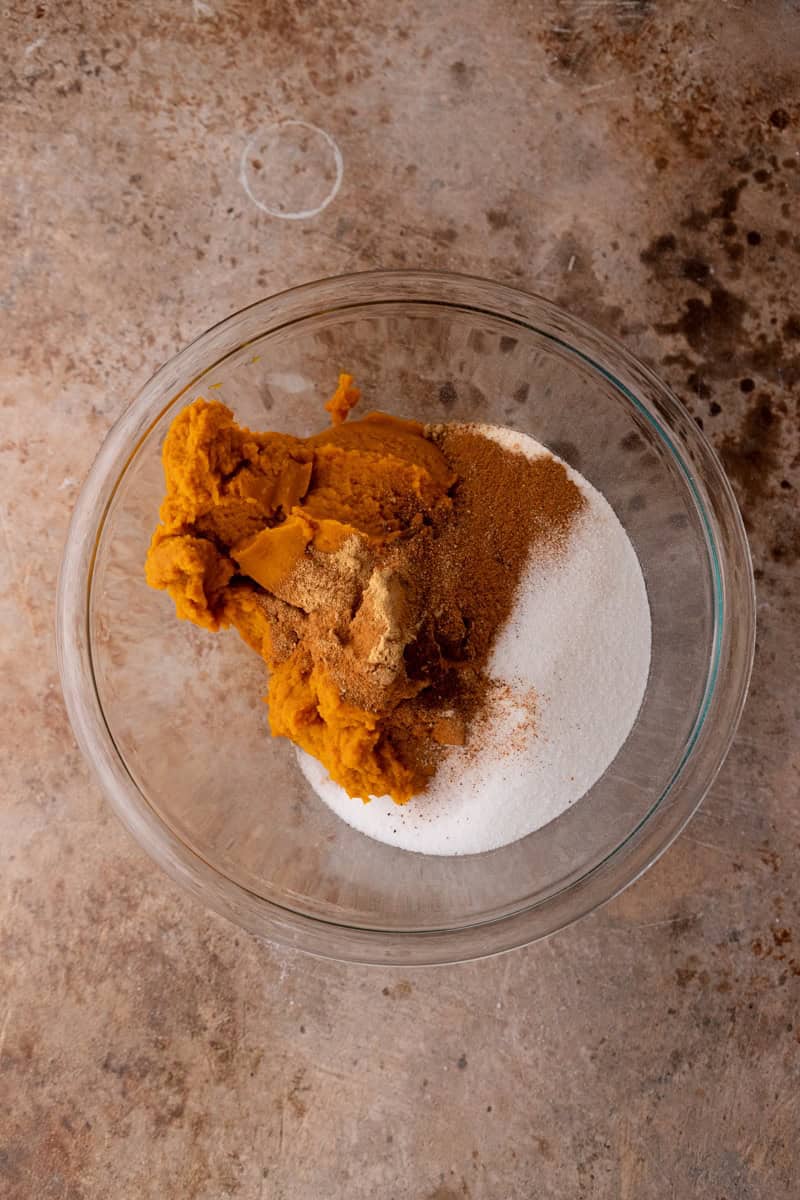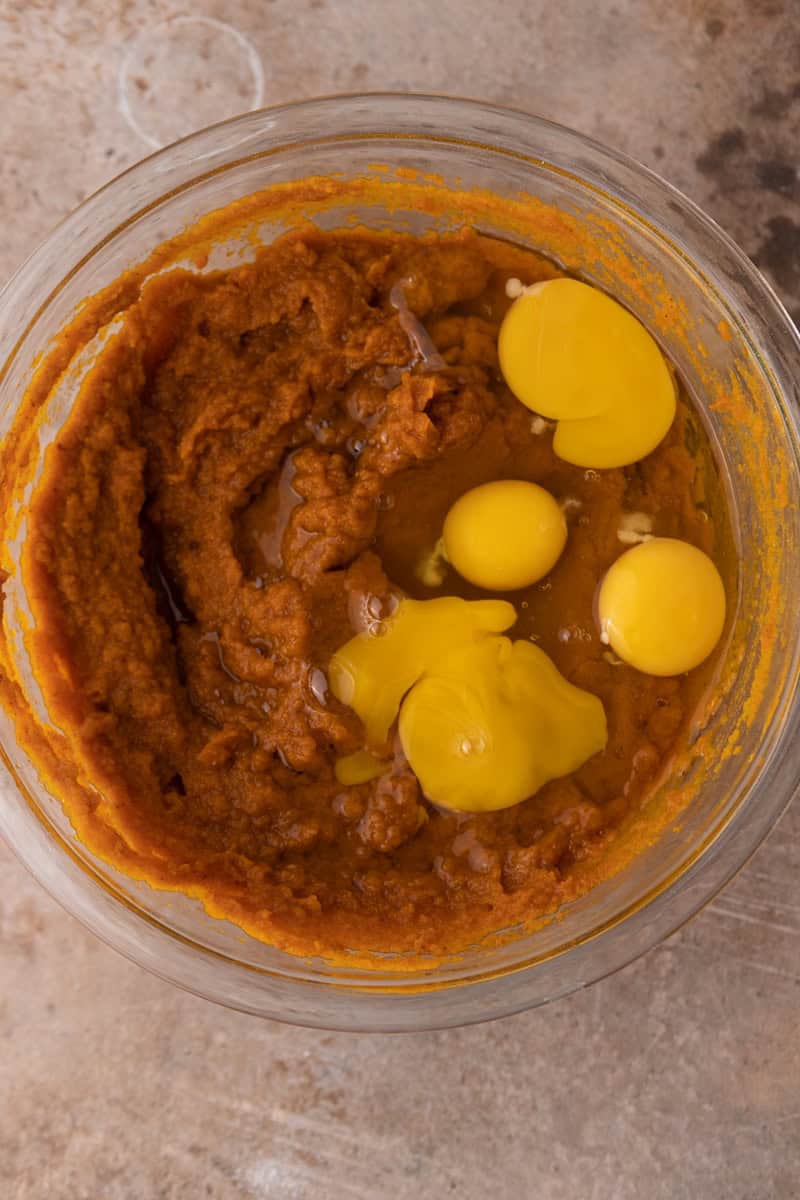 Fill The Crusts
Pour the pie filling in evenly between the two pie crusts.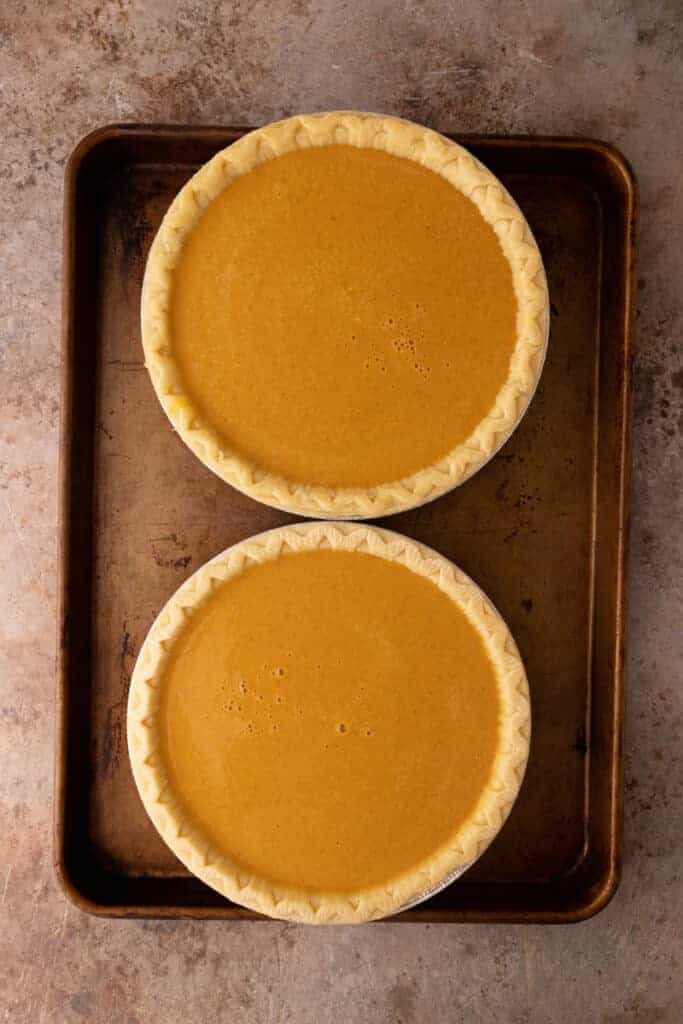 Bake
Put the two pies on the center rack of the preheated oven and bake for 15 minutes.
After the first 15 minutes, reduce the temperature of the oven to 350 degrees.
Continue baking for another 40-50 minutes, or until a toothpick inserted in the center of the pie comes out clean.
Once the pies are done, take them out and place them on the wire rack until they're at room temperature so that the filling can solidify.
Once the pies are cooled, slice, top with a dollop or swirl of whipped cream, and enjoy your two pumpkin pies!
Frequently Askques Questions
How to know when pumpkin pie is done baking?
Your pumpkin pies will still have a slight jiggle in the center while the outer edges will look a little more set. Make sure to pull out the pumpkin pies out of the oven as soon as they are done baking to keep them from cracking.
How To Store Pumpkin Pie?
Leftover pie can be conveniently stored in the fridge for multiple days. You can take it one step further by wrapping each slice of pie in plastic wrap and storing those in an airtight container for a fresher slice.
Can I freeze pumpkin pie?
You sure can! Just make sure that you are allowing the pie itself to cool down to room temperature after baking before wrapping it tightly in plastic and then in foil before placing it into the freezer. It can be stored in the freezer for up to 1 month.
Whenever you are ready to enjoy it, pull it out of the freezer and allow it to thaw in the fridge overnight. Do not thaw the pie at room temperature otherwise, it will make the crust soggy.
Can I use pumpkin pie spice for this recipe?
If you would rather use pre-mixed spices, you can add about 4 teaspoons of that. I know this is a large amount but you have to keep in mind that we are making two pies.
If you want to make your own pumpkin pie spice, check out my easy homemade pumpkin pie spice recipe here.
How To Make Homemade Whipped Cream
Homemade whipped cream can be the perfect addition to your recipe for two pumpkin pies. The light, creamy, airiness is head and shoulders above the store-bought kind.
To make whipped cream at home, you'll need:
1 cup heavy cream
2 tablespoons powdered sugar
½ teaspoon vanilla extract
Making whipped cream is very easy once you have the ingredients. Simply grab a small bowl, pour in your ingredients, and beat the mixture until it becomes and stiff and firm. It is recommended to use an electric mixer for this. You'll know when it's done by holding up the mixing paddle and seeing the cream hold in place instead of dripping back down into the bowl.
How To Make Homemade Pie Crust?
Homemade crust is just amazing!
It comes out of the oven smelling like a warm cookie just enticing everyone in the house. Give it a try in this recipe for two pumpkin pies! You can this easy pie crust recipe, just make sure to double it so that you have enough for two deep dish pies.
Can I make these two Thanksgiving pumpkin pies with homemade pumpkin puree?
I prefer to use canned pumpkin because not only is it easier to use but it also has less liquid in the mix. If you really can't get your hands on canned pumpkin follow the directions below to make it from scratch just make sure to remove as much of the water from it as possible.
How To Make Homemade Pumpkin Puree
If you're feeling extra adventurous, here's a quick and brief explanation of how to make fresh pumpkin puree. Even though this recipe is best made with Libby's canned pumpkin because of the liquid ratio.
Tip: Only use a variety of pumpkins whose flesh works best with turning into puree. Otherwise, it might be too fibrous.
Preheat oven to 400 degrees. Split the pumpkin in half and scoop out the seeds.
Place both halves, middle side down, on a parchment paper-lined baking sheet and bake for an hour. Then let it cool for another hour.
Peel the flesh from the skin and place it in a food processor. Strain excess liquid through a sieve if the puree is too watery. I love using a paper towel to dab the liquid off as well!
Store in the fridge until you're ready to use it.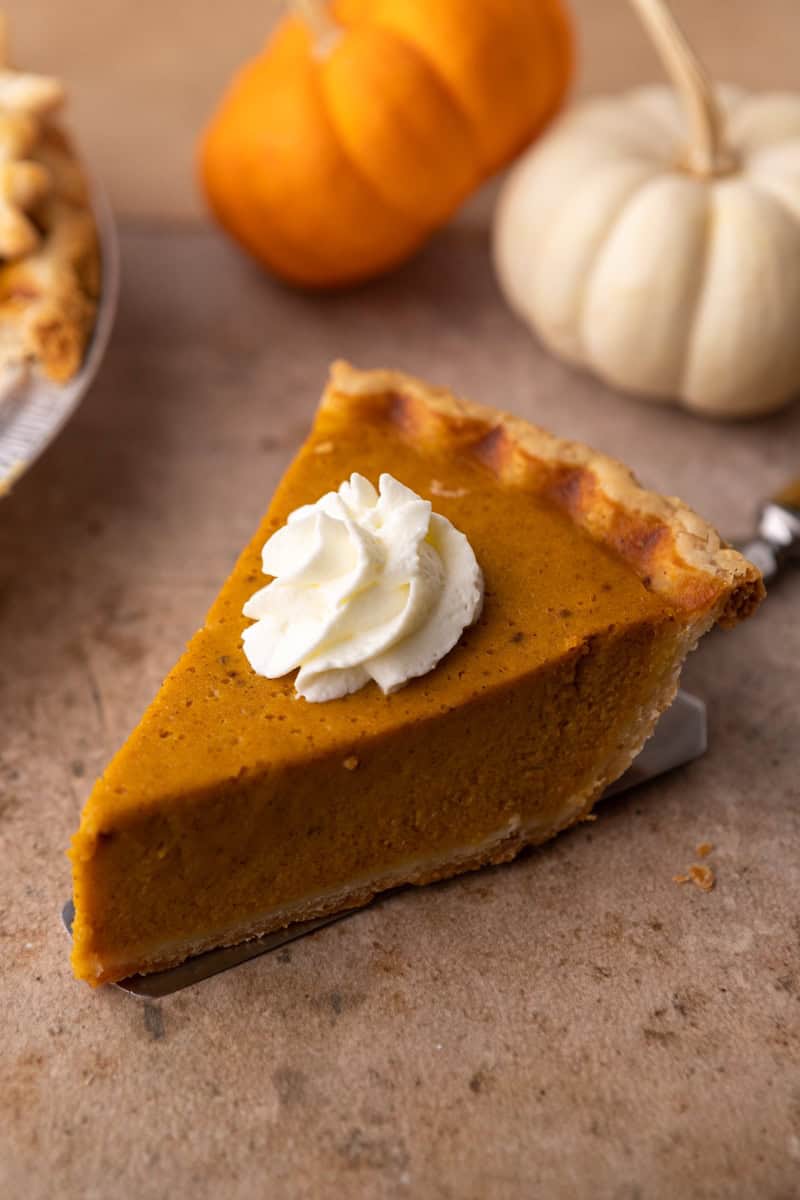 The Best Recipe For Two Pumpkin Pies 9-Inch Pie Crust
pumpkin pie recipe for 2 pies
This is the ultimate recipe for whenever you are making Thanksgiving pumpkin pie but need more than just one pie to feed the crowds!
Ingredients
2

9-inch deep-dish pie crusts

store-bought or homemade

29

oz

canned pumpkin puree

or 1 can large of pure pumpkin puree

1 ½

cups

granulated sugar

3

teaspoon

ground cinnamon

½

teaspoon

ground nutmeg

1

teaspoon

ground ginger

⅛

teaspoon

ground cloves

½

teaspoon

salt

4

large eggs

24

oz

evaporated milk

2 cans of evaporated milk
For Whipped Cream (optional):
Instructions
Preheat your oven to 425°F. Place the two pumpkin pies on a large baking sheet so that they are easier to transport.

2 9-inch deep-dish pie crusts
Prepare the Pumpkin Filling:
In a large mixing bowl, combine the pumpkin puree, granulated sugar, cinnamon, nutmeg, ginger, cloves, and salt. Add in the lightly beaten eggs and whisk again to combine.

29 oz canned pumpkin puree,

1 ½ cups granulated sugar,

3 teaspoon ground cinnamon,

½ teaspoon ground nutmeg,

1 teaspoon ground ginger,

⅛ teaspoon ground cloves,

½ teaspoon salt,

4 large eggs

Pour in the evaporated milk and mix well until everything is combined.

Pour the pumpkin filling evenly into the two prepared pie crusts and bake in the preheated oven for 15 minutes.

After 15 minutes, reduce the oven temperature to 350°F and bake for an additional 45-50 minutes or until a toothpick inserted in the center comes out clean.

Allow the pies to cool completely on a wire rack. This can take a few hours depending on the temperature of your kitchen.

Once ready to serve, prepare the whipped cream by whipping the heavy cream, powdered sugar, and vanilla extract together until stiff peaks form.

1 cup heavy cream,

2 tablespoons powdered sugar,

½ teaspoon vanilla extract

Serve each slice of pie with a dollop of whipped cream.
Nutrition
Calories:
292
Calories
Carbohydrates:
40
g
Protein:
7
g
Fat:
12
g
Saturated Fat:
6
g
Polyunsaturated Fat:
1
g
Monounsaturated Fat:
4
g
Trans Fat:
0.004
g
Cholesterol:
59
mg
Sodium:
231
mg
Potassium:
301
mg
Fiber:
2
g
Sugar:
27
g
Vitamin A:
8444
IU
Vitamin C:
3
mg
Calcium:
161
mg
Iron:
2
mg

Shop this recipe
This post may contain affiliate links, meaning that at no cost to you I will get a small percentage of every purchase you make!
If you enjoyed this recipe for two pumpkin pies make sure to pin it for later!