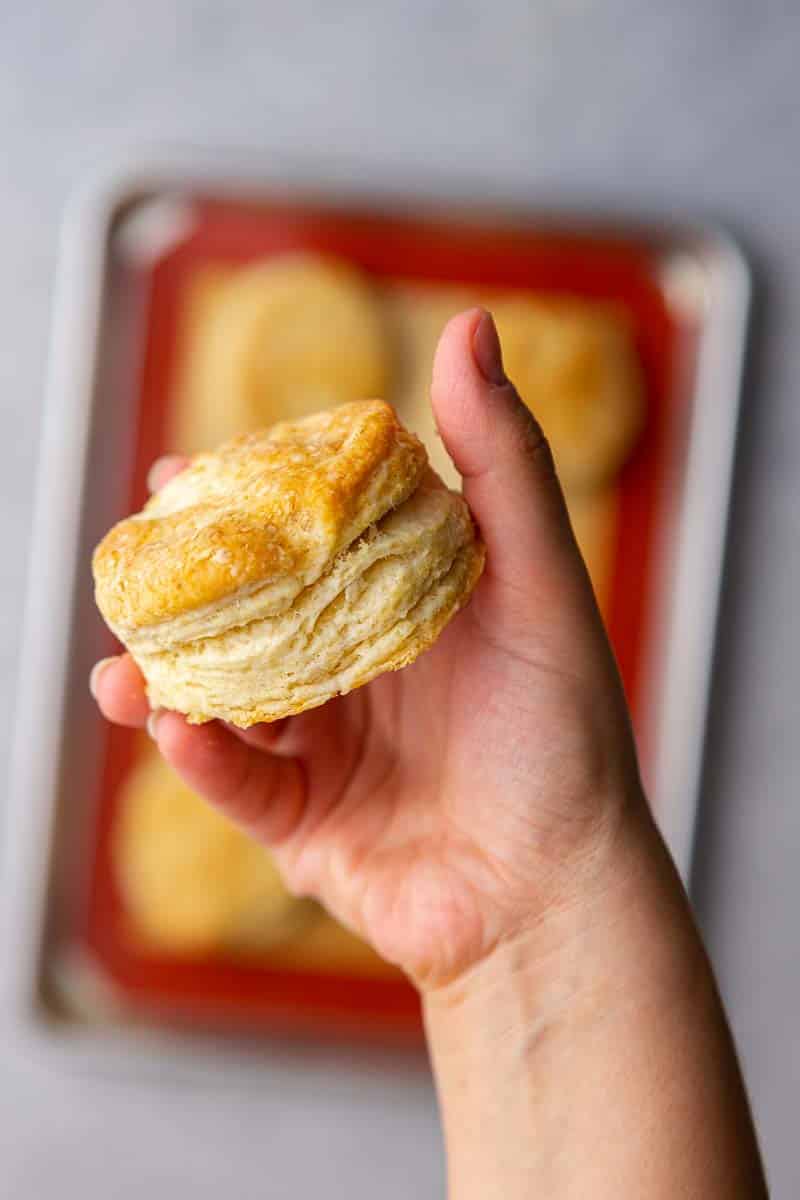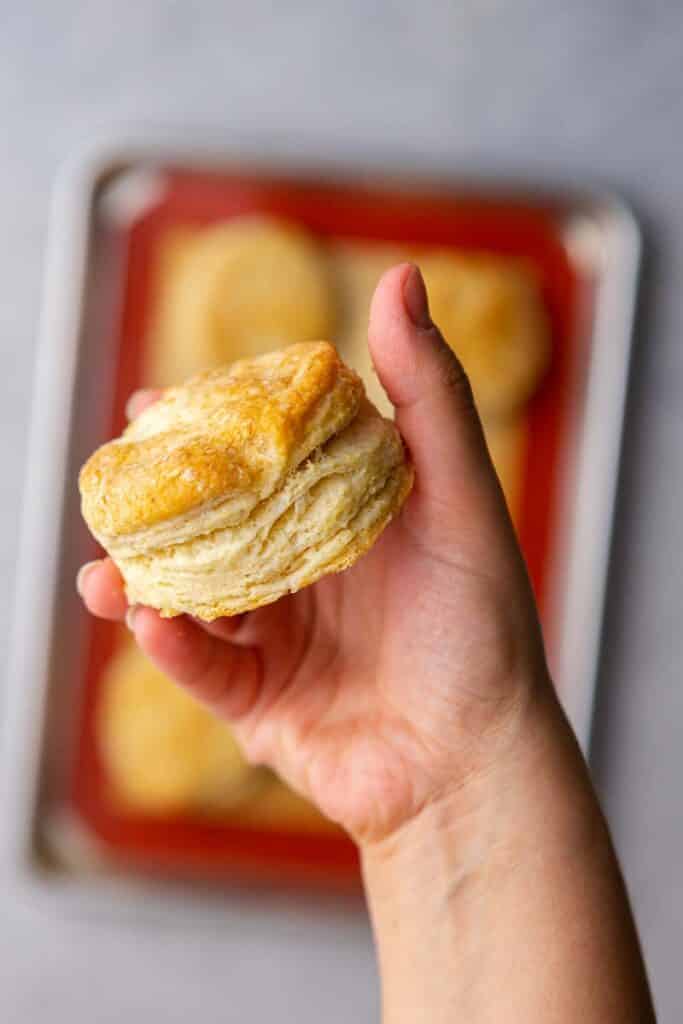 There are so many times when you don't want to make a full batch of homemade biscuits, which is where this recipe comes in and why it is perfect!
This from-scratch recipe makes 4 buttermilk biscuits that are simple enough that even a novice baker can give them a go.
Once you try this recipe, you're going to wonder why you hadn't tried this small-batch biscuit recipe sooner.
This is the best small-batch biscuit recipe ever!
Perfect for a small family or if you are eating alone and want a delicious home-cooked meal. These buttermilk biscuits are so versatile they will go as a side with most dinners or even as a breakfast option with gravy, jam or honey.
Why you need to make this recipe!
It takes less than 30 minutes to make.
You'll get 4 perfectly round biscuits.
They are flaky, buttery, and soft.
Uses minimal ingredients
Simple pantry staples
Taste so much better than the canned biscuits you can buy at the store.
This is the most versatile recipe ever.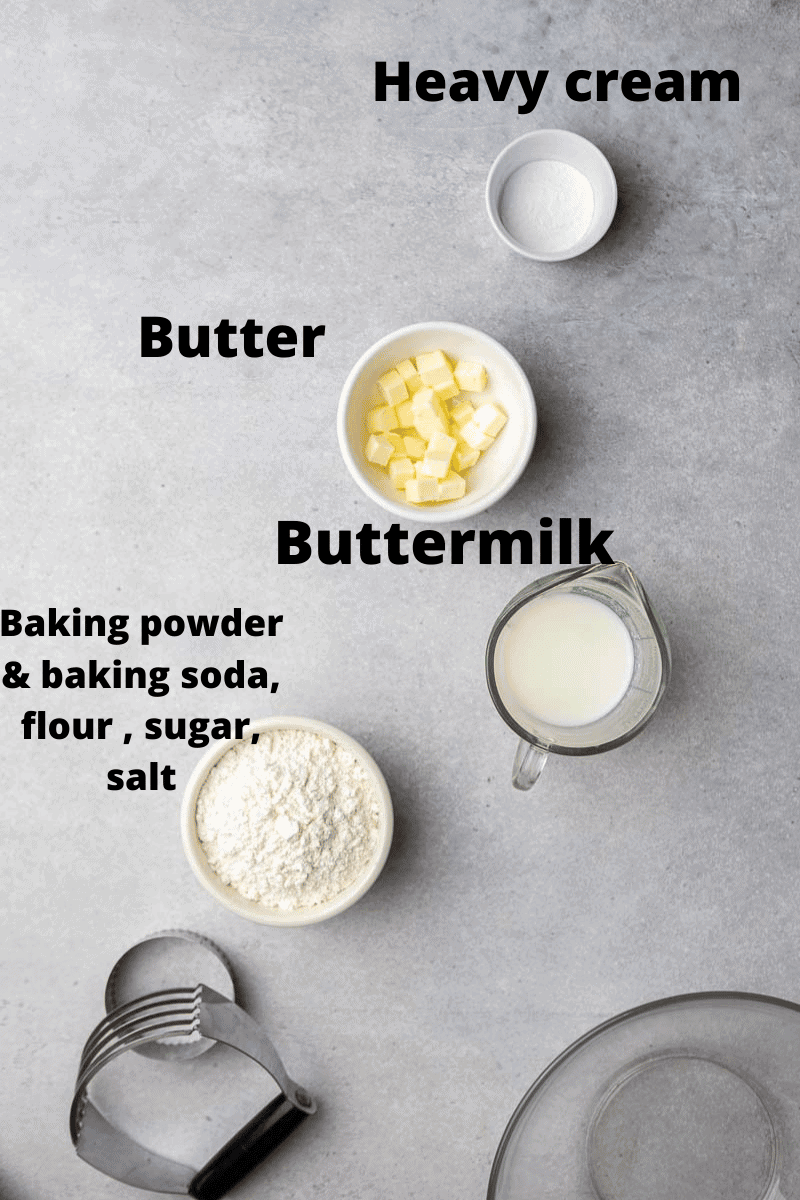 Ingredients for this small-batch biscuit recipe
Here are the ingredients you will need to make these buttermilk biscuits. Make sure to scroll down to the recipe card for the full detailed ingredient measurements.
All-purpose flour – To get a recipe as close to the one I am sharing here, try using a kitchen scale and weigh your flour.
Baking powder & baking soda – Helps the biscuits to rise by adding some leavening.
Sugar – Adds just a touch of sweetness that helps to balance the flavor in these biscuits.
Butter – You can use either salted or unsalted butter, but you need to make sure you use really cold butter.
Buttermilk – The buttermilk will add moisture to the biscuits as well as help activate the leavening agents. Just make sure it is cold (see below for substitution).
Heavy cream- This will be to brish the biscuits before the go into the oven.
Salt
Buttermilk substitution
It is possible to substitute the buttermilk by using a mixture of 2% milk with either freshly squeezed lemon juice or distilled white vinegar. The mixture won't get as thick and creamy as buttermilk, but it will perform its role just as well.
Combine together 1 cup of 2% milk with 1 tablespoon of freshly squeezed lemon juice or distilled white vinegar to get your homemade buttermilk. Let this mixture sit at room temperature for 5 – 10 minutes. You will know it is ready when it has slightly thickened and you see small curdled pieces in there. Then just use it as directed in the recipe method.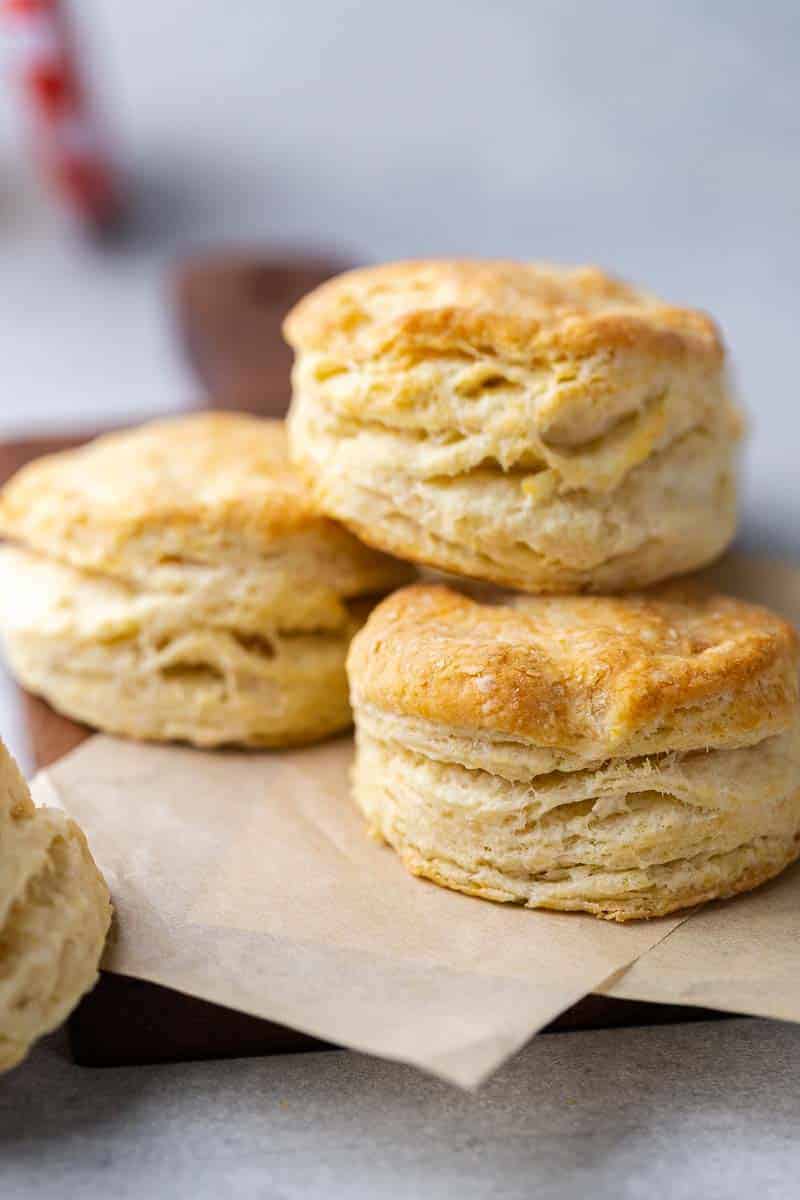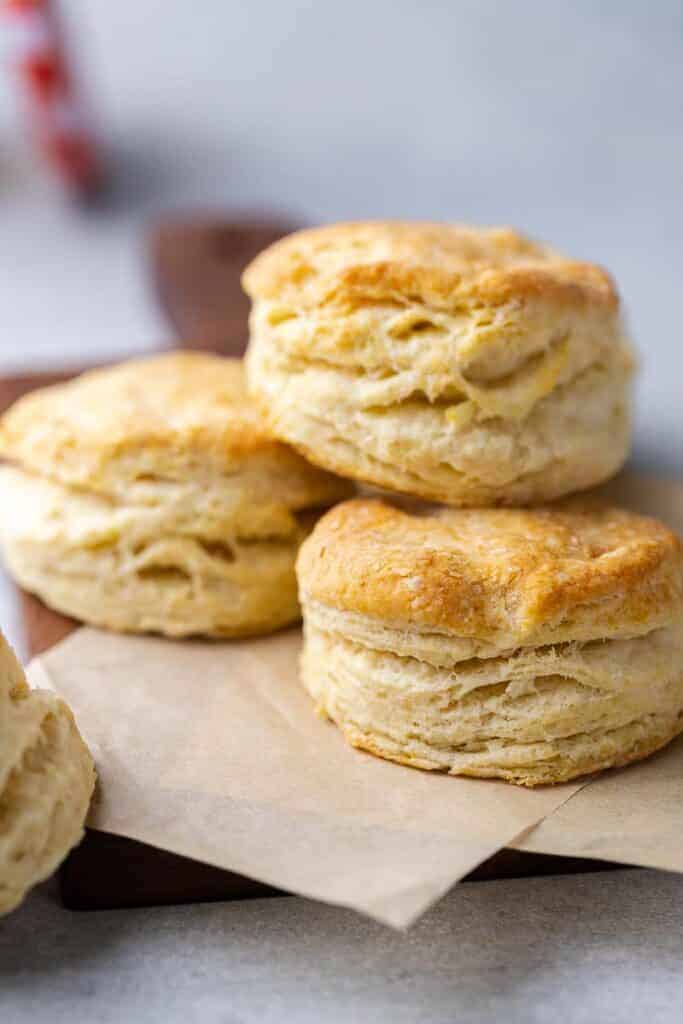 How to make biscuits for two
This is how you can make easy biscuits at home. Make sure to scroll down to the recipe card for the full detailed instructions!
Whisk

all the ingredients together (except the butter and buttermilk).

Add in the very cold butter and mix.
Stir in the buttermilk or substitute (see above).
Turn the dough onto a floured surface and knead making sure not to overwork the dough.
Shape the dough and cut it into biscuits.
Bake in the oven and allow to cool before enjoying.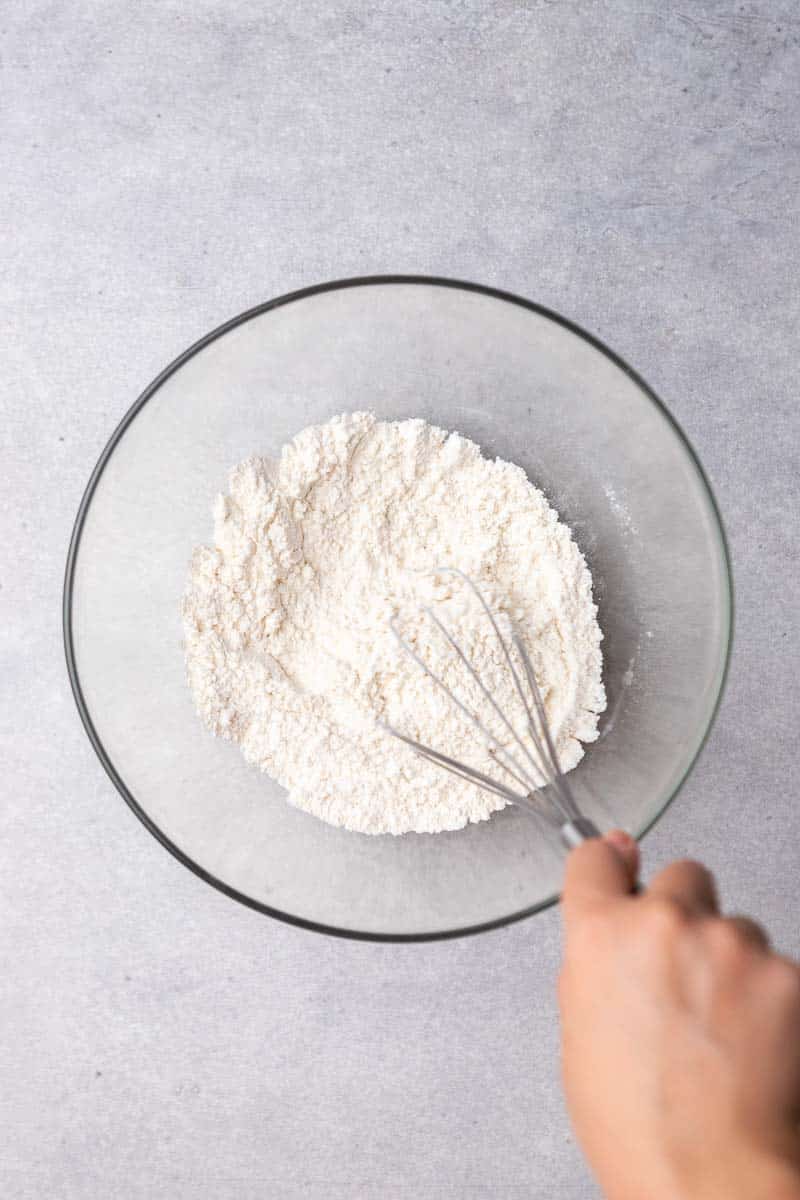 Tips for the best small batch biscuits ever.
Use very cold ingredients – Cold ingredients will allow for your biscuit to rise even more and have a soft and flaky texture.
Don't overwork the dough – Overworking the dough will make you lose those beautiful pieces of butter that we left there on purpose to help make our biscuits flaky.
Flour the biscuit cutter before cutting the biscuits- Make sure to flour the biscuit cutter so that the dough doesn't stick to it.
Don't twist the biscuit cutter when cutting the biscuits – You want to make sure that those layers stay visible after baking and twisting your biscuit cutter will ruin that layering. So press down and remove the biscuit without twisting.
Frequently asked questions – FAQ
Why do you use buttermilk in biscuits?
Buttermilk is necessary for biscuits to give them a good rise. The acidity works with the leavening to give the biscuits their height.
However, if you don't have buttermilk to hand, it is possible to make a substitute by using a mixture of 2% and acidity (either lemon juice or distilled white vinegar) – see the notes above.
How to store small batch biscuits?
Store your biscuits in an air-tight container at room temperature for up to 3 days or store in the fridge for up to 7 days, but I very much doubt they will last that long!
How to reheat buttermilk biscuits?
You can microwave for 10-15 seconds on full power until they are warm all the way through and enjoy them.
How to eat buttermilk biscuits?
Serve these with some jam, honey, gravy, or your topping of choice for an easy and delicious breakfast!
Honey works perfectly as it is a natural sweetener, that adds the right amount of sweetness without overpowering the salty and buttery flavor of the biscuit.
But if you want to be a little more adventurous why not try tomato gravy, pimento cheese, or even chocolate spread!
Let me know if you try a unique combination that works, I love to hear about new ways of eating biscuits.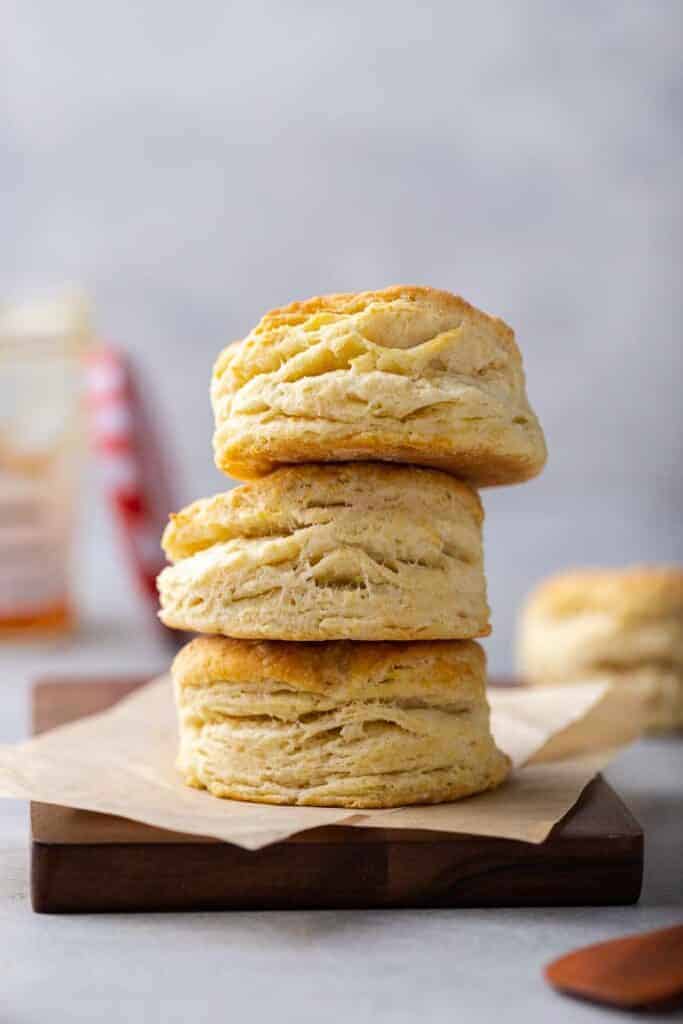 Small batch biscuits for two
If you made these small-batch biscuits and enjoyed them, don't forget to leave a 5-star review by clicking on the 5 stars under the title and description. It would help me a ton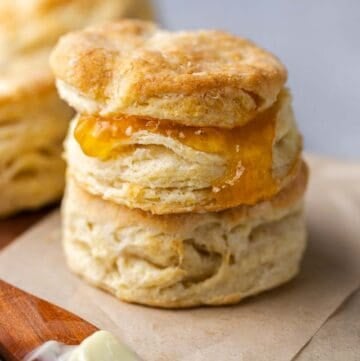 Small batch biscuits for two
This small batch biscuit recipe is easy to make and yield extremely butter, flaky biscuits for two. Perfect for weeknight dinners.
Ingredients
1 & ¼

cup

all purpose flour

½

teaspoon

baking powder

¼

teaspoon

baking soda

¼

teaspoon

salt

1

teaspoon

sugar

3

tablespoon

butter

cold & cubed

½

cup

buttermilk

cold

Heavy cream

for brushing the biscuits
Instructions
Preheat the oven to 425F, and line a baking sheet with parhement paper and set aside.

In a large bowl whisk all the dry ingredients together.

Add in the cold cubed butter to the flour mixture. Using a pastry cutter or two forks cut the butter into the dry mixture until the butter mixture turns into small pea-sized chunks.

Using a rubber spatula, stir in the buttermilk into the dry mixture until dough forms. Don't overwork the dough here, it should look like the image.

Turn the dough onto a floured surface, and knead it 2-4 times to bring it together. This will keep you from overworking the dough and heating it up. Keep in mind that you want to see chunks of butter in there still.

Now onto the fun part, shape the dough into a rectangle then gently fold the left side of the rectangle over the right side, gently pat it down. Now fold the top of the rectangle over the bottom of the rectangle and pat it down again gently.

Repeat the folding process two more times. before shaping your rectangle again and flattening it with a pastry roller to about an inch in thickness.

Flour a 2.5 inch cookie cutter or biscuit cutter and cut 4 biscuits with it. Firmly press the dough down without twisting the cutter. You can gently wiggle it to remove the biscuit and biscuit cutter.

Place the biscuits on the prepared baking sheet, using a pastry brush dipped in heavy cream brush each biscuit, and bake for 13 minutes or until golden brown

Pull out the biscuits from the oven and let them cool just enoug to be able to handle them and serve!
Notes
The most important thing when it comes to biscuits is to keep the dough/butter very cold. The second most important thing is practice! The first few times I made biscuits they weren't as light and fluffy as my batches now. So just keep in mind that practice makes perfect! 
Nutrition
Calories:
153
Calories
Carbohydrates:
26
g
Protein:
4
g
Fat:
4
g
Saturated Fat:
2
g
Trans Fat:
1
g
Cholesterol:
9
mg
Sodium:
144
mg
Potassium:
67
mg
Fiber:
1
g
Sugar:
2
g
Vitamin A:
115
IU
Calcium:
57
mg
Iron:
2
mg
Thank you for making it all the way down here 🙂
If you enjoyed this recipe don't forget to let us know in the comments below! In the meantime, don't forget to follow me on Instagram!

Shop this recipe
This post may contain affiliate posts, meaning that at no cost to you I will get a small percentage of every purchase you make!
If you enjoyed this small-batch biscuit for two recipe make sure to pin it for later!