Mini lemon cupcakes with Italian buttercream and lemon curd sound amazing right about now huh! If you are a lemon lover, these will be right up your alley! The lemon cupcakes are lightly sweetened with a gentle hint of lemon, the lemon curd is tangy and citrussy and the Italian frosting is ever so silky!
SIGN UP TO OUR MAILING LIST GET A FREE WEEKLY MEAL PLANNER AND RECIPE CARD!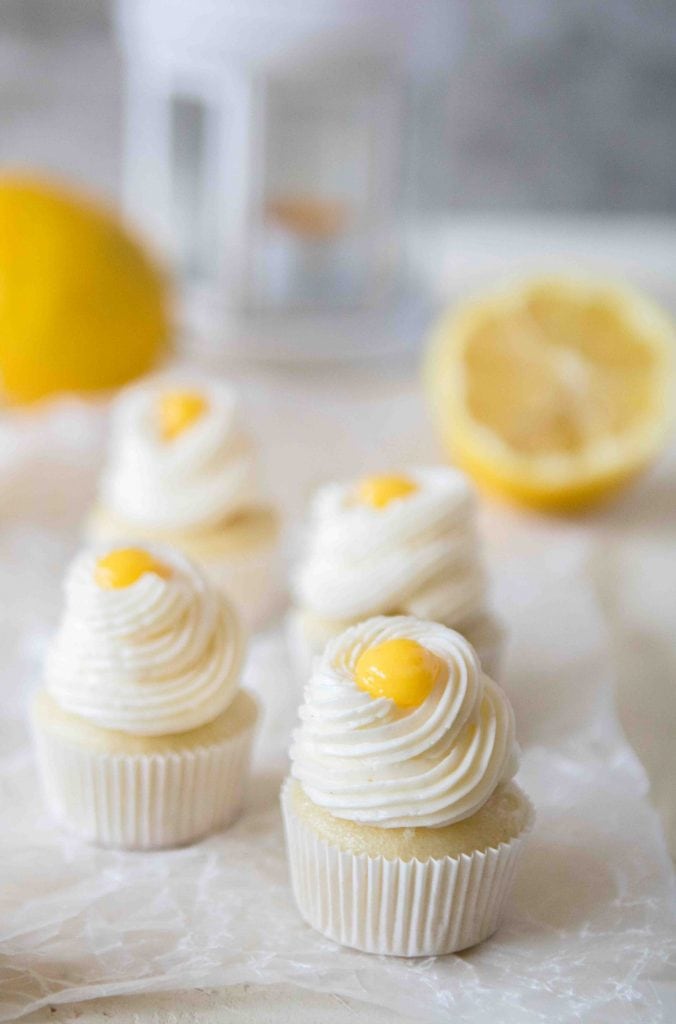 Hello everyone!
I wanted to take a second and tell you how much I love lemon desserts! I have been wanting to share my mom's famous lemon tart but still haven't gotten the chance to take a beautiful photo before it ends up being all gone!
But for today, I managed to make these delicious lemon cupcakes from scratch. Yes! You heard that right. Every layer of these cupcake is made from scratch. But before I intimidate you, know that you can tweak it based on your skill level and how much time you really have on hand.
When I made these I had all weekend so I was able to made a homemade lemon curd from scratch as well as my silky Italian meringue buttercream with vanilla beans. But if you don't have the time or the energy there are ways to get gorgeous summer desserts without all the work!
What's so special about this simple mini lemon cupcake recipe!?
When I say I am obsessed with these, it's definitely an understatement! These mini lemon cupcakes:
Are soft
Have the perfect amount of lemon curd
Are topped with a luscious vanilla bean Italian meringue buttercream!
Tools to make this lemon cupcake recipe
Ingredients for the best mini lemon cupcakes, lemon curd, and buttercream!
This mini lemon cupcake recipe has multiple levels. If you want to cut some of the work you can get store bought lemon curd but it won't taste as good or you can make or purchase a vanilla frosting.
I strongly believe that you should make this recipe the way you want to. I share with you the technique and it is up to you to see what you want to add or remove to make YOUR perfect little cupcakes. So take these steps and run wild with them!
For the cupcakes
All purpose flour
Baking powder
Slt
Granulated sugar
Egg white
Vegetable oil
Milk
Lemon zest
Water
For the lemon curd
Lemon juice
Lemon zest
Granulated sugar
Yolks
Butter
For the Italian meringue buttercream
Granulated sugar
Water
Egg whites
Salt
Butter
Vanilla beans
How to best decorate these mini lemon curd cupcakes?
When it comes to decorating you rmini lemon curd cupcakes you can really do anything.
I opted for a simple decoration that consists of piping the Italian meringue buttercream around the cupcake while still leaving some room in the center to add in the lemon curd.
I would have liked to add some lemon curd to the center of the lemon cupcakes but since these are already so tiny and don't have as much cake in them I opted to just top them with the lemon curd!
If you try a different decoration, make sure to tag me on social media or send me an email to show me your creations!
The best topping for lemon cupcakes is lemon curd!
I absolutely stand behind this statement. I guess another perfect topping would be the Vanilla bean Italian meringue buttercream as well but The two together makes these little summer dessert bites magical.
They are bright and colorful visually but trust me you'll experience the same brightness in your mouth the second you take a bite of these cute little cupcakes.
My mini lemon cupcake recipe is the best mini cupcake recipe ever!
I have had a lot of cupcakes in my life and these are pretty up there if I can say so myself.
They have three layers of goodness… The first one being a moist vanilla lemon cupcake, then we top it with a silky smooth Italian vanilla bean meringue buttercream then comes the bright and tangy lemon curd to give this whole cupcake the balance it needs.
So now, you know. When you make these cupcakes you are not only getting the best cupcakes in the world but you are also getting the cutest little bites that can be served on easter or during any fancy holiday or get together!
IF YOU MADE SOMETHING FROM LIFESTYLEOFAFOODIE, I WOULD LOVE TO SEE ALL YOUR CREATIONS AND KNOW HOW EVERYTHING TURNED OUT! SO DON'T FORGET TO LEAVE A COMMENT BELOW AND FOLLOW ALONG WITH ME ON INSTAGRAM, PINTEREST, AND FACEBOOK.
Mini Lemon Cupcakes with Italian Buttercream and Lemon Curd
Mini lemon cupcakes with lemon curd and Italian buttercream
Soft mini lemon cupcakes topped with a homemade lemon curd and a light and creamy vanilla bean Italian meringue buttercream.
Equipment
A stand mixer or a hand mixer
Ingredients
For the mini cupcakes
½ cup +2

tablespoon

all purpose flour

¾

teaspoon

baking powder

¼

teaspoon

salt

¼ cup + 2

tablespoon

granulated sugar

1

egg white

1 ½

tablespoon

vegetable oil

¼

cup

milk

2

teaspoon

lemon zest

3

tablespoon

water
For the lemon curd
¼

cup

lemon juice

2

teaspoon

lemon zest

¼

cup

sugar

2

egg

yolks

2

tablespoon

butter
For the Italian meringue buttercream
½

cup

granulated sugar

¼

cup

water

2

egg whites

pinch of salt

1

stick

butter

1

teaspoon

vanilla beans
Instructions
For the cupcake
Start by preheating the oven to 350F and lining 14 mini cupcake tins with cupcake liners. Set aside.

In a small bowl mix the flour, baking powder and the salt together and set aside.

In a medium bowl, mix the granulated sugar, egg white, and oil together until incorporated then add in the milk, the lemon zest and the water. Mix one more time until combined.

Divide the batter evenly between 14 cupcake liners and bake for 9 minutes.

For the lemon curd- As the cupcakes are baking, we will make the lemon curd.

In a medium saucepan, whisk the lemon juice, lemon zest, sugar and egg yolks over medium-low heat. Once the mixture starts to thicken remove it from the heat.( the time will depend on the temperature of your ingredients)

Add in the cubed butter and quickly whisk it in. (I usually use a hand blender to make my life easier.)

Place the lemon curd in a shallow bowl and cover it with plastic wrap making sure it touches the curd. This will keep it from forming a film on top. Let the curd cool completely in the fridge to thicken.
For the Italian meringue buttercream
While the cupcakes are cooling, in a small saucepan, bring the sugar and the water to a boil. Let the mixture boil for about 4-5 minutes or until the bubbles slow down a little.

When the sugar water is almost done cooking, start beating the egg whites and a pinch of salt in a stand mixer or using a hand mixer.

When the hot sugar syrup is done cooking, pour it very slowly on the side of the stand mixer in a gently stream. Beat for another 5-7 minutes of until the mixing bowl doesn't feel hot to the touch anymore.

When the mixing bowl doesn't feel hot anymore, slowly add in the cubed room temperature butter while continuously whipping up the meringue.

Don't worry if the meringue gets a little soupy. Continue whipping the meringue at high speed until it thickens and becomes perfectly creamy. Add in the vanilla beans and mix everything one last time.
Putting it all together
Using your favorite piping tip, pipe the Italian meringue buttercream around the outside of the cupcake and fill up the center with the lemon curd using either a piping bag or a ziplock bag.
Notes
Both the Frosting and the Lemon Curd  can be made up to two days in advance. 
Make sure to let your Italian meringue buttercream get to room temperature before whipping it again to use it. 
Thank you so much for making it all the way down here! If you tried making these lemon curd cupcakes make sure to let up now down in the comment below how yours turned out 🙂
PS: Make sure to follow me on Instagram
[instagram-feed]
Until next time 🙂

Shop this recipe
This post may contain affiliate posts, meaning that at no cost to you I will get a small percentage of every purchase you make!
If you enjoyed this Mini Lemon Cupcakes with Italian Buttercream and Lemon Curd recipe make sure to pin it for later!