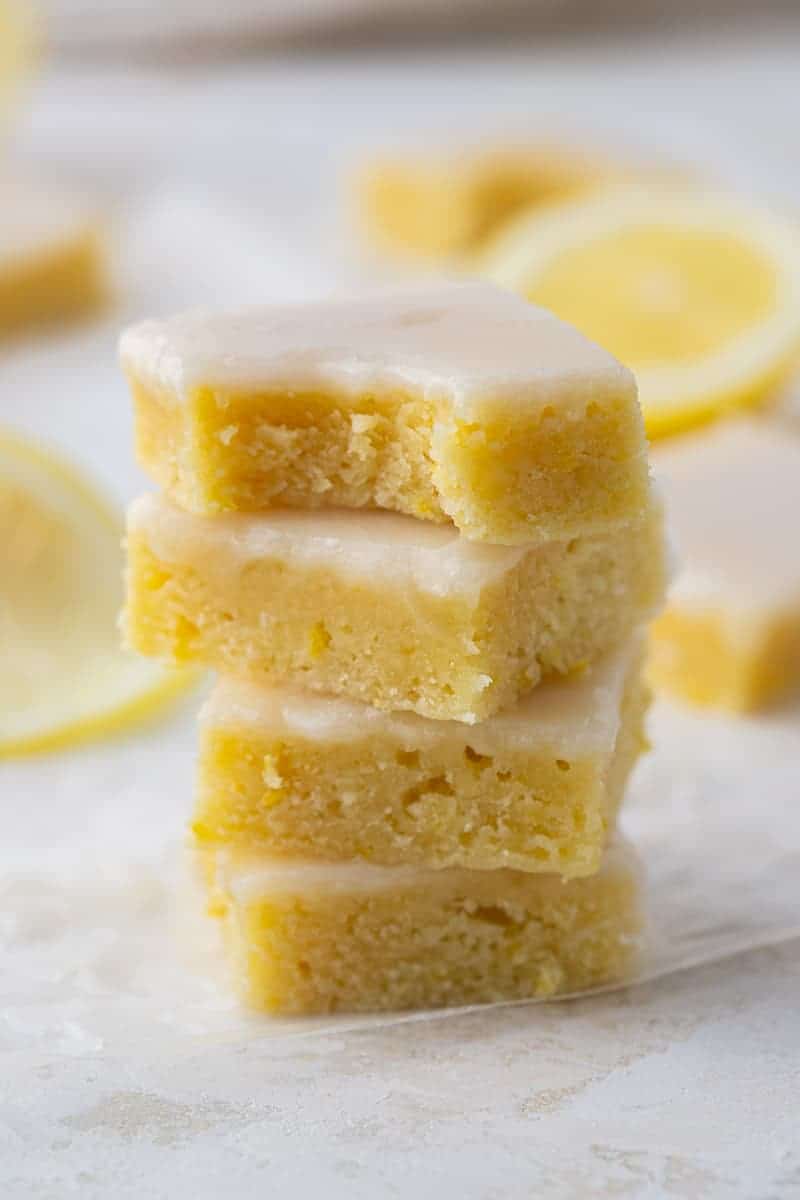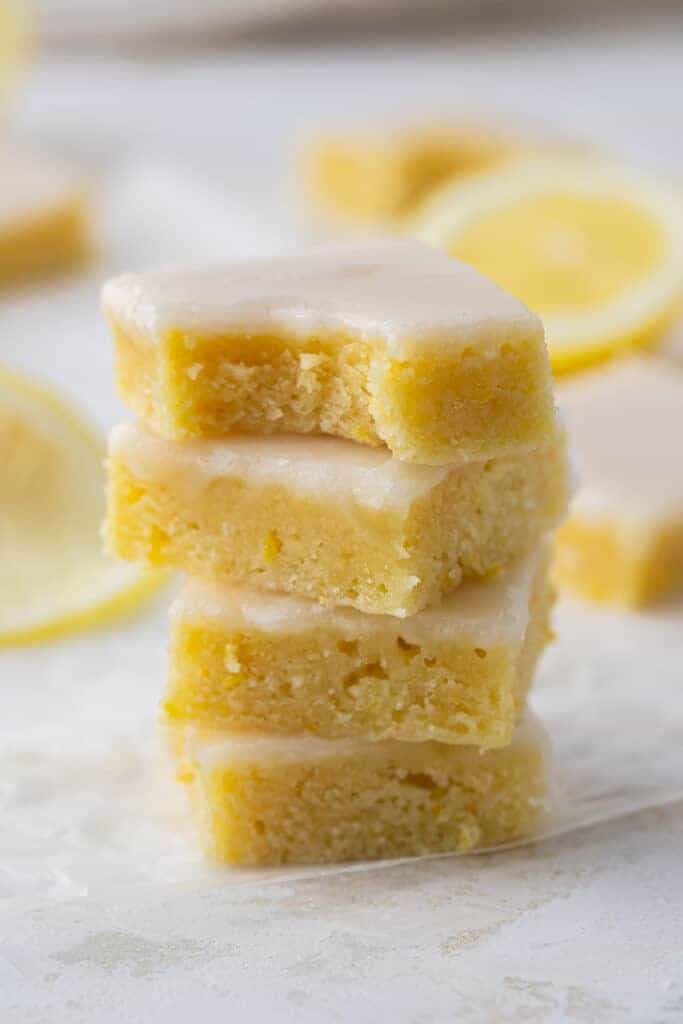 This is the best lemon blondies or lemon brownie recipe EVER!
Unlike chocolate brownies, these easy lemon brownies are made using fresh lemon juice to really brighten up your spring baking. The simple ingredients used in this recipe make it even more attainable, plus this sweet treat can be made for all your lemon lovers friends, and family members to really brighten their day 🙂
They are super soft and fudgy but instead of having chocolate in every bite, you'll get this wonderful fresh kick of lemon both in the blondie layer as well as in the sweet glaze layer.
Whether you are making these chewy lemon brownies as the perfect summer citrus dessert or you just want a little sunshine in your kitchen, I definitely recommend giving these a try and letting me know your thoughts in the comments.
Why do you need to make this recipe?
These lemon brownies are super fresh, and moist, and taste like spring and summer. Plus they have a brownie texture that you are going to fall in love with.
They are extremely easy to make, just mix, bake, glaze, and enjoy.
No need for multiple bowls, this recipe is a one-bowl blondie recipe! Just like regular brownies, this lemon version is simple and doesn't create a ton of dishes. I highly recommend rinsing the bowl you made the best lemon brownies in and using that for the sweet lemon glaze.
These lemon blondies store very well and can be made ahead of time too.
This easy recipe is perfect to take with you to BBQs, picnics, or even birthday parties, everyone will love them!
They will quickly become your favorite lemon dessert!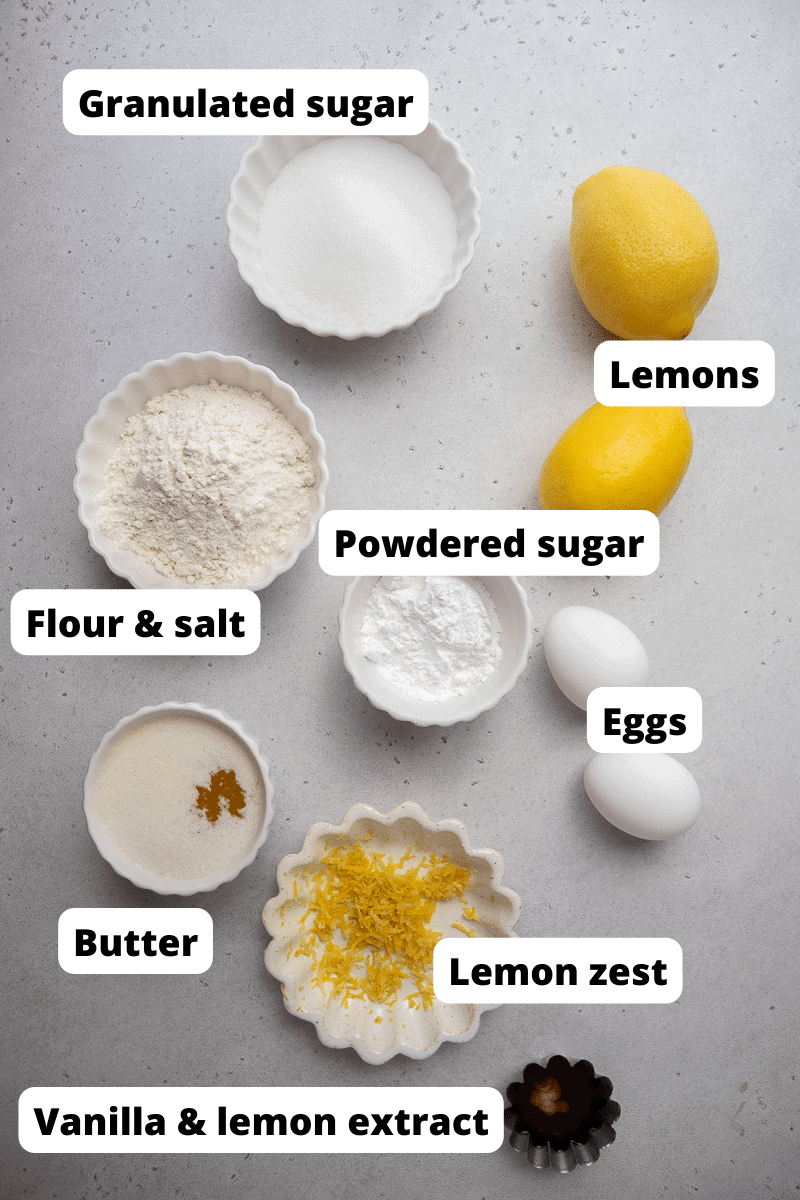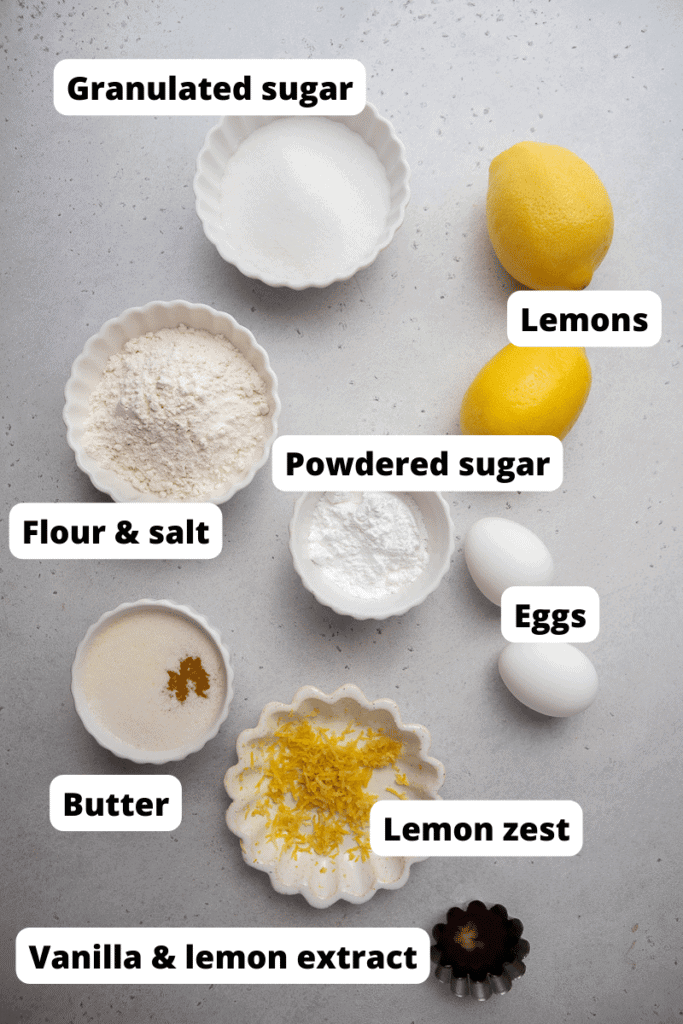 Ingredients for this lemon brownie recipe.
Here are the ingredients you will need to make this. Make sure to scroll down to the recipe card for the full detailed ingredient measurements.
Butter- You can use salted or unsalted butter.
Granulated & Powdered sugar – This recipe uses a mixture of sugars to get the bar texture to be just right. Make sure to use powdered sugar that doesn't have corn starch to avoid that bad aftertaste.
Eggs– The eggs are the binding agent of this recipe.
Vanilla extract– The vanilla extract adds an extra depth of flavor to these blondies.
Lemon extract– Adding lemon extract allows us to increase the lemon flavors in our bars.
Lemon juice & Lemon zest– The lemon juice and lemon zest will both be added to the brownie layer to kick up the lemon flavor up a notch. That real lemon flavor is unlike any other! We will use both for the brownie batter as well as for the delicious lemon glaze
Flour– Use AP flour for this recipe.
Salt– Always add a little salt to your baked goods to balance out the sweetness of your recipe.
The best way to measure your ingredients is to go with the weight measurements that I have on the recipe card below. That way you get the best out of this simple recipe.
Why is there no baking soda or baking powder in these lemon blondies?
This recipe doesn't use any leavening agents because we want our bars to be extra moist, thick, and fudgy. If you're more of a cakey brownie/blondie type of person you can add ¼ teaspoon of baking powder.
How to make lemon blondies at home?
This is how you can make these blondies at home. Make sure to scroll down to the recipe card for the full detailed instructions!
Whisk the melted butter and sugars together.
Mix in the eggs, vanilla extract, lemon extract, lemon zest, and lemon juice until combined.
Sift in the flour and salt and mix to combine.
Pour in an 8×8 baking pan and bake.
Let the bars cool down completely before topping them with the glaze.
Set your lemon brownies aside so that the glaze can fully set before slicing into them and enjoying.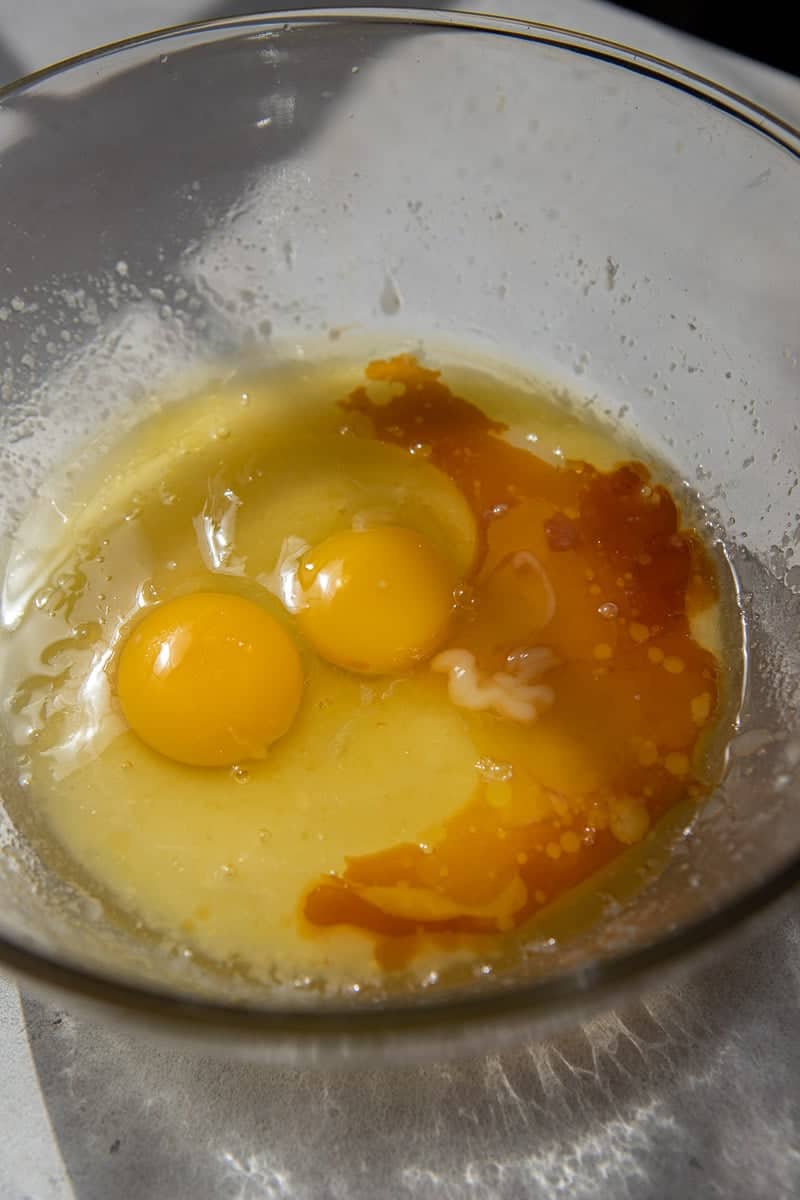 Frequently asked questions – FAQ
How to store lemon brownies?
These lemon brownies can be stored in an airtight container at room temperature for up to 3 days.
You can also keep them in the fridge for a bit longer.
Freezing instructions
To freeze these, wrap the whole thing before slicing in plastic wrap then place it in an airtight plastic container and freeze for up to 2 months.
If at all possible, don't glaze these lemon blondies until you thaw them so that the glaze doesn't get too wet when the bars are thawing. If you can't do that, it's all good the brownies will still taste super good but the glaze might be more on the wet side.
Thaw in the fridge overnight or on the countertop for a few hours.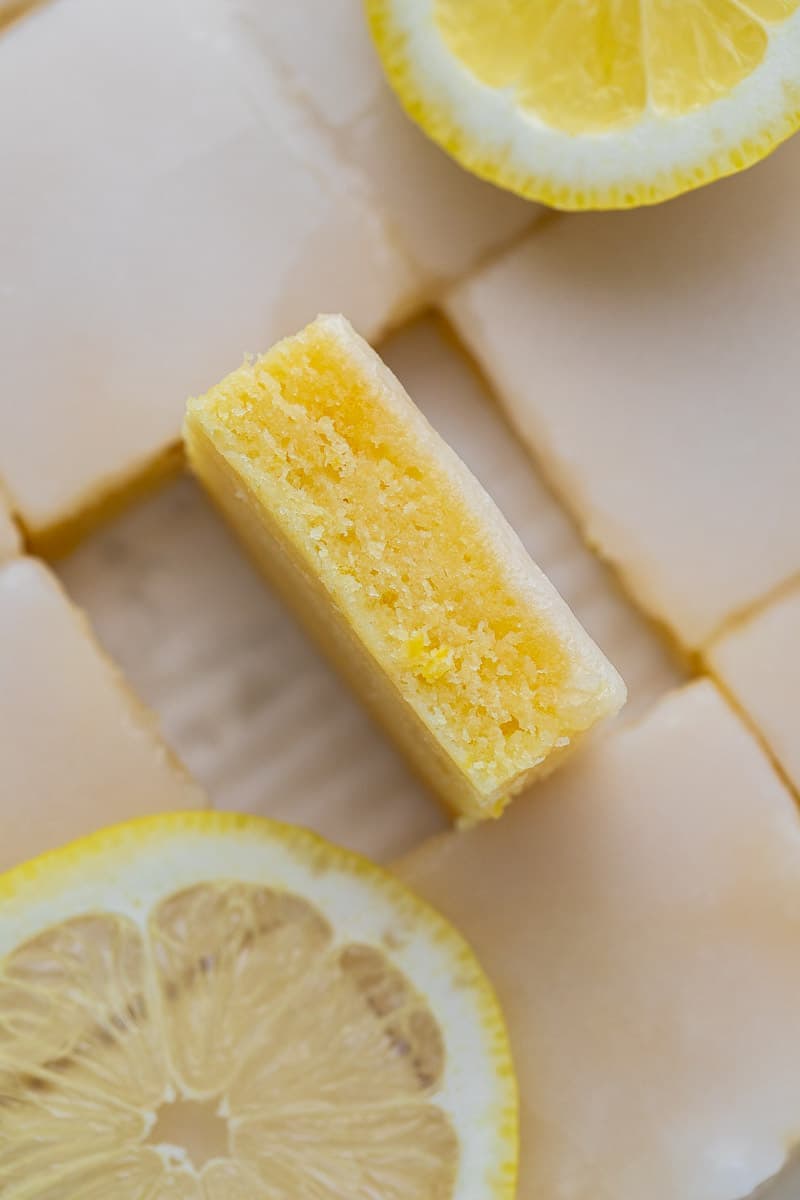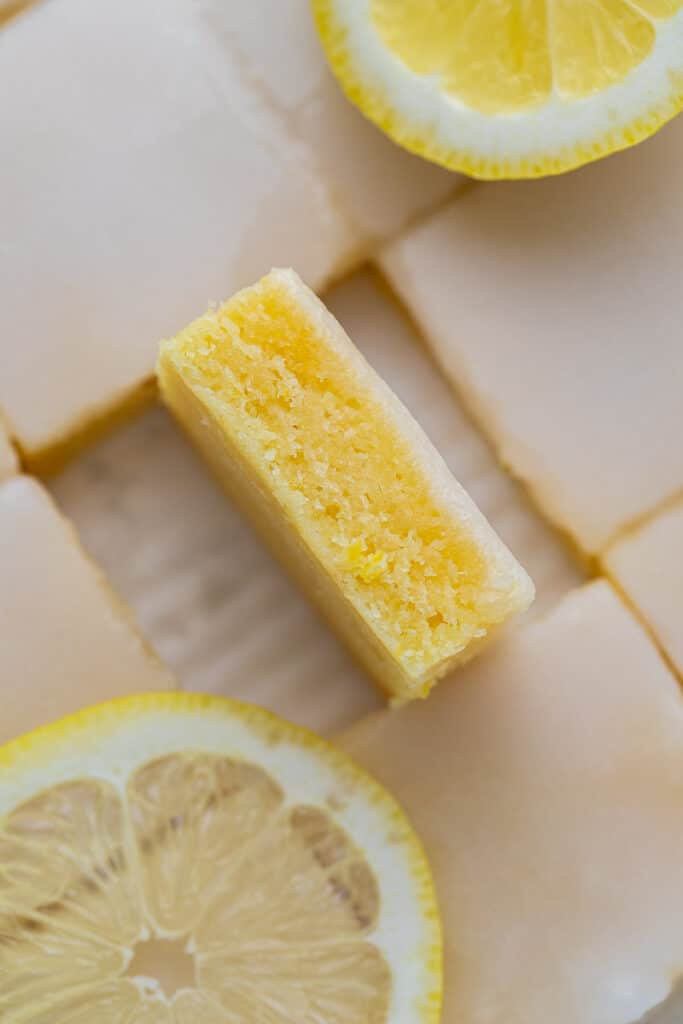 Can I double this lemon blondies recipe?
Yes! All you have to do is hit the x2 in the recipe card to get the right measurements and bake it in a 9×13′ pan! Just know that you will have to bake these blondies for a tad bit longer.
Can these be made gluten-free?
Yes! You can use Bob's Red Mill 1:1 GF flour or even King Arthur flour 1:1 GF flour.
Are these the same as traditional lemon bars?
No traditional lemon bars have a shortbread crust and a lemon custard on top while this one yields something more similar to a fudgy chocolate brownie in texture but uses fresh lemon flavor and no chocolate in it.
Can I use bottled lemon juice?
Fresh lemon zest and juice are a must in this recipe! Since it is the main flavor profile in both the blondie as well as the simple lemon glaze, using high quality ingredients is a must.
Using bottled lemon juice might give these an odd aftertaste.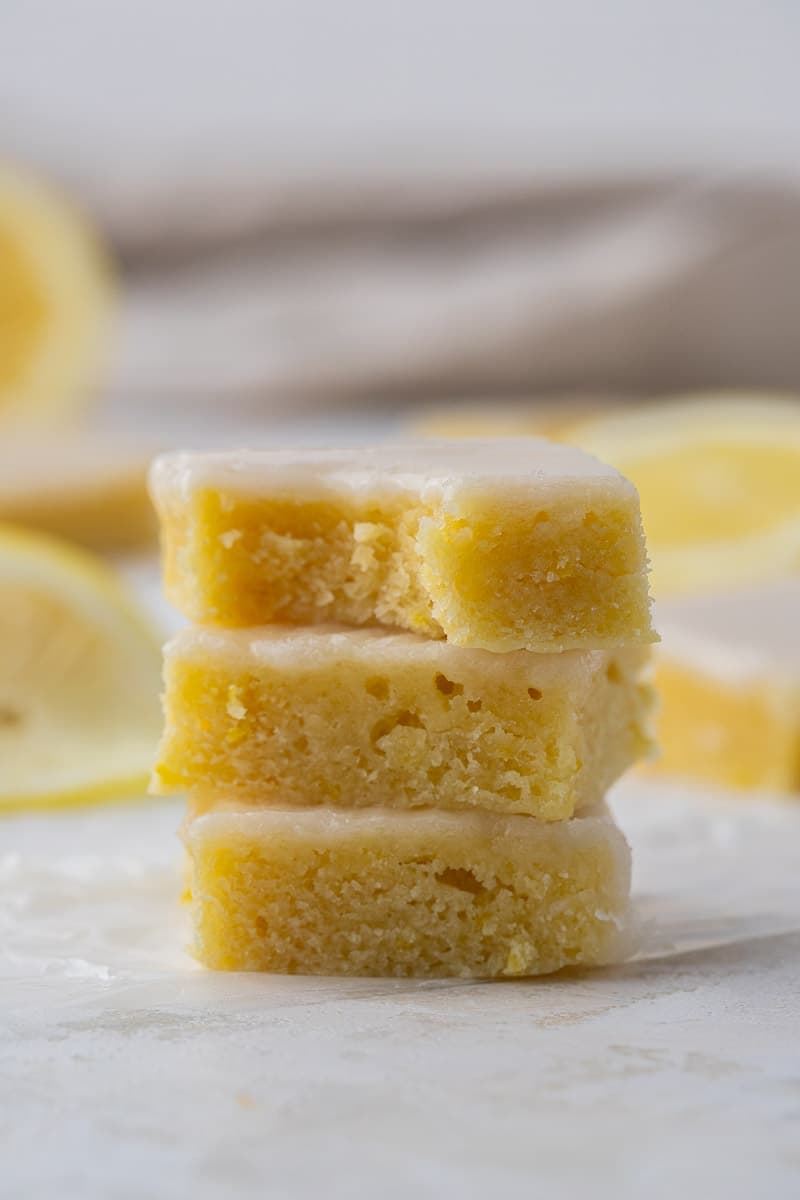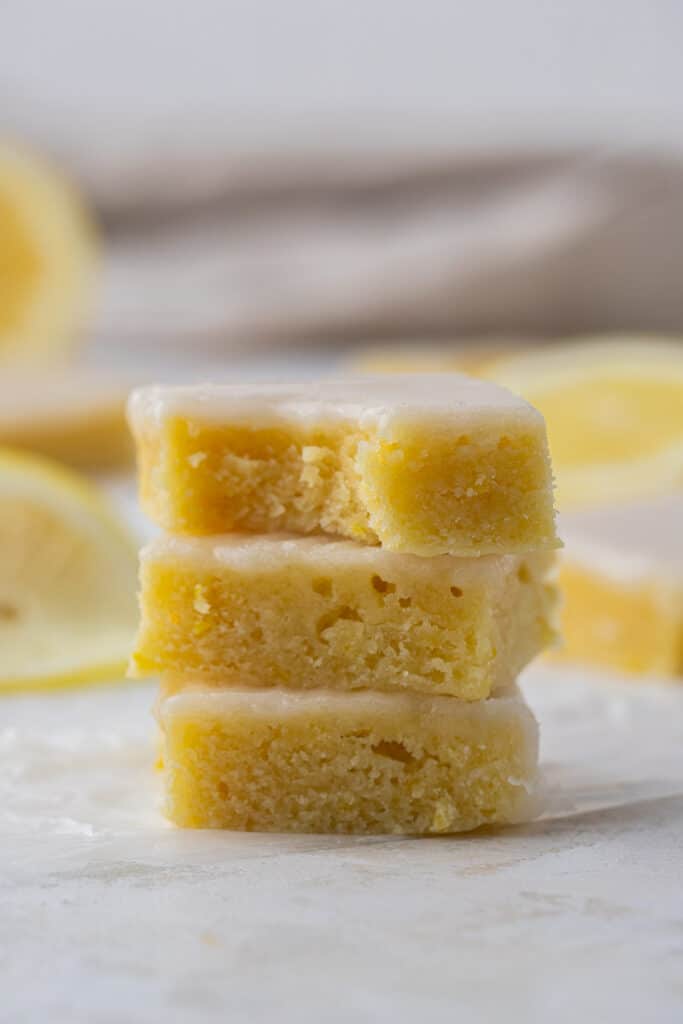 Can these lemon brownies be made ahead of time?
Yes! Bake them, wrap them tightly in plastic wrap, and store them in the fridge for up to 7 days. Once you're ready to serve them, top them with the glaze, let it set, slice, and serve.
Can these citrus brownies be made with orange or lime instead of lemon?
Absolutely! You can play around with your favorite citrus fruit and create your perfect dessert. It might be a bit harder to find extracts and flavorings of other citrus fruits but nothing you can't find online!
How can I get clean slices like the ones in the photos?
Allowing these delicious lemon brownies to cool down fully and using a sharp knife is key to ensuring that you get beautiful and sharp slices every time.
It is also a good idea to clean your knife after each slice to ensure that the residual doesn't get stuck on top of the bars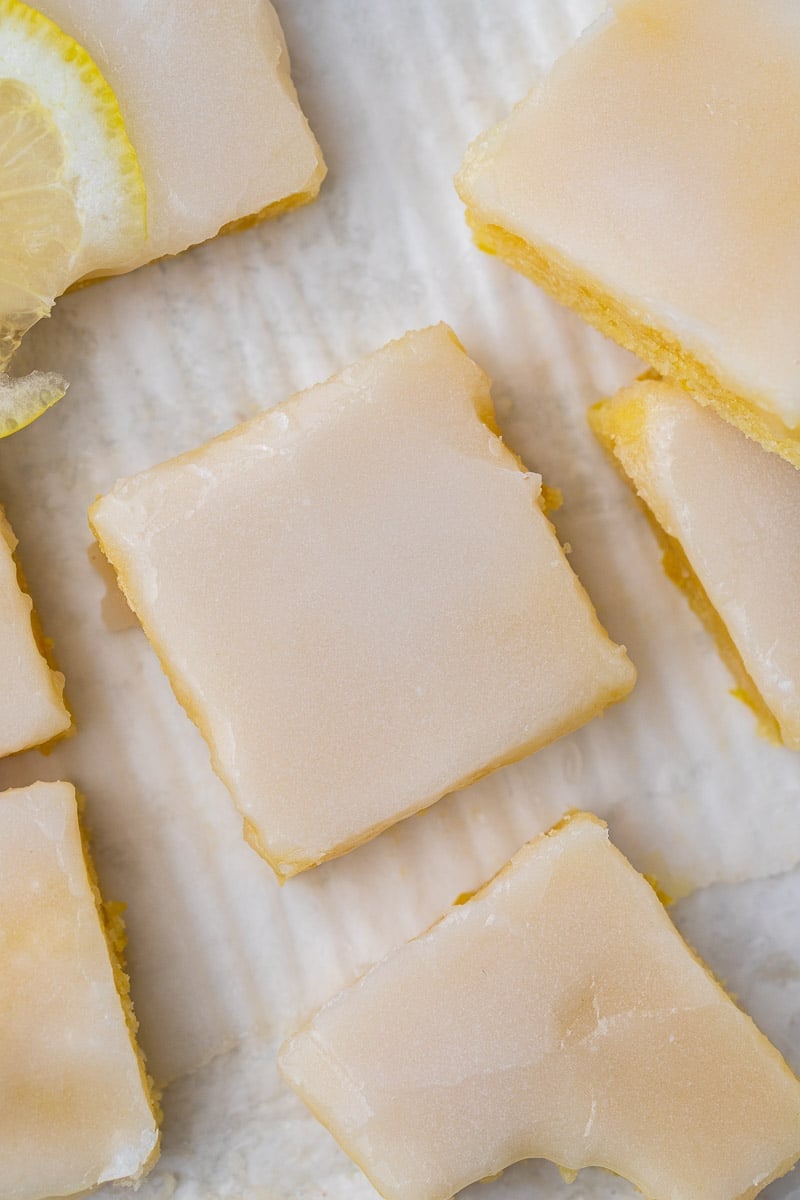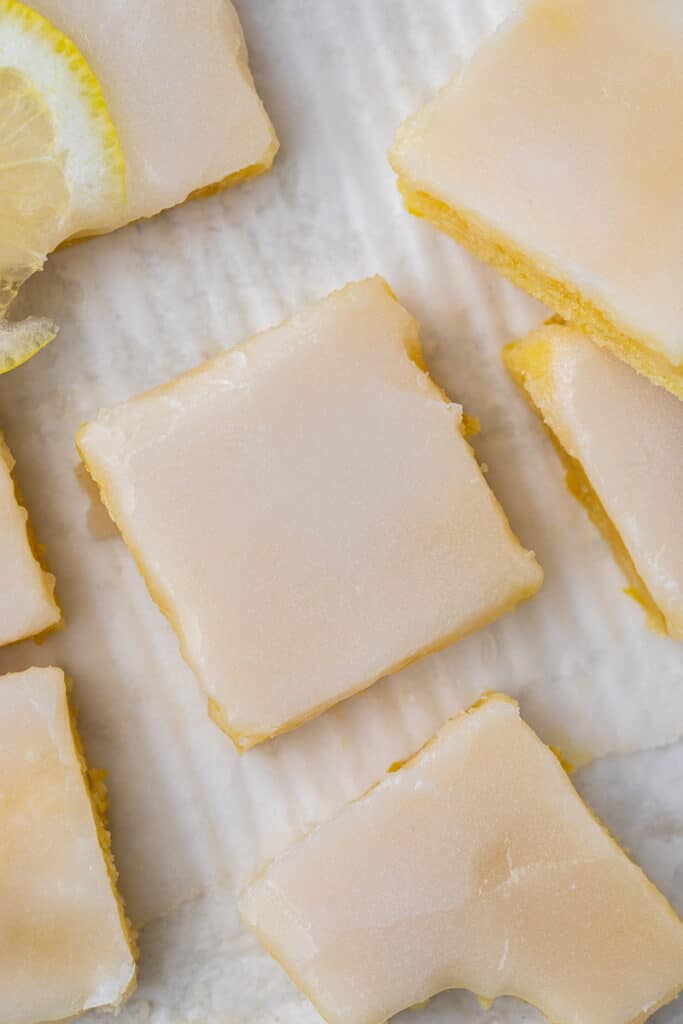 Lemon blondies recipe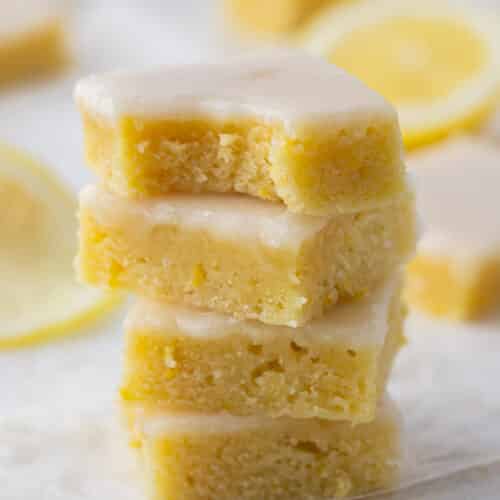 Fudgy lemon blondies- Lemon brownies
These lemon brownies or lemon blondies are fresh and tangy lemon cookie bars topped with a homemade lemon glaze that you will not be able to get enough of.
Ingredients
½

cup

butter

salted or unsalted, melted and cooled down

½

cup

granulated sugar

¼

cup

powdered sugar

2

eggs

at room temperature

2

tablespoon

lemon zest

1

tablespoon

lemon juice

2

teaspoon

vanilla extract

1

teaspoon

lemon extract

1

cup

AP flour

sifted, for gluten-free read the notes

¼

teaspoon

salt
For the lemon glaze
1

cup

powdered sugar

Without corn starch preferably to avoid that weird aftertaste.

2

tablespoon

lemon juice

1

tablespoon

lemon zest

optional
Instructions
Preheat the oven to 350F, then line an 8×8 baking pan with parchement paper and set aside.

In a medium/large bowl whisk the cooled down melted butter, granulated sugar, and powdered sugar together.

Add in the eggs, lemon zest, lemon juice, vanilla extract, and lemon extract, and mix to combine.

Gently fold in the flour and salt until the flour mixture disappears. Pour the batter into the prepared baking pan, spread the lemon blondie batter evenly, and bake for 16-17 minutes. The blondies won't look golden brown.

Let the lemon blondies cool down fully before topping it with the glaze
Make the lmon glaze
In a small/medium bowl whisk the powdered sugar and lemon juice until a thick pourable glaze forms.

Pour the glaze on top of the cooled-down blondies, spread it all over the top, and let it set and harden before slicing it into your lemon dessert!
Notes
How to store lemon brownies?
These lemon brownies can be stored in an airtight container at room temperature for up to 3 days.
You can also keep them in the fridge for a bit longer.
Glaze tip
Use powdered sugar that doesn't have any cornstarch in it to avoid that weird aftertaste. 
Gluten free option?
If you want to make these lemon brownies gluten-free, use King Arthur flour 1:1 GF flour or Bobs' Red Mill 1:1 GF flour! 
Nutrition
Calories:
167
Calories
Carbohydrates:
23
g
Protein:
2
g
Fat:
7
g
Saturated Fat:
4
g
Polyunsaturated Fat:
1
g
Monounsaturated Fat:
2
g
Trans Fat:
1
g
Cholesterol:
36
mg
Sodium:
199
mg
Potassium:
34
mg
Fiber:
1
g
Sugar:
16
g
Vitamin A:
208
IU
Vitamin C:
3
mg
Calcium:
28
mg
Iron:
1
mg
Thank you for making it all the way down here 🙂
If you enjoyed this recipe don't forget to let us know in the comments below! In the meantime, don't forget to follow me on Instagram!

Shop this recipe
This post may contain affiliate posts, meaning that at no cost to you I will get a small percentage of every purchase you make!
If you enjoyed this lemon brownie recipe make sure to pin it for later!