How to cook white rice on the stove. The best article to teach you the simple tips and trips to make foolproof white rice in a pot everytime. No need for a rice cooker or anything fancy, you will get soft, fluffy and light white rice in less than 30 minutes!
SIGN UP TO OUR MAILING LIST GET A FREE WEEKLY MEAL PLANNER AND RECIPE CARD!
Hello everyone!
Not too long ago, I went to the grocery stove to pick up a few essential and I noticed that every bag of rice was gone!
I guess when people were prepping for the apocalypse, rice was one of those essential things everyone needed to have. I mean it makes a lot of sense, getting enough non perishables to last you for a while would be great to avoid leaving the house.
I usually have a good amount of rice at home to use when I don't feel like making anything elaborate. But everyone loves when I make a nice side of white rice especially with curries or bean stews.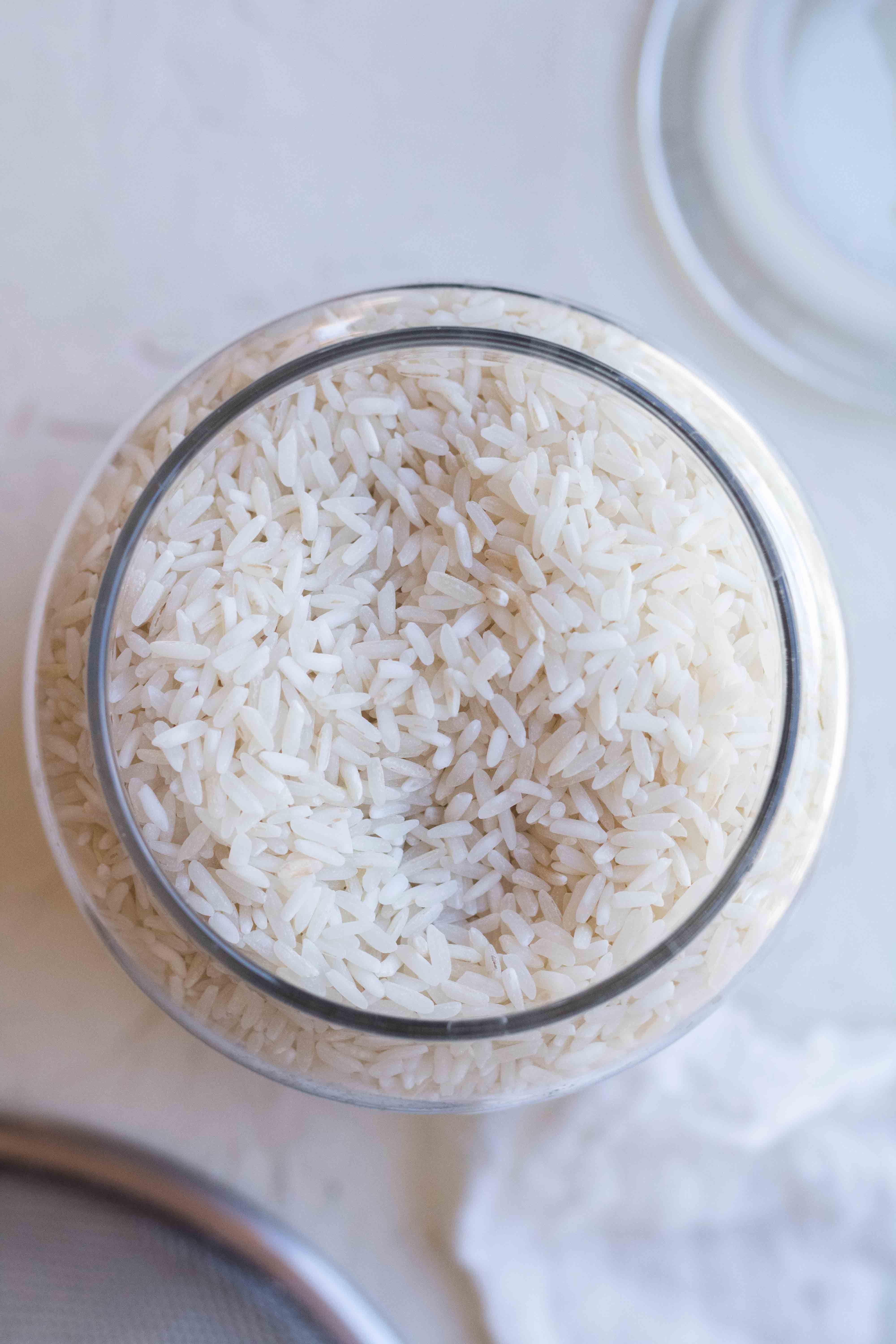 What's so special about this stove top white rice?
I love my white stove top rice because:
It is super easy to make
It pairs perfectly with many dishes
It is cheap
It is so quick to make
It comes out soft and fluffy every time
What ingredients to I need to make white rice on the stove?
White rice is one of the easiest things to make, all you need to make the perfect white rice is:
Other how to articles you will like!
Rice to water ratio
What is the ratio of water to rice?
When making white rice, usually you need 1 and ½ cup of water to 1 ¾ cup of water to one cup of rice. This rice to water ratio will depend on the type of rice you use of course and the pot you have. For the recipe that I am sharing today, you will need 1 ¾ cup of water to make the perfect white rice!
How much water do I use for 1 cup of rice?
To make 1 cup of dry rice, you will need between 1 ½ to 1 ¾ cups of water.
How much water do I use for 2 cups of rice?
To make 2 cups of dry rice, you will need 3 to 3 ½ cups of water.
How much water do I use for 3 cups of rice?
To make 3 cups of dry rice, you will need 4 ½ to 6 ¼ cups of water
How much water do I use for 4 cups of rice?
To make 4 cups of dry rice, you will need 6- 7 cups of water.
How long do you cook rice on the stove?
Cooking rice on the stove is fairly quick. You will first have to get the water up to a boil, this can take anywhere from 3-8 minutes depending on how much water and how much rice you are using.
Once the water is up to a boil, reduce the heat to bring the rice to a gentle simmer. Cover the pot and let it cook for 15-20 minutes.
So overall rice usually takes about 25-30 minutes in total to cook completely between getting the water to a boil and then letting the white rice cook while covered with a lid.
How do you make rice not sticky?
To learn how to make white rice not sticky, we first have to understand why it happens.
First things first, rice usually has a thin film of chalky powder on it. This happens because when the rice rubs against one another during shipping. That thin powder is what we call starch, and if not rinsed properly it will make your rice super sticky.
So the solution to this issue is to rinse your rise very well. When you rinse your rice you get rid of the excess starches to get a perfectly fluffy white rice bowl! Next time you get asked how do you keep white rice from getting sticky, you will have the perfect answer for that.
How much rice do I need for one person?
This answer depends largely on how much you or your family usually eats and what the rice is served with. As a rule of thumb, I usually like to account for ½ to ½ cup (60g-90g) of dry or uncooked rice to feed one person
How long can rice sit after cooking and why does rice need to rest anyways?
In this recipe and in many stove top rice recipes, it says to let the rice rest with the lid on for 10-30 minutes after removing it from the heat. You might not want to do this and wait that extra 10 minutes but it is crucial to not skip this step.
When cooking white rice on the stovetop, the bottom layer of rice usually cooks a lot more than the top layer. The top layer usually has grains that are unevenly cooked and a little more firm. When we make rice we want something evenly cooked and soft and fluffy all around.
To achieve that you need to let the rice rest for 10-30 minutes with the lid on , this will redistribute the moisture evenly throughout both layers of rice and cook them evenly.
Tips for how to the perfect rice
Always rinse your rice – If you don't want your rice to be a ball of mush, rinse your rice! getting rid of those extra starches will give you the perfect cooked white rice.
Add salt- You don't have to add salt to your rice while it's cooking but it is always better to add it into the water so that the rice absorbs it.
Don't remove the lid- Keep the lid on after having cooked the rice. This will redistribute the moisture and heat evenly to get each grain of rice cooked to perfection.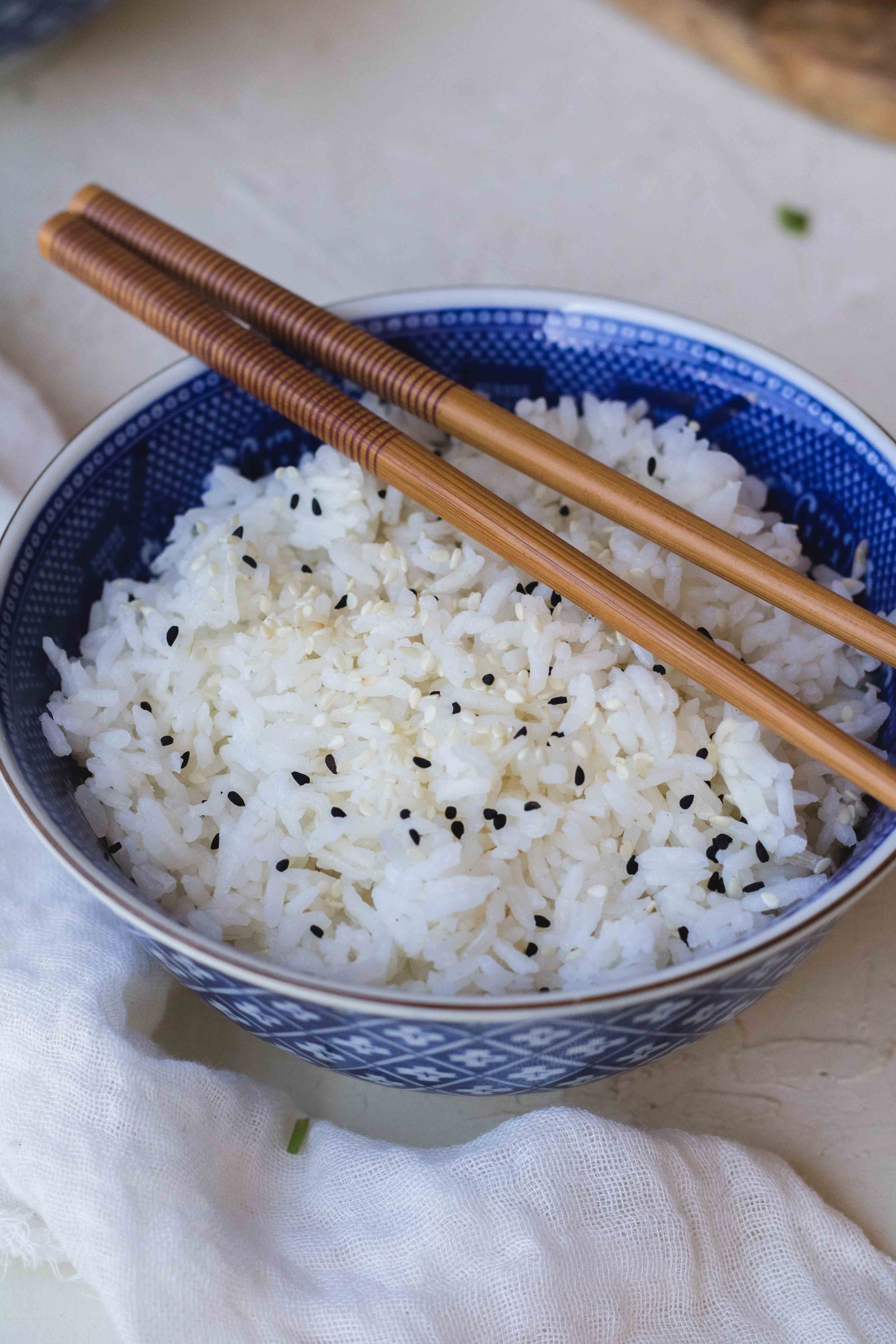 IF YOU MADE SOMETHING FROM LIFESTYLEOFAFOODIE, I WOULD LOVE TO SEE ALL YOUR CREATIONS AND KNOW HOW EVERYTHING TURNED OUT! SO DON'T FORGET TO LEAVE A COMMENT BELOW AND FOLLOW ALONG WITH ME ON INSTAGRAM, PINTEREST, AND FACEBOOK.

How to make foolproof white rice on the stove?
How to make white rice of the stove top
Making white rice on the stove top is a simple thing yet many of us tend to not know how to make it! This recipe will fix that!
Ingredients
1

cup

white rice

1 ¾

cup

water

1

tablespoon

tablespoon

butter or olive oil

1

teaspoon

salt
Instructions
Using a strainer, rinse the white rice under cold water. continue rinsing it until the water is clear. This will remove any debris and starches so that the rice doesn't clump up.

Now that you rinsed the rice, combine the water, butter and rice in a medium pot. Place it on the stove on medium heat and bring it to a boil.

Reduce the heat and let it simmer. Let the rice completely absorb the water, this should take 18-20 minutes. When the time is up, remove the rice from the heat but leave the lid on. DO NOT REMOVE THE LID for 10 minutes after the rice has cooked. Fluff the rice with a fork and serve.
How much does 1 cup of rice serve?
1 cup of dry rice serves about 2-3 people depending on what it is going to be saved with. 1 cup of white rice makes about 2 cups of cooked rice. So if you need 1 cup of cooked rice per person and you have more than just 2 people make extra rice in a bigger pot.
Shop this recipe
This post may contain affiliate posts, meaning that at no cost to you I will get a small percentage of every purchase you make!
If you enjoyed this article on how to cook white rice on the stove make sure to pin it for later!