These chewy honey cookies are some of the best you'll ever make! This original recipe is made with ½ cup honey to really allow those flavors to shine through while still keeping the cookies soft and chewy. With each bite of this delicious cookie, you will get a delicious honey flavor with the most perfect chewy texture you'll ever have! These cookies are perfect on their own with a cup of coffee or tea but can also be used to make cookie sandwiches as well.
Since you are here, make sure to try out this honey bun cookie recipe, this Crumbl honey cornbread cookie recipe, this honey oat milk latte, as well as this moist honey cake recipe!
This is the best chewy honey cookie recipe!
When it comes to cookies, I got you covered with the best of the best. I mean at the end of the day, my website has become a place for everyone to go and look for their favorite cookie recipe so I had to share a staple recipe for soft cookies that have a strong honey flavor as well as a delicious texture.
These cookies are so versatile that they can be made for spring festivities, summer picnics, fall treats to enjoy with your pumpkin lattes, or even as a winter Christmas cookie.
The flavor of the honey shines through and will brighten any honey lovers' day! Give it a try and let me know what you think 🙂
Why you need to make this honey cookies recipe!
​These cookies have an amazing and distinct flavor that you will be obsessed with!
This recipe is made with simple ingredients that you probably already have at home.
Everything is made with one bowl, AKA less cleanup which we love!
These cookies are so versatile, they can be enjoyed year-round but will definitely be the star of the show on your Christmas cookie platter!
These are the perfect cookies to make with your little ones and create some core memories together.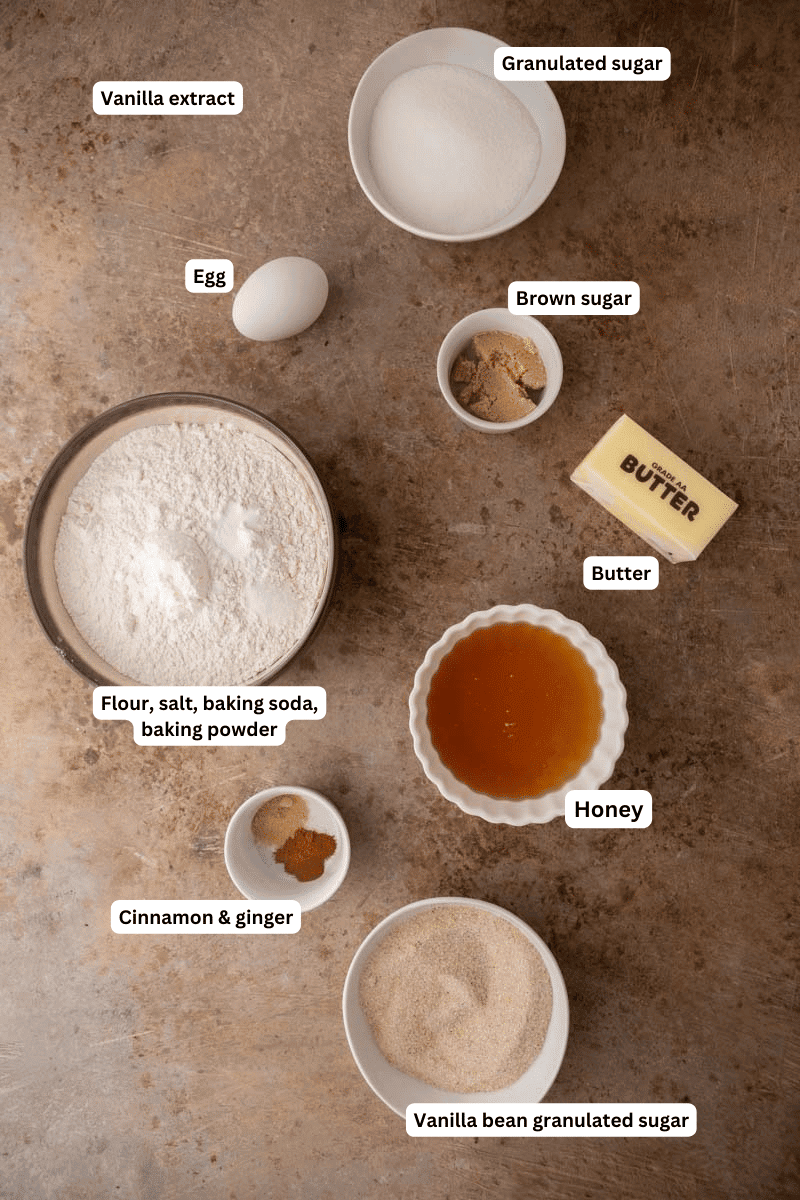 Ingredients for this super chewy cookie
Here are the ingredients you will need to make this delicious Make sure to scroll down to the recipe card for the full detailed ingredient measurements.
Butter- You can use salted or unsalted butter for this recipe. No need to worry about having room temperature butter or cold butter because we are going to melt it with the honey and sugar mixture.
Brown sugar & granulated sugar
Honey- You can use any type of honey that you like! Clover honey, wildflower honey, or even orange blossom honey would really turn this simple recipe into the most delicious treat EVER!
Eggs
Flour
Corn starch
Baking soda & baking powder
Cinnamon & ginger
Salt
Vanilla bean sugar or regular turbinado sugar for coating- This not only makes these cookies look amazing but it is also a great way to elevate the texture by adding some crunch to each cookie.
How to make this honey cookie recipe
This is how you can make these chewy honey cookies. Make sure to scroll down to the recipe card for the full detailed instructions!
Add butter, honey, white sugar, and brown sugar into a large bowl and melt in the microwave in 30-second increments.
Whisk in the egg and vanilla extract once the butter mixture cools down a little bit.
Fold in the flour mixture. Starting with the flour, baking soda, baking powder, salt, cinnamon, and ginger.
Cover the bowl with plastic wrap and chill for an hour and 15 minutes. This allows the flavors to develop and the flour to absorb the moisture from the wet ingredients.
Roll the cookie dough balls into the vanilla sugar and place on a parchment-lined baking sheet and bake in the oven.
Allow the cookies to cool down on the parchment-lined baking sheet for a few minutes. Then transferring everything to a wire rack to cool down some more.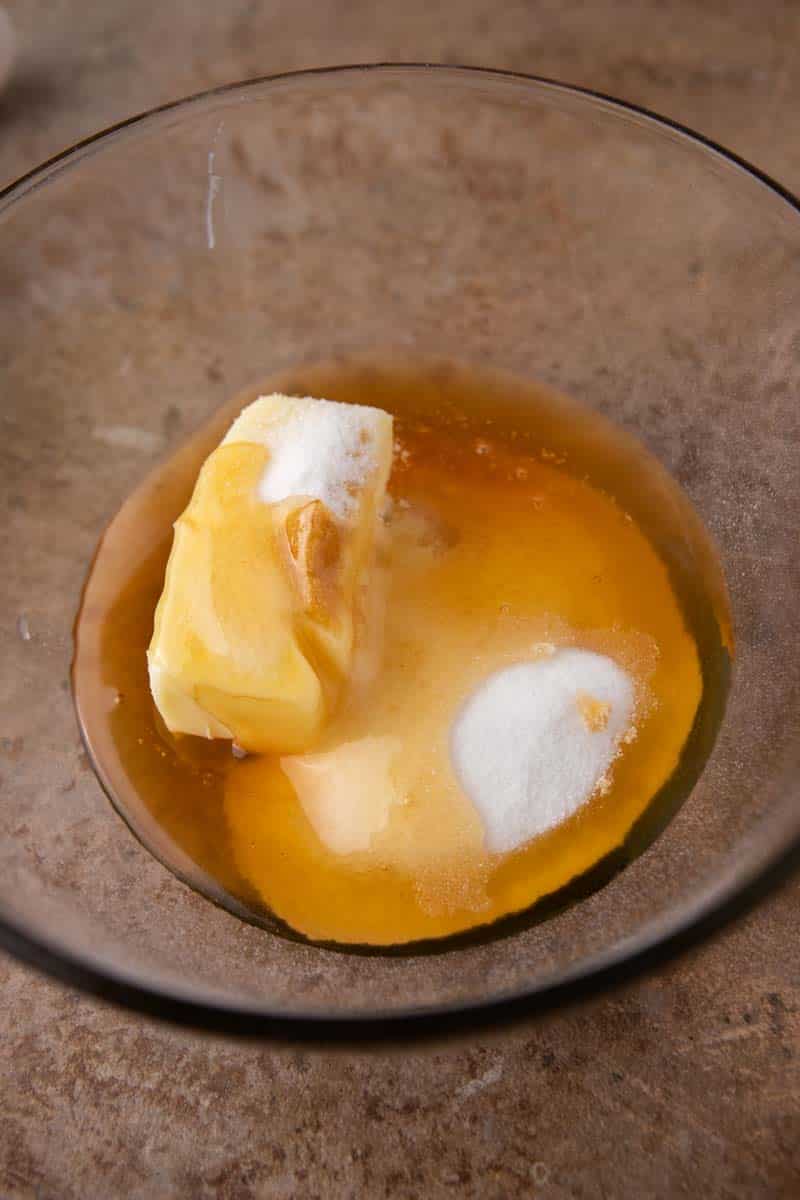 Frequently asked questions – FAQ
How to store these delicious honey cookies?
Store these cookies in an airtight container for up to 5 days.
Can I freeze honey cookies?
Absolutely! you can freeze these cookies in an airtight container for up to 3 months. Once you are ready to enjoy them thaw them on the counter for a few hours or in the fridge overnight.
How can I keep my cookies softer for longer?
My best trick to keep cookies softer for longer is to add a little piece of toast or a tortilla to the airtight container where you store the cookies. This is a minimal effort easy option to keep your cookies fresh.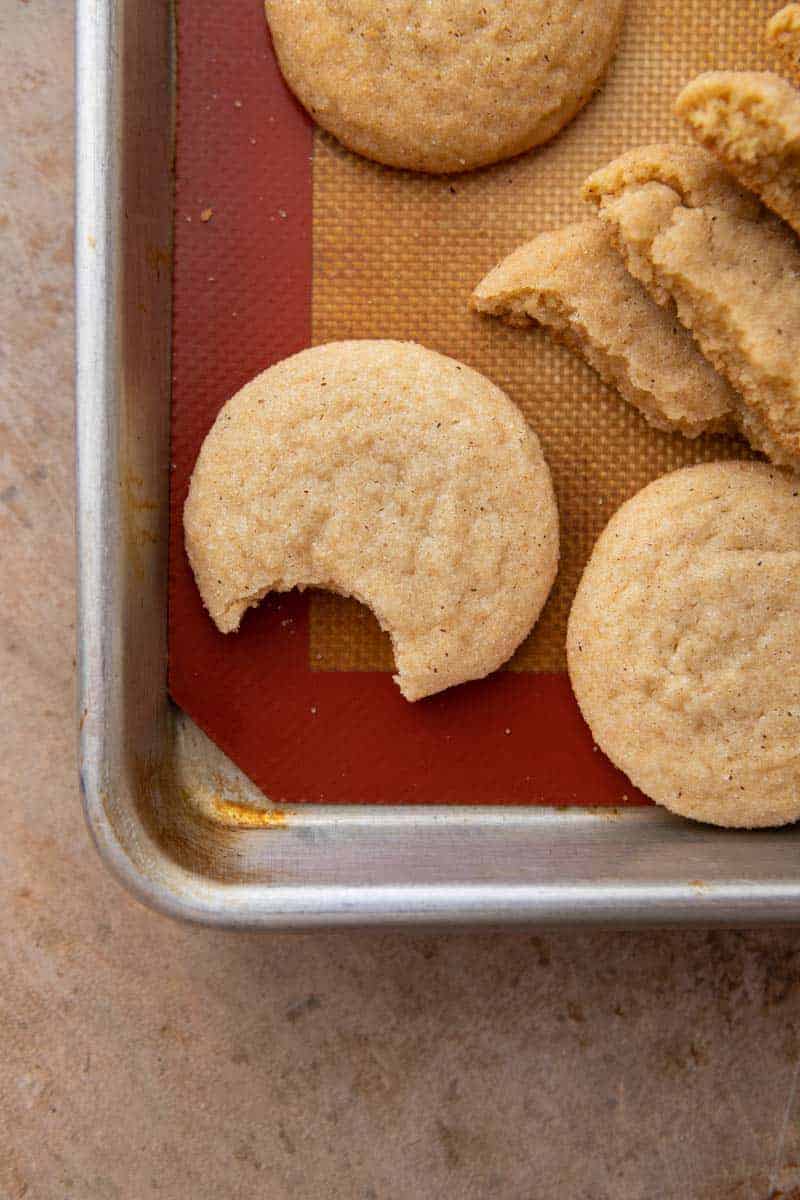 The most perfect honey cookie recipe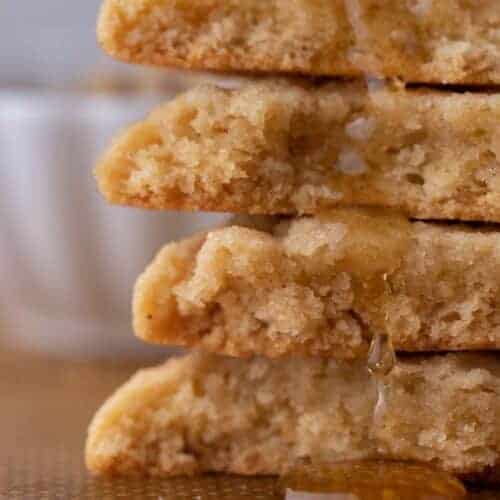 Soft and Chewy Honey Cookies
These soft and chewy honey cookies are the ultimate cookie for honey lovers. It is easy to make and has a deep honey flavor,
Ingredients
½

cup

butter

½

granulated sugar

1

tablespoon

brown sugar

½

cup

honey

1

egg

1

teaspoon

vanilla extract

¼

teaspoon

baking soda

¼

teaspoon

baking powder

¼

teaspoon

ginger

¼

teaspoon

cinnamon

2 & ¼

cup

AP flour

1

tablespoon

corn starch

¼

teaspoon

salt

⅓

cup

vanilla sugar

or coarse granulated sugar
Instructions
Line a large baking sheet with parchment paper and set aside.

In a large bowl, melt the butter, honey, brown sugar, and granulated sugar in 30-second increments in the microwave. Whisk to combine.

½ cup butter,

½ granulated sugar,

1 tablespoon brown sugar,

½ cup honey

Allow the melted honey butter mixture to cool down for a few minutes then add in the egg and the vanilla extract and whisk again to combine.

1 egg,

1 teaspoon vanilla extract

Fold in the flour, baking soda, baking powder, ginger, cinnamon, cornstarch, and salt just until the flour mixture disappears. The cookie dough will be soft.

¼ teaspoon baking soda,

¼ teaspoon baking powder,

¼ teaspoon ginger,

¼ teaspoon cinnamon,

2 & ¼ cup AP flour,

1 tablespoon corn starch,

¼ teaspoon salt

Wrap the bowl with plastic wrap and chill in the fridge for one hour and 15 minutes.

About 15 minutes before you are ready to pull out your cookies, preheat the oven to 325F.

Once the cookie dough is ready, scoop 22 small cookie dough balls using a small 2-tablespoon cookie scooper. Roll each one in vanilla sugar, place on the baking sheet, and bake for 10-11 minutes.

Allow the cooking to cool on the baking sheet for a few minutes before transferring it to a cooling rack. Enjoy with a cup of tea or coffee!
Nutrition
Calories:
154
Calories
Carbohydrates:
22
g
Protein:
2
g
Fat:
6
g
Saturated Fat:
3
g
Polyunsaturated Fat:
1
g
Monounsaturated Fat:
2
g
Trans Fat:
0.2
g
Cholesterol:
19
mg
Sodium:
412
mg
Potassium:
39
mg
Fiber:
1
g
Sugar:
8
g
Vitamin A:
140
IU
Vitamin C:
0.04
mg
Calcium:
42
mg
Iron:
1
mg
Shop this recipe
This post may contain affiliate links, meaning that at no cost to you I will get a small percentage of every purchase you make!
If you enjoyed this Chewy honey cookies recipe make sure to pin it for later!