Hello friends!!
So it finally happened I typed a whole blog post earlier and everything froze on me and my whole post was gone! You guys can imagine the frustration of having about thousand words written down and then just seeing them disappear in front of your eyes! shoutout to all my college friends who have dealt with this issue as well! But on the bright sideI was able to find a way to just talk to my laptop and have it type for me.How lazy huh!! But I promise you it comes in very handy when things like these happen.
So last night I have decided to eat completely sugar free and unprocessed foods this Monday. As many of you know it kind of can get complicated if you do not prepare yourself the right way… Because let me tell you, when I get hungry I have no self-control so it is a lot better to have something ready for those moments of need.
This morning, the first thing I had was my grapefruit juice. I do not buy grapefruit juice since it often has a lot of added sugar in it. I usually make my own by taking a whole grapefruit and I blending it with some grapes because I found out that that was the best way to neutralize the acidity and the bitterness of the grapefruit itself. I always like to say that since both fruits contain the word grape they HAVE to work together!!!! And surprisingly enough they do. Something that is even crazier is how eventually your body just starts to crave that grapefruit flavor because it knows that it is amazing for it!
After having my juice I went into the kitchen To play around with some ingredients and I decided that I was going to make a fresh Summer basil hummus. For us hummus is a big staple in the fridge because it allows us to snack on something quick and healthy whenever needed. So instead of reaching for those chips, next time go ahead and try this hummus recipe with some sliced up bell peppers, carrots, or cucumbers.
Healthy and Quick Homemade Hummus Recipe
Yield 4-5 servings
Prep Time 5 minutes
Total Time 10 minutes
Ingredients
1 can of chickpeas/ garbanzo beans (15oz or 430g)
2 tablespoon pure virgin olive oil
3 tablespoon tahini
4 tablespoon water
4-5 garlic clove
The juice of one lemon
4-5 basil leaves
½ – 1 teaspoon salt
Directions
Place everything in a food processor, in my case I used my NutriBullet.
Blend everything until smooth.
pour it on a plate or in your to go containers for an easy healthy snack on the go, drizzle some olive oil on top. Enjoy with some veggies or pretzels!
Make sure to let me know when you try this healthy basil hummus recipe by using the hashtag #TDfoodi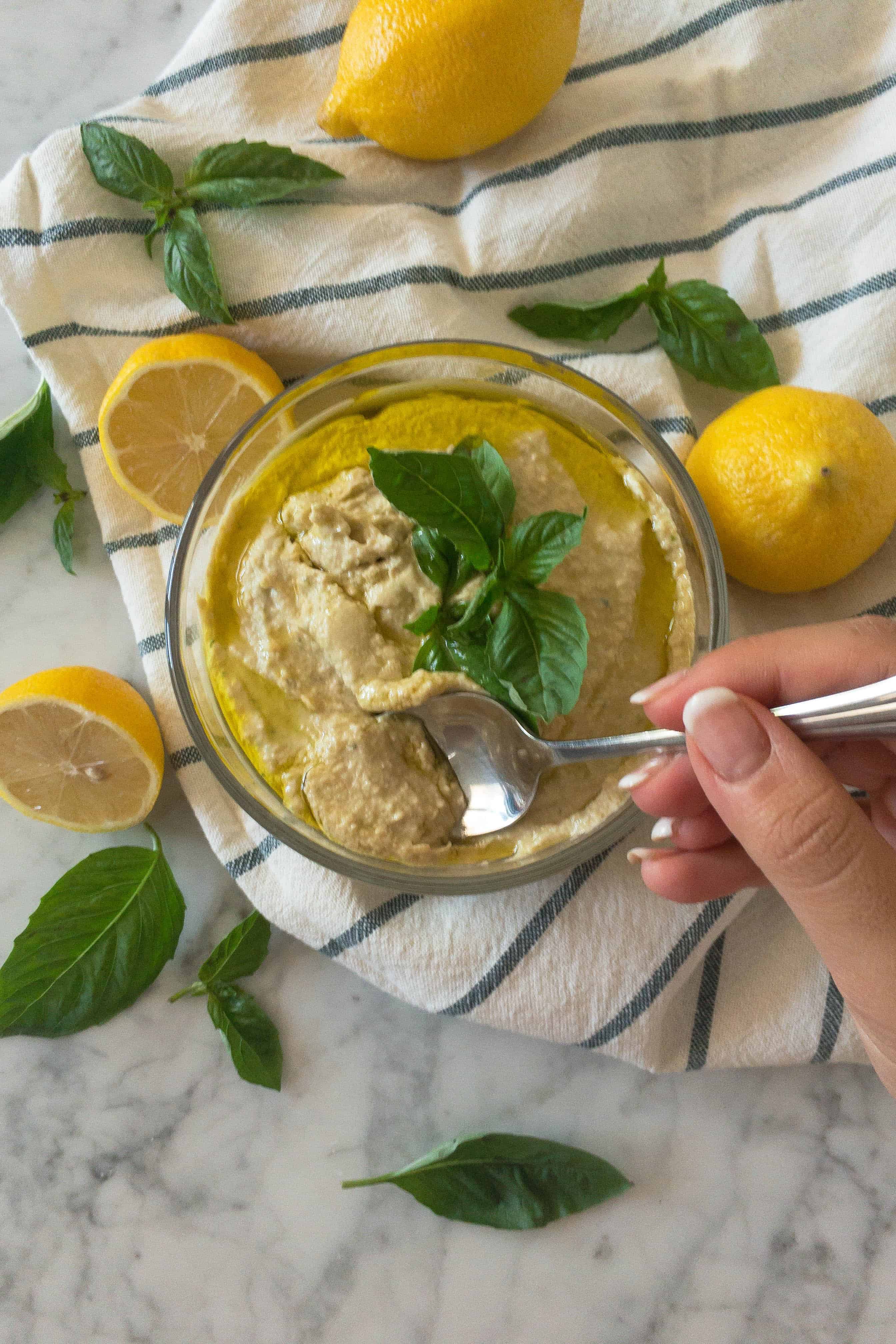 Don't forget to follow me on social media to stay up to date
instagram chahinez_tbt
twitter disciplinedfood