Brownies with no cocoa powder!! Ever wonder how bakeries get their brownies so fudgy and delicious? Without even using a dusting of cocoa powder?! Well you are in luck because today I am going to spill the tea on all the little secrets that you need to know to make the best bakery worthy dark chocolate brownies!
To see a quick Instagram highlight video snippet go to my instagram profile and check out the highlights!
Sign up to our mailing list get a FREE weekly meal planner and recipe card!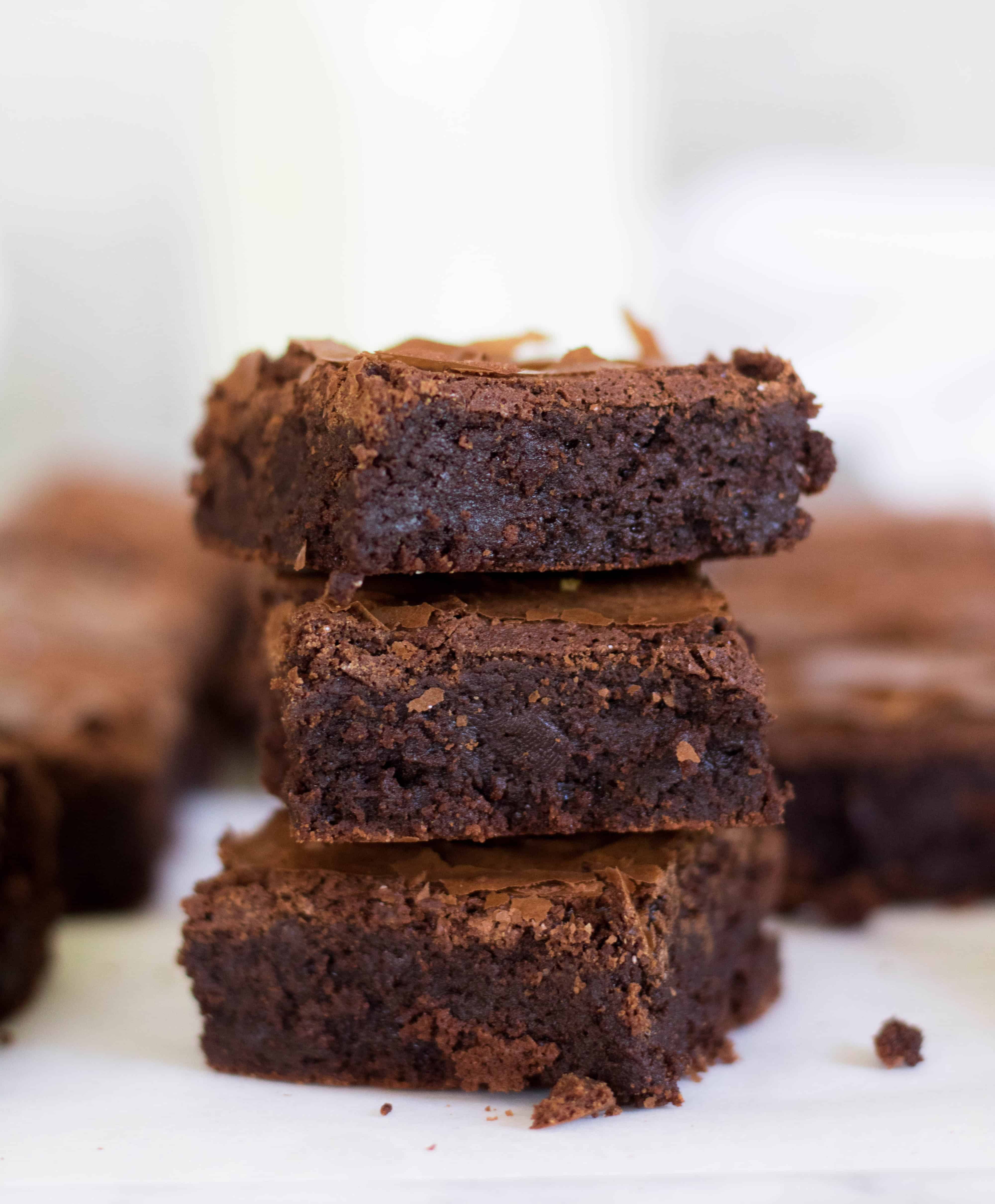 Hi everyone!
You are on the right page is you are looking for how to make brownies!
I have been holding off on posting this recipe specifically because I knew that the second I made it, I was going to eat the whole tray of brownies… I was able to contain myself but not for long… They are calling my name through that airtight container I put them in!! Someone send help…
Anyways, today I want to teach you what I learned last year around in this time when I was interning in a French pastry shop here in Las Vegas. Keep reading to get all the deets on how to make brownies at home without any cocoa powder!
What is so special about this no cocoa powder brownie recipe?
When I shared this a while back, everyone absolutely loved it! This brownie recipe went viral on multiple platforms and many people sent their feedback on how their recipes turned out! Some of the highlights were that:
These brownies are rich and decadent
They are soft and chewy brownies
Top them with a scoop of vanilla bean ice cream and you got yourself a super fancy brownie dessert
They use melted chocolate instead of cocoa powder
These brownies will make your house smell like a bakery in less than 30 minutes!
So if you are still wondering if this internet famous brownie recipe is for you, let me say it again… These are the world's best no cocoa powder brownies! So seriously, what are you still waiting for 🙂 ?!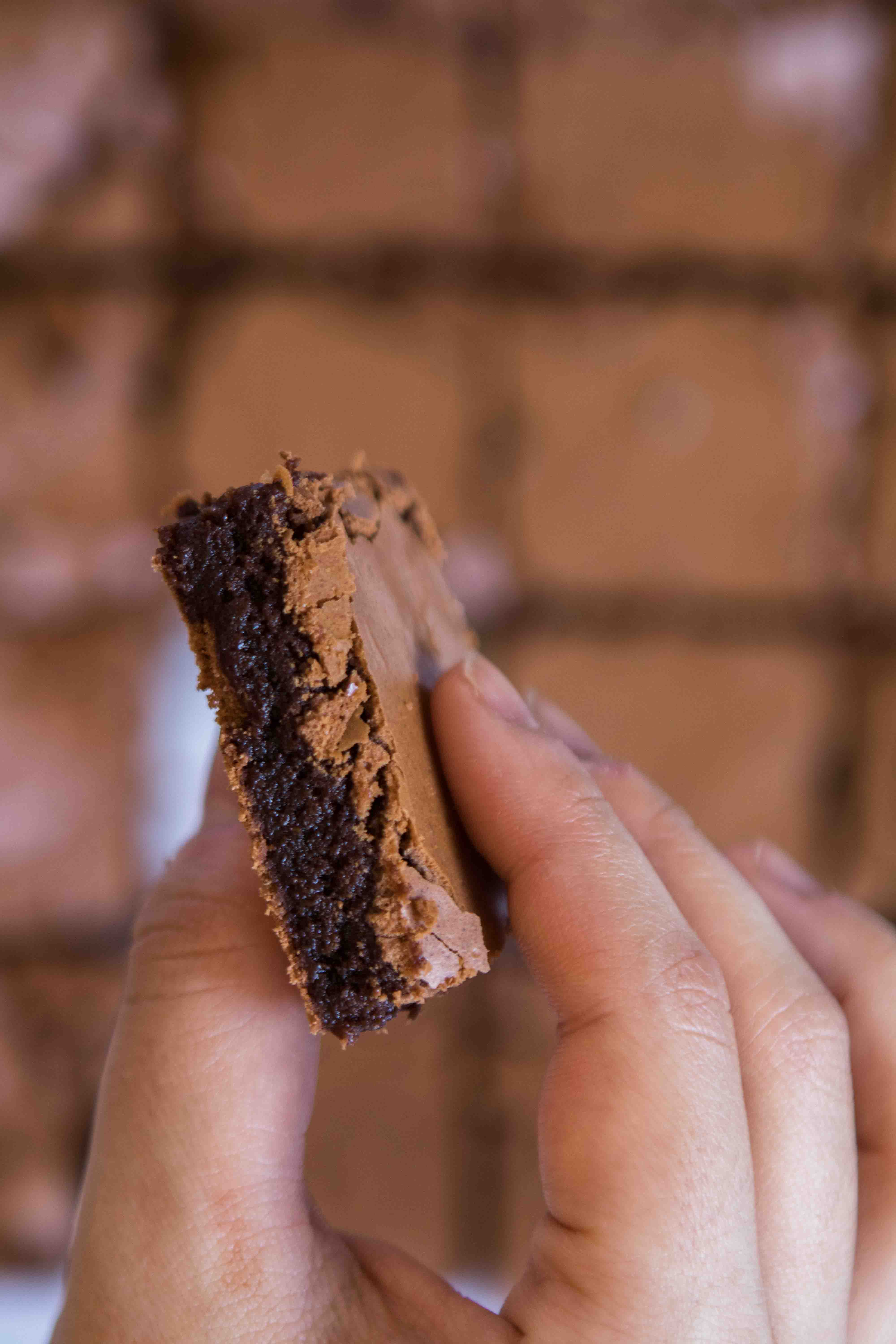 More recipe you'll absolutely love
How to make brownies from scratch without cocoa powder?
These brownies are the absolute best! Perfectly fudgy, rich and packed full of delicious dark chocolate! These brownies are here are the reason you will never go back to boxed brownies ever again!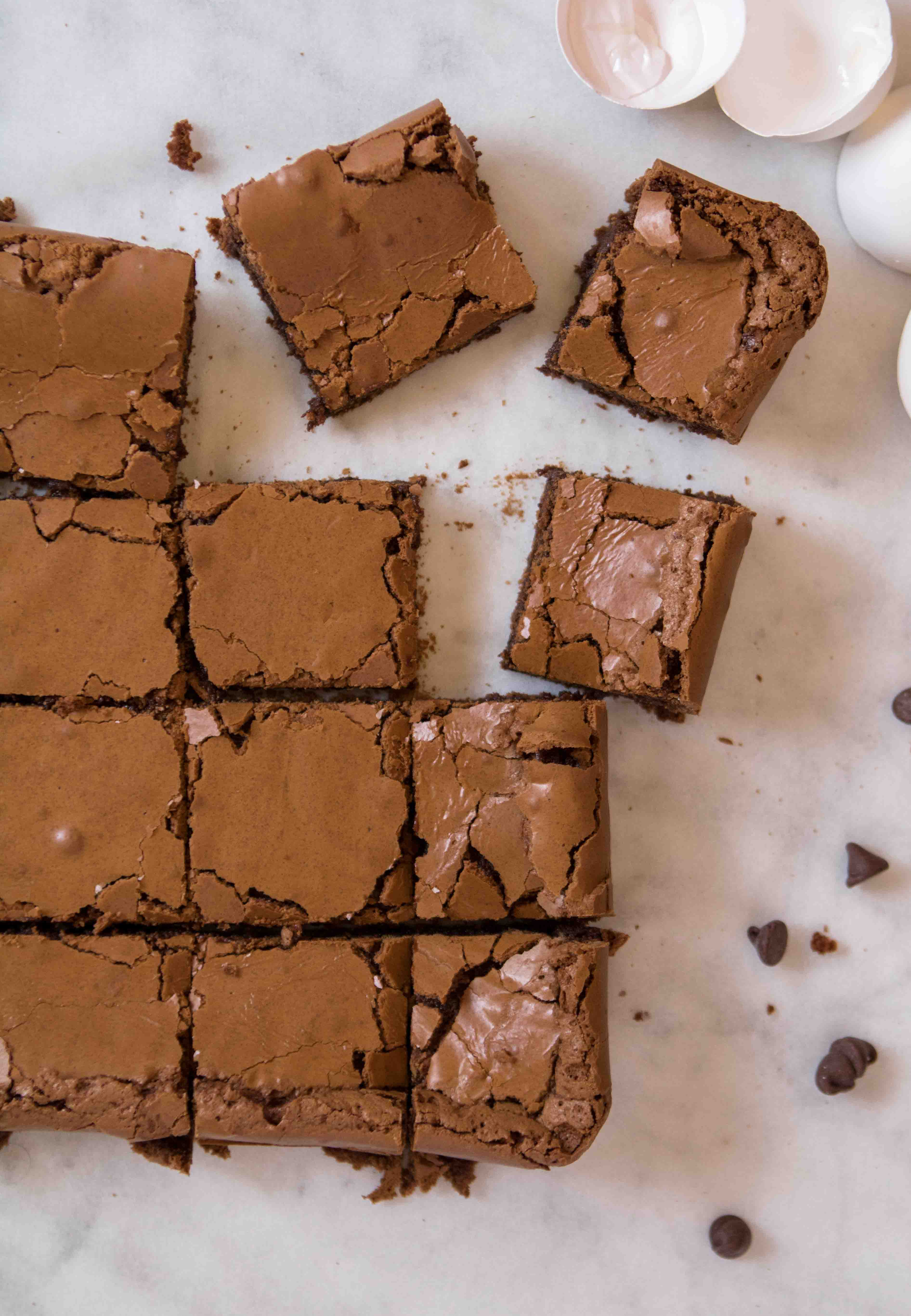 So how do you make these Bakery Style Brownies With no Cocoa Powder?
This is one of my favorite brownie recipe because it is very simple to make. The hardest to do here yet again is going to be to wait for this bakery style brownie to cool down before cutting it.
I personally recommend making it the night before after brushing your teeth. (little tip here on how to not over eat at night. Always brush your teeth before starting baking something this delicious!) So make this the night before that way it will have enough time to cool down before you cut into it.
Anyways… enough with the blabering and let's get into how to make the easiest brownie recipe ever!
First you will want to preheat your oven to 350 degrees F, then grease and like an 8×8 baking pan with parchment paper. Set this aside.
The next step is to melt the chocolate. Since we are making a bakery style brownie recipe, we are going t melt the chocolate in a Bain Marie. This means melting your chocolate in a hot water bath.
Put the chocolate in a heatproof bowl and place it over almost simmering water. Stir the chocolate frequently until it is completely melted. Remove the bowl from the heat and add in the butter and the brown sugar, whisk until combined.
In a different bowl or stand mixer bowl, crack the eggs, add in the granulated sugar, vanilla, salt, and beat until the eggs are thick and lighter in color. Then whisk in the melted chocolate mixture and fold the flour in.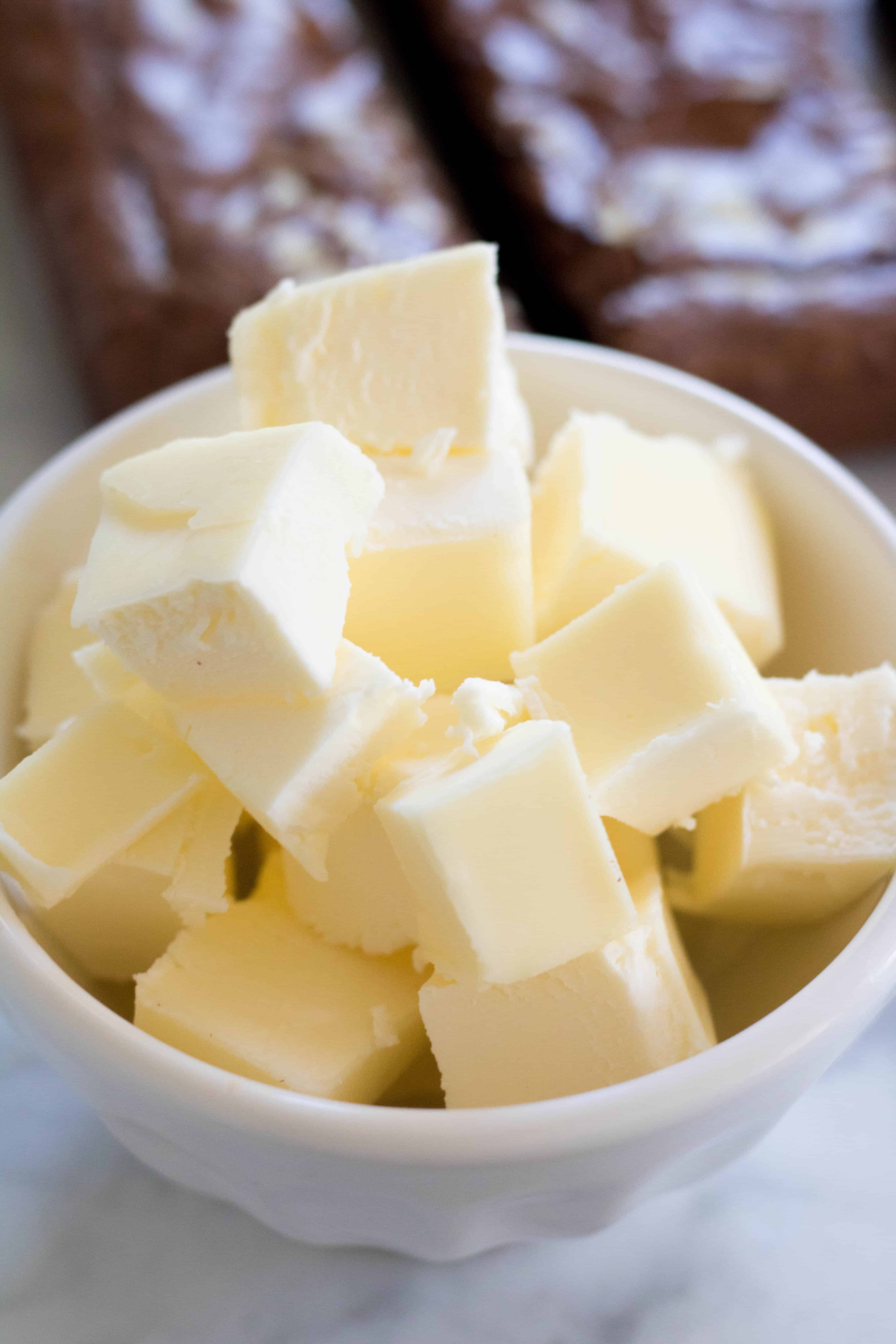 Time for baking! Scrape the brownie batter into the prepared baking pan and bake for 25-30 minutes.
Let the brownie cool for at least an hour before pulling it out of the baking pan using the parchment paper.
For easier slicing, place the brownie in the fridge for an extra hour after cooling.
Tips for the perfect bakery brownies recipe
Brownies are one of those staple recipes. Everyone loves brownies but sometimes they can be a pain in the butt. So with these tips you will never have a failed brownie batch again!
First, you are going to need to know which kind of brownie you want to make. These are my absolute favorite and they taste so so good to me… But if you are into a more cake-y brownie you might hate them. So pick your poison and roll with it!
When baking brownies, you want to make sure that your ingredients are of the BEST quality possible! Using premium quality ingredient will ensure that the final product will taste luxurious. Since Brownie recipes often times don't call for that many ingredients, you will end up tasting every little component. So buy the best of the best if possible! For example instead of using the Hershey's chocolate chips which in my opinion are not even made with real chocolate, use Ghirardelli chocolate, Lindt, Guittard or even Valrhona.
Read the recipe and understand all the steps before starting! When you are ready prepare all your ingredients ( mise en place) and then start baking, not the other way around. This will help you make sure that you do all the step correctly without forgetting ingredients.
Going back to the previous tip, these bakery style brownies use no cocoa powder. So when you melt the chocolate and have your chocolate brown sugar and butter mixture ready don't go adding it to your eggs right away. You don't want to end up with a nice chocolate scramble… gross I know. When you read the recipe, you will see that you have to melt the chocolate and then set it aside while you beat the eggs. This should give it a little time to cool.
Speaking of eggs, make sure your eggs are at room temperature. The whites and yolk will combine way more easily this way. I also know that sometimes we all forget to pull out our eggs 30 minutes before we start baking, so my tip is to put the 3 eggs in a warm water bath for 10-15 minutes while you are melting the chocolate.
Follow the recipe to the T and don't go under-baking the brownies. I know a lot of us love under baked brownies, but most of the time that is going to be factored into the recipe. Like I said in the first tip. If you want under baked, soft gooey brownies look for a recipe that will result in that. If you start changing baking times you might end up with something that is pretty much raw still, and who wants that…
Be patient! Don't dig into the brownie the second it comes out of the oven. It won't be set just yet, and you will end up with a chocolate-y mess, which is by no means a horrible thing. But come on you've came this far, why not wait a little longer for an out of this world result. Letting set and cool down in the pan will also help it develop more flavor!
This is a video to show you exactly how to make the best fudgy brownies without cocoa powder.
This brownie recipe with no cocoa powder has its own recipe video now! This will help show you the step by step process to make your next batch of fresh homemade brownies without cocoa!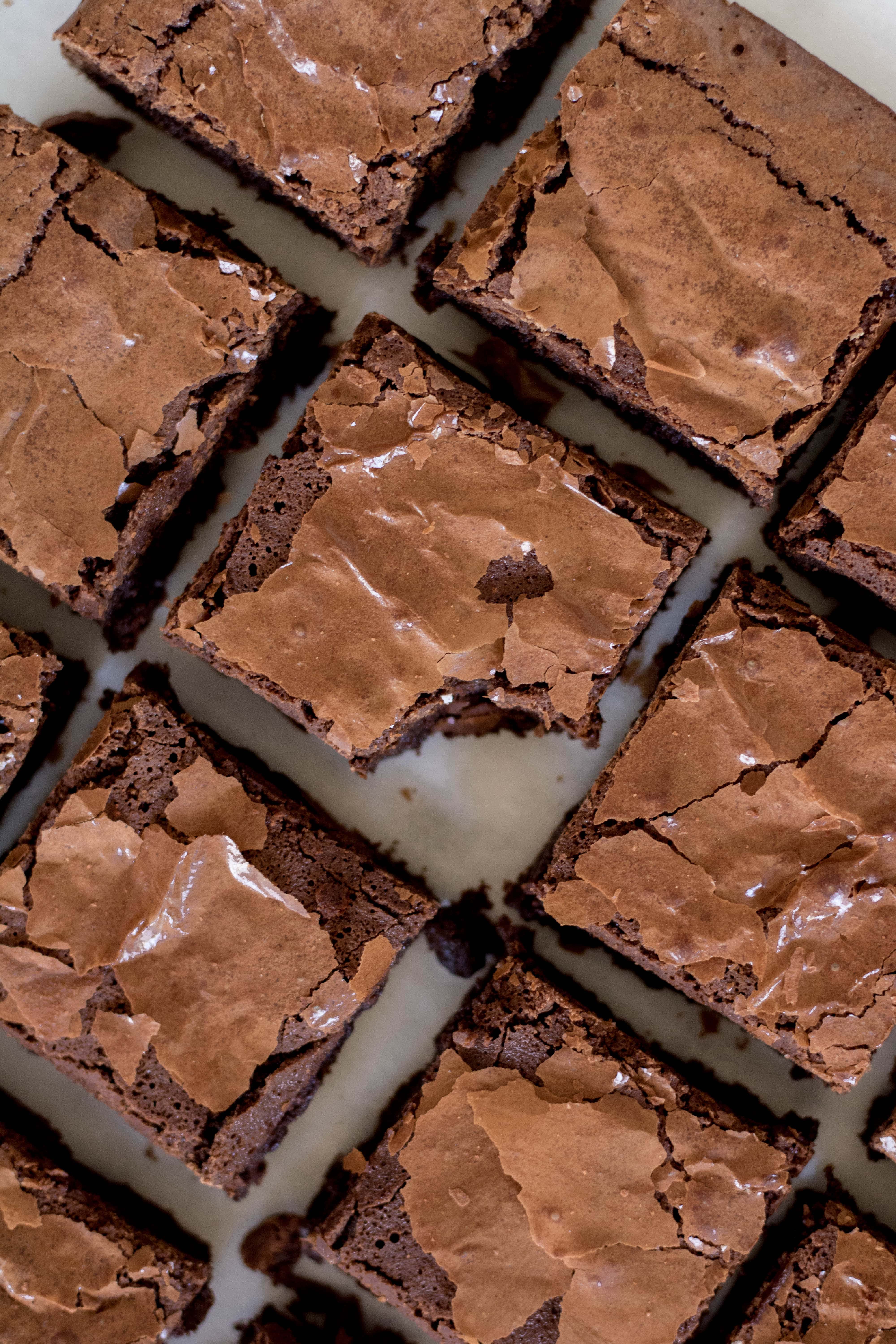 Bakery Style Brownies With no Cocoa Powder
If you ever wondered how to make brownies gooey and fudgy well this recipe is totally for you! If you tried this recipe make sure to give it a 5 star review! It would help me greatly 🙂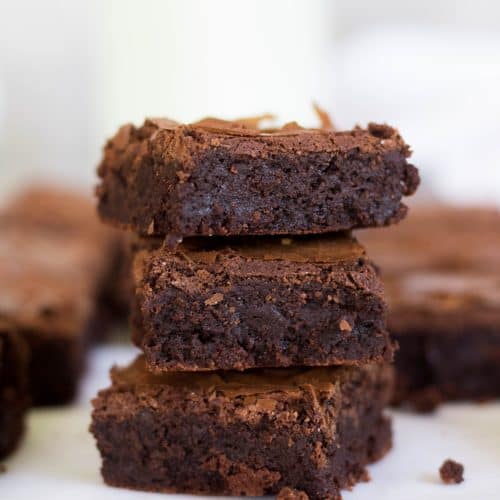 Bakery Style Brownies With no Cocoa Powder
Bakery style brownies in the comfort of your own home? YES! Please. This recipe requires no cocoa powder just pure dark chocolate for the most decadent, gooey, fudgy brownies! !
Ingredients
8

oz

70% bittersweet chocolate

coarsely chopped

6

tbsp

unsalted butter

cut into smaller chunks

1/2

cup

light brown sugar

packed

3

eggs

large

1/2

cup

granulated sugar

1/4

tsp

salt

1

tsp

vanilla extract

1/3

cup

all-purpose flour
Instructions
First preheat the oven to 350F, then grease and line an 8X8 inch baking pan with parchment paper and set aside.

Place the chocolate in a heatproof bowl and set it in a wide pot of almost simmering water. Stir it frequently until the mixture is melted and smooth. Remove the bowl from the heat and add in the butter and the light brown sugar. whisk until completely combined and set aside.

In a medium bowl or in your stand mixer bowl, add in the eggs, granulated sugar, salt, and vanilla extract and beat either with a handheld mixer of stand mixer until the eggs are thick and lighter in color. This process will take about 3-4 minutes. Whisk in the melted chocolate mixture and then fold in the flour.

Scrape the batter into the prepared baking pan and spread evenly. bake for 25-30 minutes. Cool the brownie in the pan then gently remove it from the pan using the parchment paper. Slice and enjoy!
Notes
Make sure to use the parchment paper technique! This will allow you to pull out your brownies with ease whenever they are ready.
Nutrition
Calories:
196
kcal
Carbohydrates:
24
g
Protein:
2
g
Fat:
10
g
Saturated Fat:
6
g
Cholesterol:
43
mg
Sodium:
52
mg
Potassium:
104
mg
Fiber:
1
g
Sugar:
19
g
Vitamin A:
183
IU
Calcium:
20
mg
Iron:
1
mg
Still want more recipes?! Check these out.
As always if you loved and tried these homemade brownies without cocoa powder make sure to leave a comment below. It would let me know how you liked them and what you thought!
I put a lot of effort into making these recipes for you guys and would love your feedback.
Have a great rest of your day.
Shop this recipe
This post may contain affiliate posts, meaning that at no cost to you I will get a small percentage of every purchase you make!
If you enjoyed this No cocoa Powder brownie recipe, make sure to pin it for later!