This Dutch apple pie with crumb topping is perfectly spiced for your fall holiday celebrations. It is packed with apples then topped with a delicious streusel topping to add an additional textural element.
SIGN UP TO OUR MAILING LIST GET A FREE WEEKLY MEAL PLANNER AND RECIPE CARD!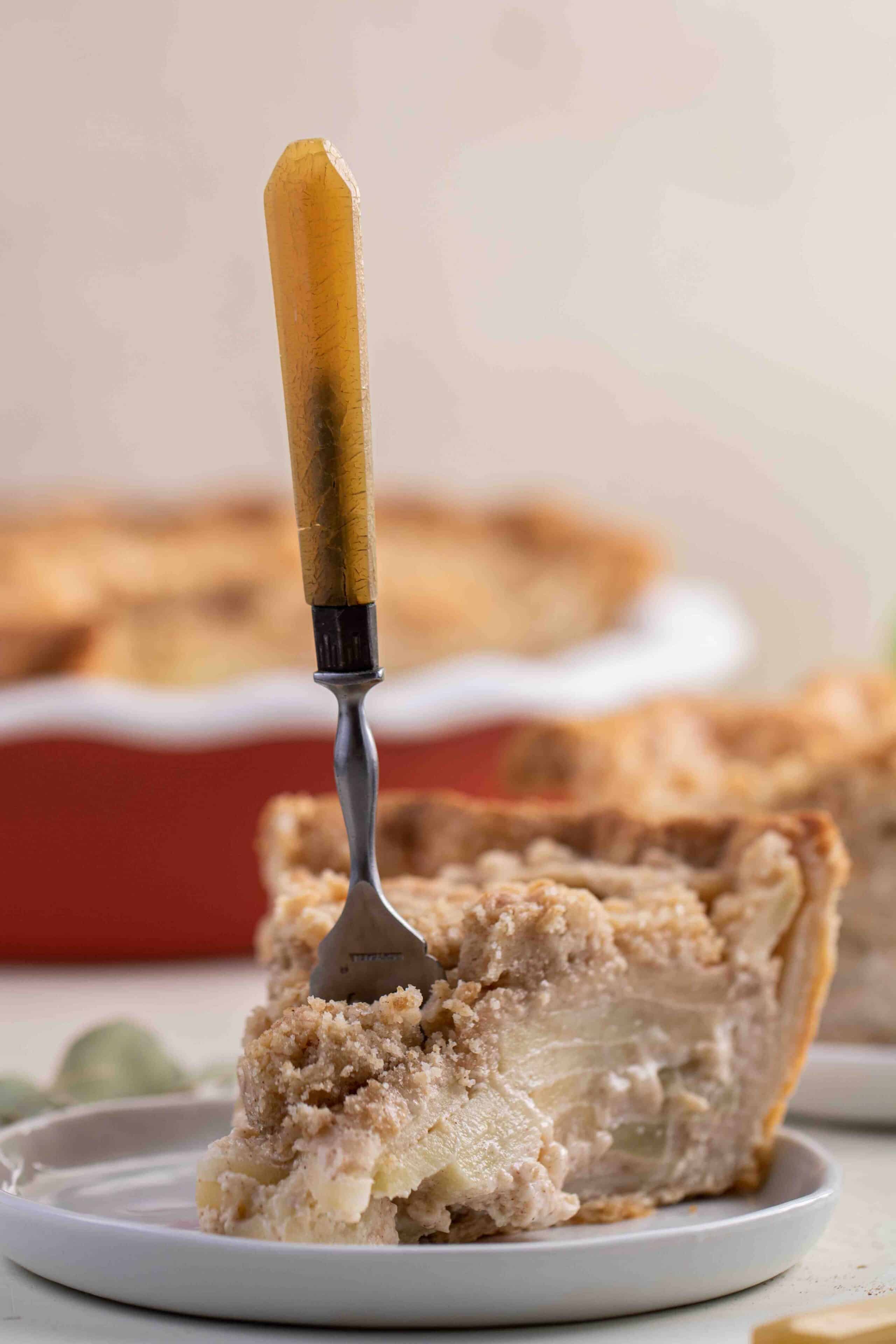 Pies! Nothing more American that a deliciously juicy apple pie in a perfectly flaky buttery crust. Actually, yes! An apple pie in an amazing butter crust topped with a flavorful streusel. It hits all your senses and you don't have to do double the work to make it!
I made something similar about ten years ago and everyone in my family fell in love. Unfortunately, I lost the recipe I used back in the day so I've been trying to recreate it ever since then. Fortunately enough, this crumbly apple pie is pretty close and will make you as satisfied as the one I made years ago made my family.
This is the best homemade Dutch apple pie with crumb topping recipe ever.
If you haven't had a crumble anything before, this is your time! It is extremely easy to make and only requires 4 ingredients but makes all the difference. I love streusel so much that I used it to top my Pumpkin Muffins with Pumpkin Streusel, my Bakery style Blueberry Muffin recipe with Streusel as well as my Pecan Banana Bread with Streusel Topping.
I promise you it is life changing. It has the texture of a shortbread cookie on top of whatever you decide to use it on, in this sour cream apple pie. The sweetness and the crumbly texture of the streusel pairs amazingly with the tangy flavor of the sour cream custard and the softness of the baked slices of apple.
aWhat's so special about this Sour cream apple pie
This pie is one of the best apples pies I've ever had because:
It has a crumb topping (This is all you need to know… Go make it now!)
The cinnamon spice makes it extra festive and holiday inspired.
It can be made in advance to free up some oven room during Thanksgiving day.
Perfect for those who might not love pumpkin or sweet potato pie.
It is rich, tasty, and super impressive!
Dutch apple pie vs sour cream apple pie
You might be asking yourself what's the difference really? After quite a lot of research I came to the conclusion that it's pretty much the same thing. A Pennsylvania Dutch sour cream apple pie is a combination of the two titles to make one amazing custard apple pie.
The combination of the sweet of the apples and the streusel and the sour of the sour cream makes for an amazing culinary experience that you need to get behind this Holiday season!
Ingredients for the sour cream crumb topping apple pie recipe
For the sour cream apple pie filling you will need the following ingredients:
9-inch pie crust- Either store bought or homemade. Make sure you press your pie crust into a deep 9-inch pie plate.
Sugar– Just a little sugar goes a long way in this easy apple pie recipe.
Flour– The flour will help the apple pie filling set easier.
Salt– The salt balances the sweetness of the pie.
Sour cream– The sour cream is what makes this apple pie filling turn into a custard.
Egg– The eggs mixed with the sour cream and sugar makes this a custard apple pie.
Vanilla– I always love adding vanilla to my pies. It gives a depth of flavor.
Cinnamon– Apple and cinnamon spice go hand in hand especially in this apple pie recipe.
Apples– You can honestly use whatever you have on hand, but I personally like to use a combination of granny smith apples and honey crisp apples.
For the apple pie crumb topping you will need the following ingredients:
Flour- All purpose flour works great in this recipe.
Cinnamon– Cinnamon will add some more depth of flavor to our streusel.
Butter– The butter will bind the crumb topping together.
Brown sugar and Granulated sugar– We use two different type of sugars for this streusel pie topping to give it more depth.
Do you need to peel the apples for apple pie?
Yes, peeling the apples is a must for this recipe. It makes the apple pie filling a whole lot more delicate and soft. The soft apples and the crispy streusel topping works perfectly together in this pie recipe.
How to make the apple pie filling?
To make the apple pie filling, mix the sugar, flour, salt, sour cream, egg, vanilla, and cinnamon in a large bowl and whisk until completely incorporated.
After that, add in the thinly sliced apple in there and coat them fully in the sour cream mixture. This will then go in the deep blind baked pie shell and in the oven for 40 minutes.
How to make the apple pie crumb topping
To make the streusel for the apple pie, combine the flour, butter, brown sugar, and granulated sugar in a large bowl and mix with a pastry cutter until the mixture is crumbly.
After the apple pie has baked for 40 minutes, pull it out and top it with the streusel mixture then place it back in the oven. If you notice the crust browning too quickly, make sure to use a crust shield to protect it from over browning.
Bake the pie for another 25-30 minutes then pull it out and cool it completely on a cooling rack before serving.
What to serve with apple pie?
If you're looking for some of the best apple pie toppings, we got you covered. Here are a few of our favorites:
Ice cream- You can go with whatever ice cream your heart desires. I usually like to go with the Talenti vanilla bean ice cream ofr the Tillamook sweet cream ice cream. They are seriously the best
Fresh whipped cream– I love making homemade whipped cream when I make pies. It is a crowb favorite.
Creme fraiche- A little dollop of creme fraiche on your apple pie will make you feel fancy and will add some creaminess to this delicious pie.
Salted caramel drizzle- This one is also one of my favorites. Caramel and apple pie are a match made in heaven.
Cheddar– Ok hear me out, I know this one is a bit weird but It's been something I've seen people do many times and absolutely love. So if you're feeling a little adventurous, add some extra sharp cheddar in there.
Can I make apple pie in Advance?
Yes! That's one of my favorite things about this apple pie recipe. I completely understand that you might need your oven for other things on Thanksgiving pie and that's why you can totally make this apple pie a day or two in advance, wrap it tightly with plastic wrap and place it in the fridge.
Can I freeze apple pie ?
You sure can! Wrap it tightly with plastic wrap then wrap again with aluminum foil and place it in the freezer. It will last for about for up to 1 month.
When you're ready to eat it, pull it out of the freezer and let it thaw at room temperature then reheat it in the oven at 350 for 15-30 minutes depending on how warm you like your apple pie slices.
Apple pie tips for the best results
Here are some tips that will help you make the best apple pie ever!
Make sure that your apple slices are cut thinly and are all around the same thickness. You want all of them to bake evenly and have the same texture.
When making the streusel, make sure the butter is very cold so that the mixture doesn't turn mushy. I often like to make it as soon as I place the pie in the oven and leave it in the fridge when the pie is ready to be topped. This way, it stays cold at all times.
If the crust starts to darken too quickly use either a pie crust shield or a piece of aluminum foil to cover it while the center is still baking. No burnt crust here!
Sour cream apple pie with crumb topping
If you tried this mug chocolate chip cookie recipe and loved it please leave us a rating by clicking on the 5 stars under the title and description.
Dutch apple pie aka sour cream apple pie with streusel
Dutch apple aka sour cream apple pie with streusel
Ingredients
1

recipe

for pie dough for a 9 inch single crust pie

blind baked
Sour cream filling
For the streusel
1

cup

flour

¼

teaspoon

cinnamon

1

stick

butter

very cold

¼

cup

brown sugar

¼

cup

granulated sugar
Instructions
Prepare the crust
First start by making your pie crust. Press your pie crust in a deep 9 inch pie pan, making sure the pie dough is very cold cover it with parchment paper and place your pie weights or dry beans on top then bake in a 425F preheated oven for 15 minutes. Remove the pie weights and the parchment paper and bake for another 10 minutes or until the crust is lightly golden. Let your pie crust cool down.
Prepare the dutch apple pie filling
Preheating oven to 350F, then in a large bowl add in the sugar, flour, salt, sour cream ,egg, vanilla, and cinnamon and whisk until fully incorporated. Add in the apples and stir until they are fully coated. Pour the mixture into the blind baked and cooled pie crust and place in the oven for 40 minutes.
Make the streusel topping
While the apple pie is baking in the oven, make the streusel by combining the flour, butter, brown sugar, and granulated sugar in a large bowl. Using pastry cutter or a work, mix everything together until the mixture is crumbly.

After baking the apple pie for the first 30 minutes, pull it out and top it with the streusel. Return the apple pie to the oven and bake for another 25-30 minutes. Make sure to cover the edges of the apple pie with a pie crust shield any time you notice it getting too dark.

Cool the pie on a cooling rack completely before serving.
Notes
To get the perfect slices of pie, let your pie chill in the fridge overnight. Once you'r ready to slice into it, wipe your knife with a wet towel, slice then wipe again before you cut into the pie again. 
Nutrition
Calories:
492
Calories
Carbohydrates:
65
g
Protein:
5
g
Fat:
24
g
Saturated Fat:
8
g
Cholesterol:
38
mg
Sodium:
307
mg
Potassium:
203
mg
Fiber:
3
g
Sugar:
36
g
Vitamin A:
767
IU
Vitamin C:
4
mg
Calcium:
59
mg
Iron:
2
mg
Thank you so much for making it all the way down here
If you tried this awesome game day air fryer recipe and loved it as much as we did, make sure to leave a comment down below to let us know how your keto mousse turned out. In the mean time don't forget to follow us on Instagram.


SHOP THIS RECIPE
This post may contain affiliate posts, meaning that at no cost to you I will get a small percentage of every purchase you make!
If you enjoyed this Sour cream apple pie with crumb topping make sure to pin it for later.