These Pumpkin Chocolate Chip Muffins are the best you've ever had! They are perfectly moist and so chocolatey, you won't resist! They are extremely easy to make, throw a couple of ingredients together and infuse your whole house with the warm and spicy smell of fall!
SIGN UP TO OUR MAILING LIST GET A FREE WEEKLY MEAL PLANNER AND RECIPE CARD!
The more I post pumpkin recipes the more I see this huge divide between the lovers and the haters… My mission here is to convert the pumpkin haters into pumpkin lovers because everyone needs to experience a delicious, yummy, "can't get enough of this" pumpkin baked good!
In this little lovers Vs. haters, we have Kyle which absolutely loves anything pumpkin and then we have my sister, Manel. She absolutely hates pumpkin… With a passion even. Anytime she sees me pull out the pumpkin cans, she lets out a huge "aww man… not again!!"
It's actually pretty funny, I am not gonna lie sometimes I make pumpkin baked goods just to mess with her. I mean I love them don't get me wrong but her reactions are priceless!
But when it came to these pumpkin muffins, I am proud to say that she devoured them without thinking about it twice!
So now I can proudly add this recipe to the list of pumpkin baked goods that any non-pumpkin lover will actually love!!! If you're wondering which one the other one is, well it's this one!! These small batch pumpkin donuts tasted like heaven!
Where did this Chocolate Chip Pumpkin Muffin idea come from?
I'm glad you asked!
It is not anything crazy, but I still like telling stories so here it is 🙂
A couple of week ago We went to Smiths (the grocery store) and Kyle found pumpkin muffins on sale so he had to get them of course. When we went home I took a couple of bites off of his muffins and I fell in love.
It was moist and delicious and so so so chocolatey!! I still love the Bouchon pumpkin muffins a whole lot more, just because they're from Bouchon! Quality galore… Just thinking about them makes me smile and drool all at the same time!! But those will be for another day!
But these Smith's muffins were delicious, the only thing that would make them taste better is if I made them myself!
So there you have it, I took those Smith's muffins as a little challenge to myself. I had to recreate the same moistness and deliciousness but by making them at home.
Now, we have something even better that we can all recreate at home 🙂
Enjoy and let me know what you think of this chocolate chip pumpkin muffin recipe down in the comments!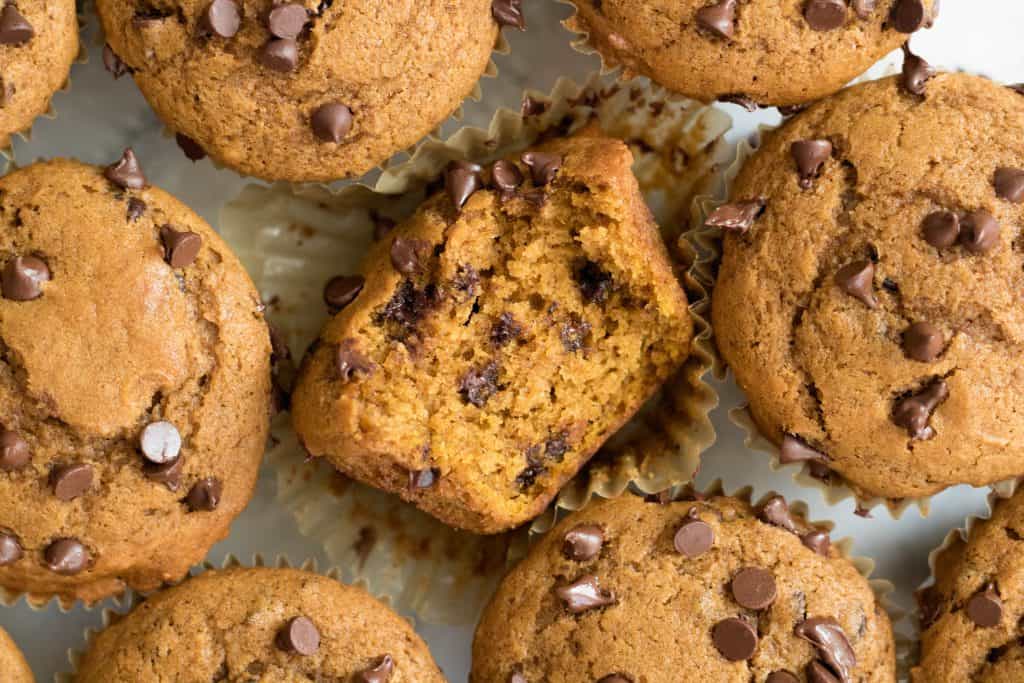 What you will need to make this Pumpkin Chocolate chip muffins recipe.
Flour
Baking powder
Baking soda
Salt
Granulated white sugar
Brown sugar
Eggs
Milk
Can I omit the chocolate chips?
Absolutely, the chocolate chips could definitely be omitted for this recipe. This will allow you to cut down on some of the extra calories as well.
I personally love the addition of the semi sweet chocolate chips so I always use them!
Another option here is to reduce the chocolate chips to ½ a cup or even ⅓ cup if you don't want too much chocolate. Let me know what you think in the comment section below if you changed the amount of chocolate used and how the recipe turned out!
How to make these Chocolate Chip pumpkin Muffins
These pumpkin muffins are fairly easy! Mix a a handful of wet ingredients, then add them to the dry ones and bake!
Here is a little more detail on making these muffins though!
Step one, preheat the oven to 350 degrees, then line your muffin pan with paper liners and set aside.
Two, whisk the dry ingredients together and set aside.
Three, Mix the wet ingredients together until fully incorporated.
Four, make a well in the middle of your dry ingredients and pour the wet mixture over the dry and mix just until incorporated.
Five, add in the chocolate chips and lightly fold in one last time.
Six, divide the mixture into the 12 prepared muffins cups and bake in the oven for 25 minutes.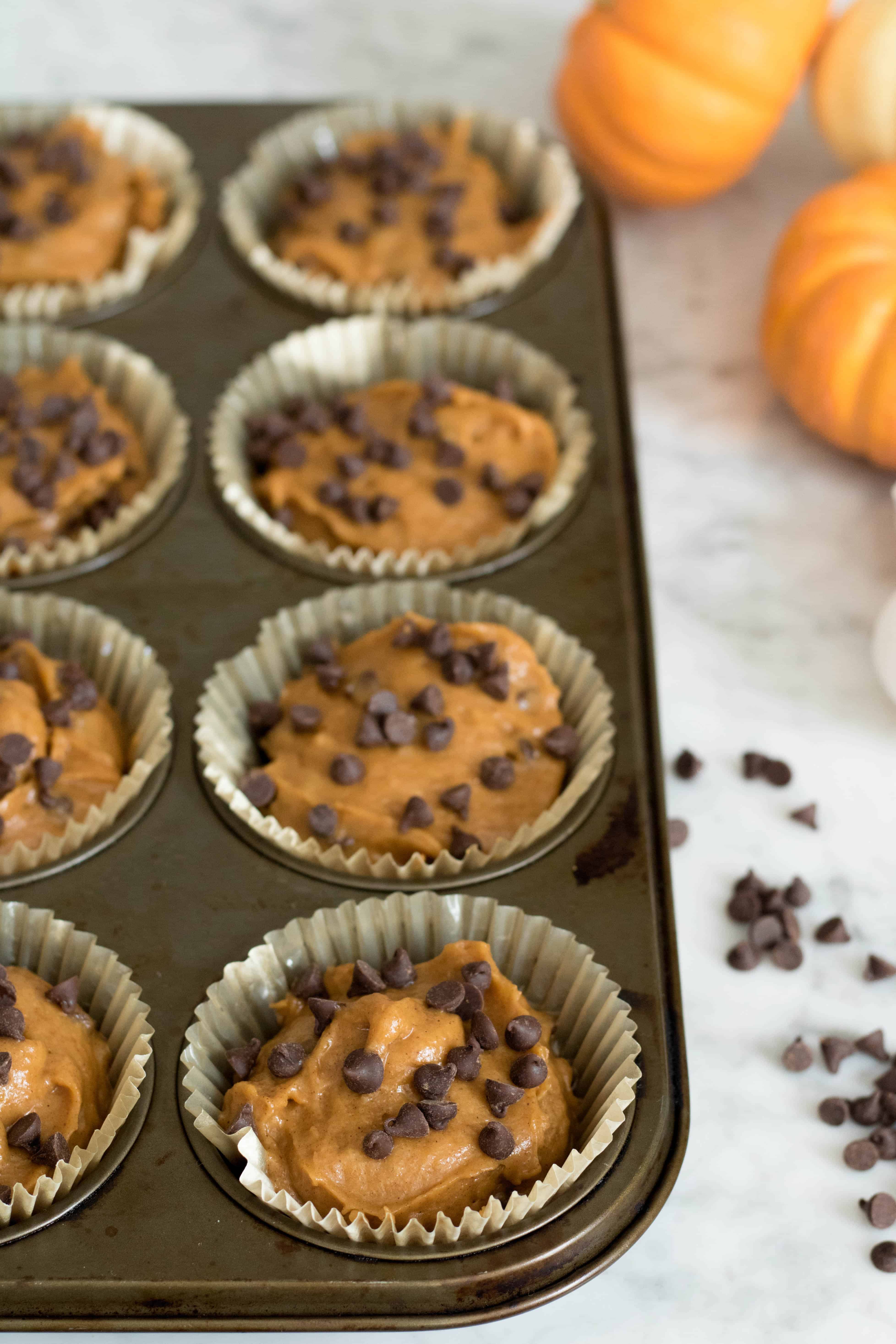 Seven, now we wait… Let the muffins cool for 10-15 minutes then transfer them to cool some more. Enjoy right away or store them in an airtight container!
Pumpkin Chocolate Chip Muffins Recipe
Pumpkin Chocolate Chip muffins
These pumpkin chocolate chip muffins are moist and packed with mini chocolate chips! They are easy to make and will leave your house smelling like a bakery!
Ingredients
1 ½

cup

flour

1

teaspoon

baking powder

½

teaspoon

baking soda

¾

teaspoon

salt

1

tablespoon

pumpkin pie spice

¾

cup

granulated sugar

¼cup + 2

tablespoon

brown sugar

1

stick butter melted

1

cup

pureed pumpkin

2

large eggs

¼

cup

milk

room temperature

¾

cup

mini semi sweet chocolate chips

+ more for topping
Instructions
Start by preheating the oven to 350F degrees, then line a 12-cup muffin pan with paper liners and set aside.

In a large bowl, whisk the dry ingredients together. Flour, baking powder, baking soda, salt, and the pumpkin pie spice and set aside.

In a medium bowl, whisk together the sugars, the melted butter, the canned pumpkin puree, the eggs, and the milk until everything in incorporated together.

Make a well in the dry flour mixture then pour the wet mixture in the center. Fold the mixture with a rubber spatula just until combined.

Add in the chocolate chips and fold one last time without over stirring.

Divide the mixture into the 12 prepared muffins cups and bake in the oven for 25 minutes or until a toothpick inserted in the center comes out clean.

Let the . muffins cool down in the muffin tin for 10-15 minutes then transfer them to a wire rack to cool a little more.

Eat them right away or store them in an airtight container.
Shop this recipe
THIS ARTICLE MAY CONTAIN SOME AFFILIATE LINKS, MEANING, AT NO ADDITIONAL COST TO YOU, I WILL EARN A COMMISSION IF YOU CLICK THROUGH AND MAKE A PURCHASE

If you liked this chocolate chip pumpkin muffin recipe make sure to pin it for later!