These Canadian butter tarts are one of the most delicious mini desserts ever! They are made with a buttery brown sugar custard as the main component but can also have other mix-ins like raisins, pecan pieces, chocolate chips, or whatever else your heart desires.
Since you are here, make sure to check out these mini pecan pies, this pecan pie bars recipe, as well as these twice baked pecan pie sweet potatoes for your Thanksgiving holidays.
This post is sponsored by my friends over at Imperial Sugar. All thoughts and opinions are 100% my own. Thank you for supporting the brands that make Lifestyle of a foodie possible.
This is the best Canadian butter tarts ever!
Butter tarts are a beloved quintessential Canadian dessert that makes an appearance every year around Thanksgiving. It is one of those pastries that was common in pioneer Canadian cooking. it is made by adding a sweet butter filling into tart shells and baking them just until the top is set and has a little extra body to it and the middle is semi-solid. Now depending on preference
Are these the same as the American pecan pie?
They might look similar but they are actually pretty different. There is a great debate about these two delicious desserts. They are both delicate, indulgent, and rich treats but have some differences in the ingredients used in the filling and the overall flavor profiles.
Canadian butter tarts feature a gooey, custard-like filling made from butter, brown sugar, eggs, maple syrup, and corn syrup. It can use different mix-ins like nuts or even raisins layered at the bottom of a flaky crust. It yields little tarts with a gooey filling and a delicious While the traditional American pecan pies are made with a thick pecan-packed filling that has a light corn syrup, sugar, and egg mixture. That pecan pie filling yields a more dense dessert that is absolutely out of this world.
Why do you need to make this recipe?
These butter tarts will be a delicious addition to your Thanksgiving dessert lineup.
They are easy to make and yield deliciously sweet, gooey, and custardy-filled mini pies.
These butter tarts are perfect for crowds, all you have to do is double or triple the recipe.
They are so kid-friendly! Who doesn't love little pies that can fit in their little hands, well with this recipe you'll be able to
Ingredients for these butter tarts recipe
Here are the ingredients you will need to make this iconic dessert. Make sure to scroll down to the recipe card for the full detailed ingredient measurements.
Melted butter – I used melted salted butter to balance out the sweetness of these tarts but feel free to go with unsalted butter and add a little extra salt in the recipe.
Imperial Sugar Brown sugar
Maple syrup – I added a little maple syrup to enhance the flavor of these and elevate your tart game!
Corn syrup
Vanilla extract
Vinegar- You can also use a little lemon juice to cut through the sweetness of these ingredients.
Salt- Adding a little salt will help balance out the sweetness of this dessert.
Eggs- Make sure your eggs are at room temperature.
Flour- We will use a little all-purpose flour to give the filling of these mini tarts a little more hold.
Raisins or chopped pecans – You can make and enjoy these butter tarts as is or add some golden raisins, or chipped nuts at the bottom of your pastry dough before pouring in the filling. This is the easiest way to elevate your mini tarts.
Pie dough- You can use store-bought pie crusts, make your own or use those premade flaky pastry shells for this tart recipe.
Why Imperial Sugar?
This recipe uses Imperial Sugar brown sugar in the batter because it delivers an amazing caramel-like flavor and the perfect dissolvability.
How to make the best Canadian butter tarts recipe.
This is how you can make the best Canadian butter tarts the easy way! Make sure to scroll down to the recipe card for the full detailed instructions!
Roll the two sheets of pie dough onto a clean work surface and cut out 12 4 inch circles using a round cookie cutter or a large glass.
Spray the muffin pan with nonstick spray and add a thin strip of parchment paper right in the center to make pulling the mini pies easier once they are baked.
Gently press the little pie crusts into the muffin cups and place in the fridge for later
In a large bowl whisk the brown sugar, maple syrup, corn syrup, vinegar, vanilla extract, and flour.
Add either raisins or pecans to the bottom of your pie crusts or leave as is and pour in the tart filling. Make sure to divide that into the 12 muffin tin cavities.
Bake in the preheated oven until puffy and golden brown then allow them to cool down before pulling them out. and allowing your gooey tarts to cool some more on a wire rack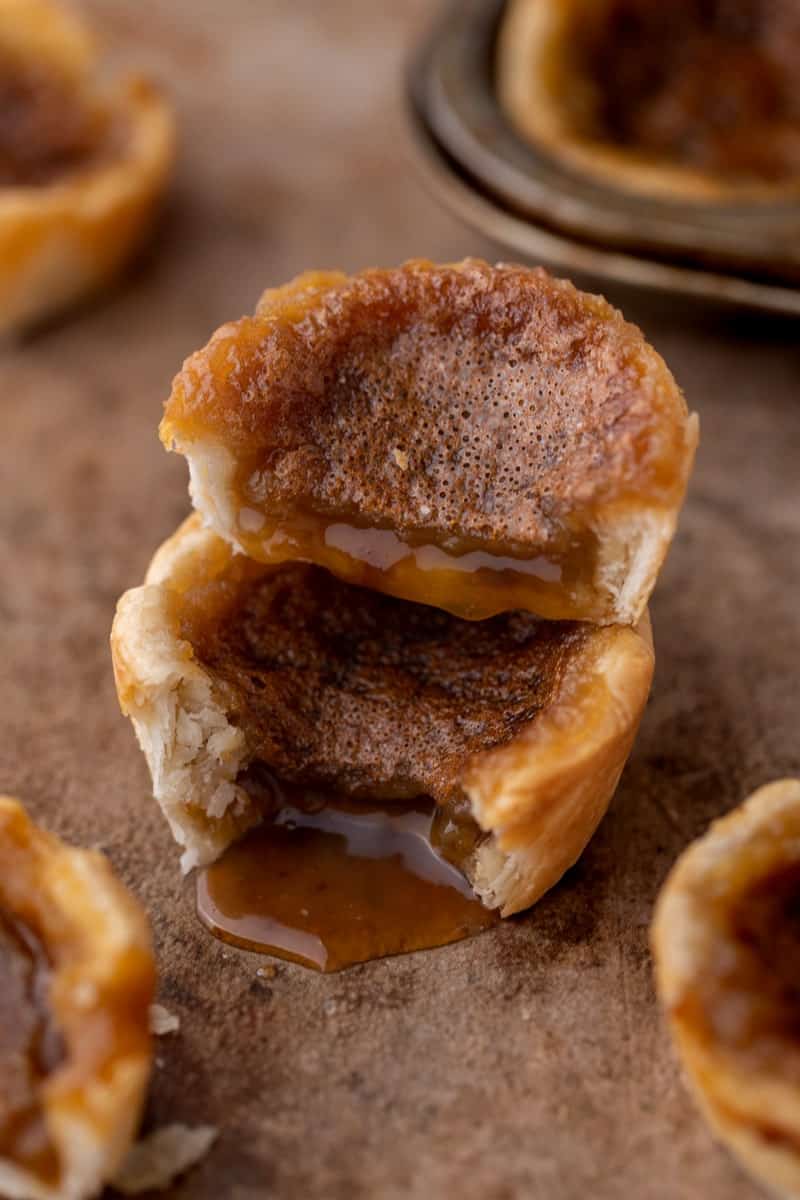 Frequently Asked Questions – FAQ
How to store butter tarts?
You can store these tarts in an airtight container for 4-5 days. You can enjoy this Canadian recipe both cold or warmed up in the microwave whenever you're ready for it again!
Should butter tarts be served warm or cold?
This will depend on personal preference. I personally enjoy mine colder but you can heat the tarts back up in the microwave or in a 350F oven for 5-10 minutes.
Should the filling of these butter tarts be firm or runny?
This is an ongoing huge debate but again, it's one of those things that completely depends on your preference. This recipe is somewhat in the middle but is you want your end result to be a little more firm add an extra 1 & ½ tablespoon of flour in the butter tart batter.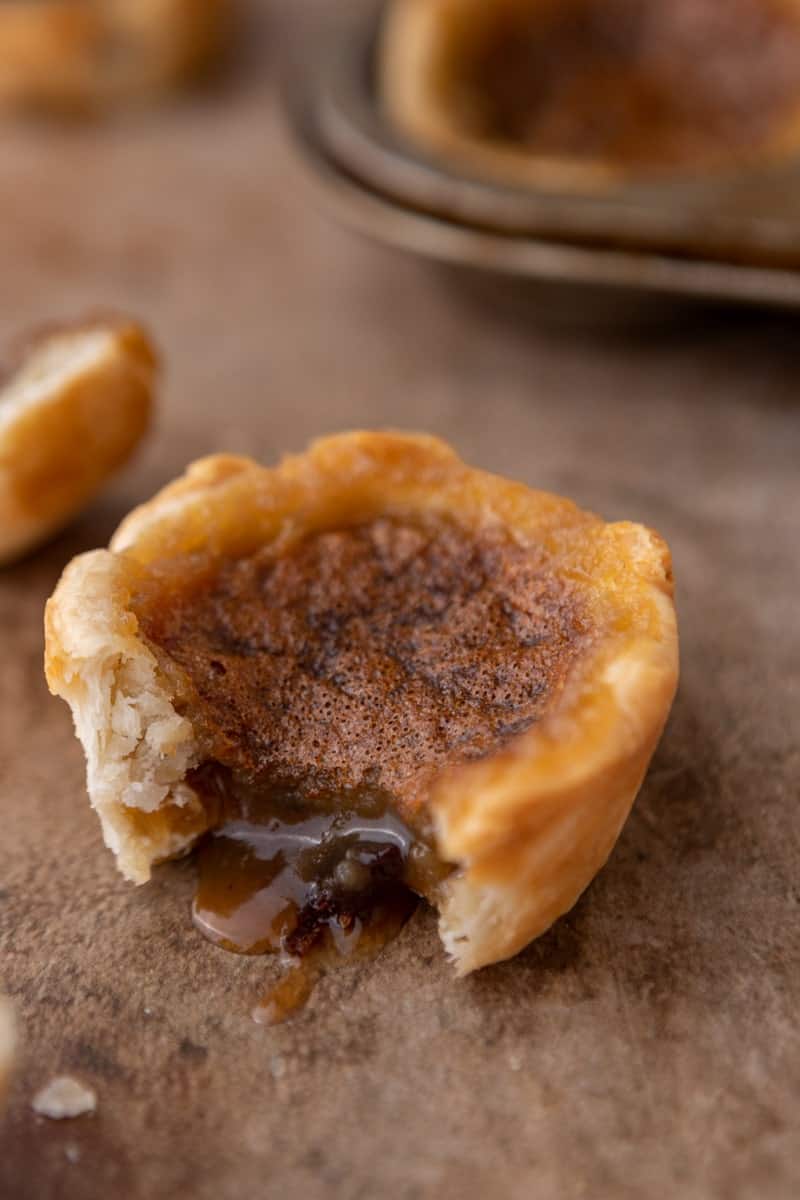 Old fashioned butter tarts
Canadian butter tarts
These delicious Canadian butter tarts are a delicious treat to add to your Thanksgiving lineup!
Ingredients
1

package of premade pie crust dough

containing 2 sheets of pie dough

¼

cup

butter

salted, melted

1

cup

Imperial Sugar brown sugar

packed

1

tablespoon

flour

2

large eggs

1

teaspoon

vanilla extract

1

teaspoon

white vinegar

¼

cup

corn syrup

2

tablespoons

maple syrup

for added flavor

⅓

cup

raisins or chopped pecans

optional
Instructions
Preheat your oven to 425F. Place a rack in the middle of the oven.

Unroll the premade pie crust sheets and use a 4-inch round cookie cutter or a glass that's slightly larger than the muffin tin holes to cut out circles of dough. You should get 12 circles in total. Feel free to re-roll the scraps to be able to cut out more circles.

1 package of premade pie crust dough

Gently press each dough circle into the cups of a greased muffin tin that's lined with one strip of parchment paper, forming little tart shells. Make sure the dough comes up the sides of each cup. Put aside in the fridge.

In a mixing bowl, whisk together the melted butter and brown sugar, salt, vanilla extract, corn syrup, white vinegar, maple syrup, and eggs until well combined.

¼ cup butter,

1 cup Imperial Sugar brown sugar,

1 tablespoon flour,

2 large eggs,

1 teaspoon vanilla extract,

1 teaspoon white vinegar,

¼ cup corn syrup,

2 tablespoons maple syrup

If you'd like to add raisins or chopped pecans for extra flavor, distribute them evenly among the tart shells. Carefully pour the butter tart filling into each tart shell, filling them about ¾ full. Be careful not to overfill, as the filling will expand while baking.

⅓ cup raisins or chopped pecans

Place the muffin tin in the preheated oven and bake for about 13-15 minutes, or until the pastry is golden and the filling is set. The tarts should have a slight jiggle in the center when you gently shake the pan.

Remove the tarts from the oven and allow them to cool in the muffin tin for a few minutes. Then, use a knife to gently loosen the edges of the tarts if needed, and remove them from the tin using the little parchment paper pieces.

Let the butter tarts cool completely on a wire rack before serving.
Nutrition
Calories:
276
Calories
Carbohydrates:
40
g
Protein:
3
g
Fat:
12
g
Saturated Fat:
5
g
Polyunsaturated Fat:
1
g
Monounsaturated Fat:
5
g
Trans Fat:
0.2
g
Cholesterol:
37
mg
Sodium:
167
mg
Potassium:
72
mg
Fiber:
1
g
Sugar:
25
g
Vitamin A:
158
IU
Calcium:
31
mg
Iron:
1
mg
Shop this recipe
This post may contain affiliate links, meaning that at no cost to you I will get a small percentage of every purchase you make!
If you enjoyed this Canadian butter tarts recipe make sure to pin it for later!