Mango panna cotta is an easy yet classy dessert that you can make during the hot summer months. It is an easy make-ahead dessert that is served with a sweet and sour mango coulis on top. The perfect dessert for entertaining guests if you ask me!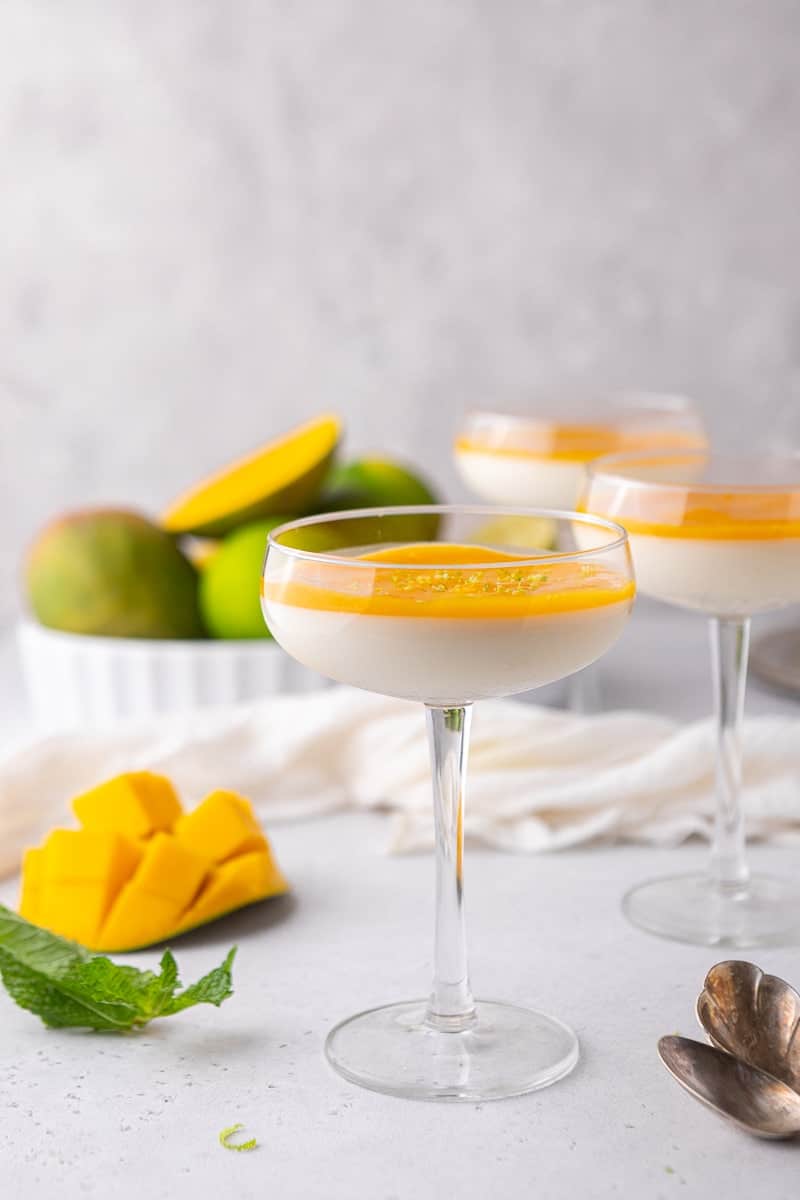 This mango panna cotta is one of those desserts that I often find myself craving because of how simple it is to make and how delicious the final product is. With only a handful of ingredients, you will have yourself a creamy delicious custard topped with a tropical fruit puree. Definitely a win in my books!
The best part is that this is a minimum effort dessert that tastes out of this world!
This is the best mango panna cotta recipe ever!
The base is a vanilla bean panna cotta but don't worry if you don't have vanilla beans or vanilla bean paste, you can make it with vanilla extract as well. The vanilla beans add a fun little twist to this dessert, plus you'll get a tiny bit of crunch when you have a bite that's full of then which makes it so fun as pet the words of Kyle!
It is then topped with just the right amount of mango coulis to take your taste buds on a tropical vacation. Seriously, if you have the ingredients for this I strongly suggest trying it!
What is Panna Cotta?
Panna cotta is a simple Italian dessert that's made with only a handful of ingredients, cream, sugar, and gelatin. The name in itself means "cooked cream" so pretty simple for something so tasty!
The base of this custardy dessert is really simple and with a few tweaks you can take it up a notch by adding vanilla, coffee, and many many other things.
Why you need to make this recipe!
It's so creamy!
This dessert doesn't require a lot of ingredients at all.
It is versatile and can be topped with any fruit coulis you'd like
Ingredients for this homemade mango panna cotta
Here are the ingredients you will need to make this mango panna cotta. Make sure to scroll down to the recipe card for the full detailed ingredient measurements.
Cream– The cream is the base of this make ahead recipe.
Sugar– The sugar will be used to sweeten the Panna Cotta as wel as the mango coulis if the mango isn't ripe enough.
Milk– You can use whole milk, 2% or even non-fat milk to rehydrate the gelating.
Gelatin– You will need fresh gelating tha tyou will rehydrate with the milk.
Vanilla beans or vanilla bean paste or vanilla extract– I like to use vanilla bean paste for my Panna Cotta because it makes the whole thing look even more elegant but you can use vanilla extract as well.
Mango– You can use either fresh mango pieces or thawed frozen mago to make the mango coulis.
Lime– The lime juice will elevate the flavor of the mango in the coulis.
How to work with gelatin?
Gelatin can be a little tricky if it's your first time working with it. It must be softened or rehydrated in cold liquid before mixing it with hot liquid otherwise it will clump up.
So what you need to do is sprinkling on top of a cold liquid, in this case, we are using cold milk and stir it immediately then let it bloom or rehydrate. Once the rehydration time is up you will add it into the hot liquid and whisk until it dissolves fully.
How to make mango Panna Cotta at home?
This is how you can make mango Panna Cotta. Make sure to scroll down to the recipe card for the full detailed instructions!
Pour the milk into a small bowl, sprinkle the gelatin on top and mix quickly then let it bloom for 10 minutes.
Heat up the heavy cream and sugar over medium heat until hot and steamy but do not bring to a boil.
Stir in the vanilla and the hydrated gelatin and whisk until fully dissolved.
Divide the mixture into 4 serving glasses and let them cool down to room temperature.
Transfer to the fridge and let them chill for at least 4 hours to set fully.
Make the mango coulis
Blend the mango lime juice and sugar if needed in a blender until smooth then top the set panna cotta with the fresh coulis and serve.
SIGN UP TO OUR MAILING LIST GET A FREE WEEKLY MEAL PLANNER AND RECIPE CARD!
More recipes you'll love!
Frequently asked questions – FAQ
Is this a make-ahead dessert?
Absolutely! Panna Cotta is an awesome dessert when you want to have something ready for later. I think it's an awesome dessert to make when you're entertaining.
You can prepare your panna cotta up to three days in advance. Just keep the Panna Cotta cups in the fridge until you're ready to serve them.
Once ready to serve pull the Panna Cotta cups out, top with the mangue puree, and serve.
How long does Panna Cotta take to set?
Because Panna Cotta is a gelatin-based dessert, make sure to let it chill in the fridge for at least 4 hours to allow it to be fully set.
Also, know that if the mango Panna Cotta cups are left out in the heat for too long the gelatin might loosen up a bit or even melt if it's really hot. So pull it out of the fridge when you're ready to serve it depending on the temperature of your house/room.
What is a good vegetarian substitute for the gelatine in this mango Panna Cotta?
You can use agar agar as a substitute for the gelatin in your Panna Cotta recipe. Make sure to check out this "The Kitchn reference guide" for alternatives to animal gelatin.
How to unmold Panna Cotta?
This mango Panna Cotta is supposed to be served in glasses to get that distinctive mango Pana Cotta layering but if you want to unmold it here is how you can do it.
First, run a thin knife or rubber spatula around the edges of the glass, then dip the ramequins in very hot water for 5-10 seconds. Make sure not to let the water get into to ramequins!
Invert the ramequin onto your serving plate and gently shake/ tap the ramequin to unmold.
Top with the mango coulis and enjoy!
Mango panna cotta recipe
If you made these mango Panna Cotta cups and enjoyed them, don't forget to leave a 5-star review by clicking on the 5 stars under the title and description. It would help me a ton
Rich and creamy mango Panna Cotta
This reach and creamy mango panna cotta is easy to make but looks extremely impressive. It is topped with a mango coulis to take your tastebuds on a tropical vacation.
Ingredients
Mango sauce
1 & 1/2

cup

mango chunks

2

tbsp

granulated sugar

Use only if the mango isn't ripe/sweet enough

2

tbsp

lime juice
Instructions
Pour the milk into a small bowl, sprinkle the powdered gelatin over it, and mix well. Set aside to let the gelatin bloom for a 10 minutes.

In a large saucepan over medium heat, whisk the heavy cream and sugar together until hot and steamy, stir frequently, and don't let the mixture boil otherwise the gelatin will lose it's ability to set.

Remove the saucepan from the heat and stir in the vanilla bean paste and the hydrated gelatin, whisk until fully dissolved.

Divide the mixture into 4 cups or ramequins and let them cool down to room temperature before chilling in the fridge for at least 4 hours.
Make the mango coulis
Blend the mango, lime juice, and sugar (if needed) together and pour it over the set panna cotta and enjoy!
Notes
Why can't I bring my cream to a boil?
Overheating the gelatin will reduce its setting strength and since our Panna Cotta is mainly set because of the gelatin we want to make sure not to mess with that! 
Make ahead directions
The Panna cotta can be made ahead of time and stored in the fridge for up to 3 days. 
Make sure to cover the cups or ramequins with plastic wrap to keep them fresh for whenever you're ready to serve them! 
Nutrition
Calories:
501
kcal
Carbohydrates:
24
g
Protein:
5
g
Fat:
44
g
Saturated Fat:
27
g
Cholesterol:
163
mg
Sodium:
56
mg
Potassium:
226
mg
Fiber:
1
g
Sugar:
19
g
Vitamin A:
2454
IU
Vitamin C:
25
mg
Calcium:
105
mg
Iron:
1
mg
Thank you for making it all the way down here 🙂
If you enjoyed this recipe don't forget to let us know in the comments below! In the meantime, don't forget to follow me on Instagram!

Shop this recipe
This post may contain affiliate posts, meaning that at no cost to you I will get a small percentage of every purchase you make!
If you enjoyed this mango Panna Cotta recipe make sure to pin it for later!