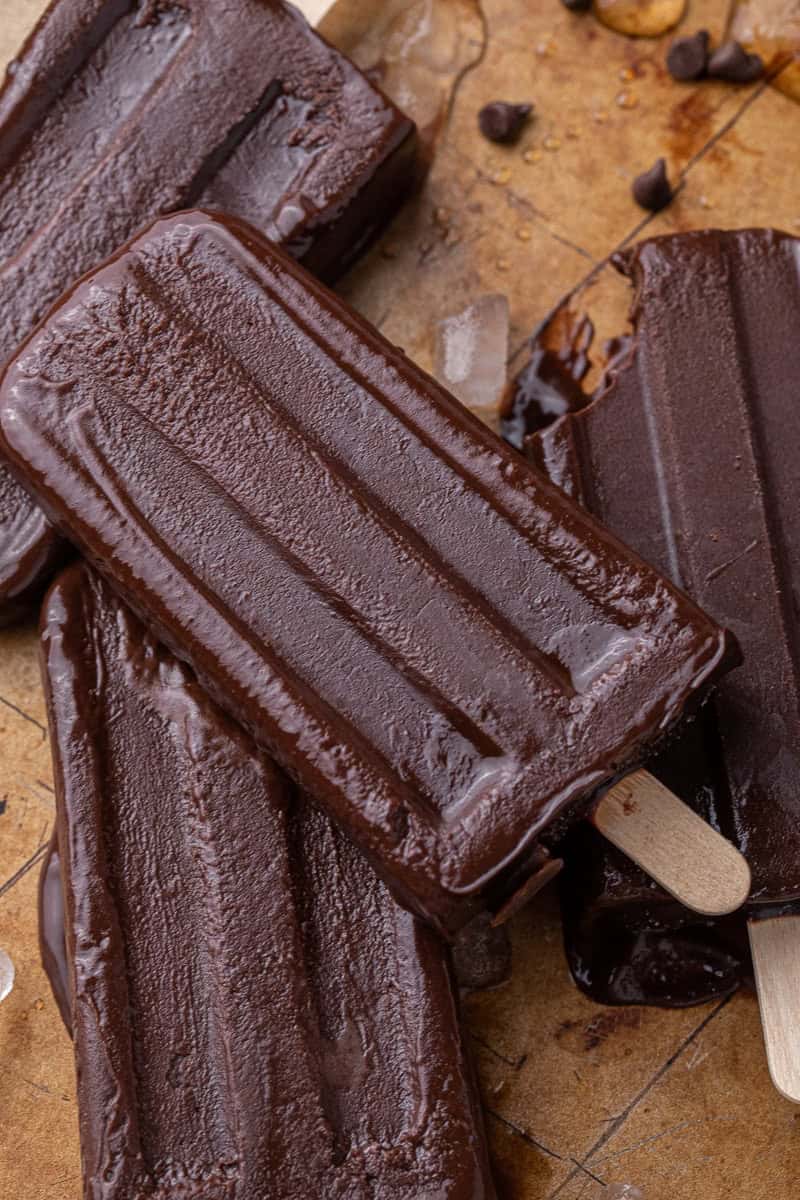 Today's recipe is something that you might associate with all the best things from your childhood. A mightily chocolate popsicle! A frozen chocolate dessert that I recreated to allow you to recreate something the whole family will absolutely adore!
This classic treat comes together super quickly. To be honest, the hardest part is waiting for them to set.
This is the best homemade fudgesicles recipe!
If you ever craved these delicious chocolate frozen treats but didn't find them in stores or maybe wanted to make them a bit healthier and know exactly what they contain then I got you.
It is a good choice for those hot summer days or right after you've gotten some dental done. I mean, I'll take any excuse to enjoy some frozen creamy fudgesicles! Especially when they do not require too much effort.
Why do you need to make this recipe?
It is a super simple recipe.
These homemade fudge pops are made with only a handful of ingredients.
Each one is a lot better for you than the store-bought version, especially since you'll know everything that it contains!
This recipe can easily be made vegan if needed.
You can also pick your preferred sizes of popsicle molds, making them bigger or smaller to fit your needs.
You will know exactly what is in every one of your popsicles as opposed to the store-bought ones.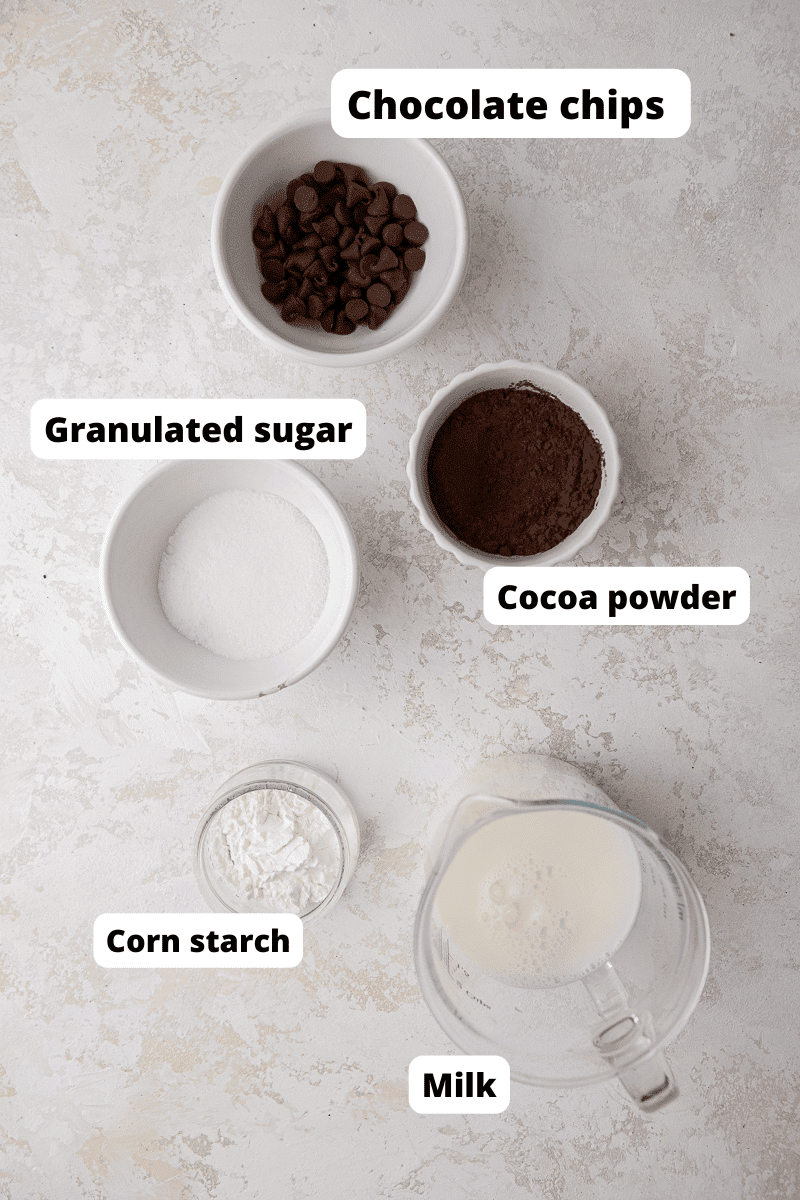 Basic ingredients for this homemade fudgesicle recipe
Here are the ingredients you will need to make this recipe. Make sure to scroll down to the recipe card for the full detailed ingredient measurements.
Cocoa powder– Use regular high-quality cocoa powder, not dark cocoa.
Granulated sugar- The granulated sugar will sweeten our treat a little more.
Corn starch- Corn starch is used to thicken the mixture before freezing it.
Milk- Use whichever kind of cold milk you have, just know that the more fat it has the creamier the fudgesicles will be. You can also use heavy cream for something even more creamy!
Vanilla extract – This will add a little extra depth of flavor.
Semi-sweet chocolate chips – Use high-quality semi-sweet chocolate chips or even milk chocolate chips for these chocolatey fudgesicles.
Ingredient substitution
Corn starch– tapioca starch
Semi-sweet chocolate chips– white chocolate chips
Granulated sugar– brown sugar
Milk– Heavy cream, whole milk, 2% milk, nonfat milk
How to make fudge popsicles
This is how you can make these chocolate popsicles at home. Make sure to scroll down to the recipe card for the full detailed instructions!
in a large pot or saucepan, whisk the milk, and the sugar, corn starch, and cocoa powder mixture over medium heat until thickened.
Whisk in the chocolate chips until melted
Remove from the heat and add in the vanilla extract.
Pour the mixture into the popsicle molds, and top with the wooden popsicle sticks.
Freeze the chocolate mixture-filled molds for 4 hours or overnight before enjoying.
To get the popsicles out of the mold, dip the mold in warm water for a few seconds before pulling out the chocolate fudge pop and enjoying it!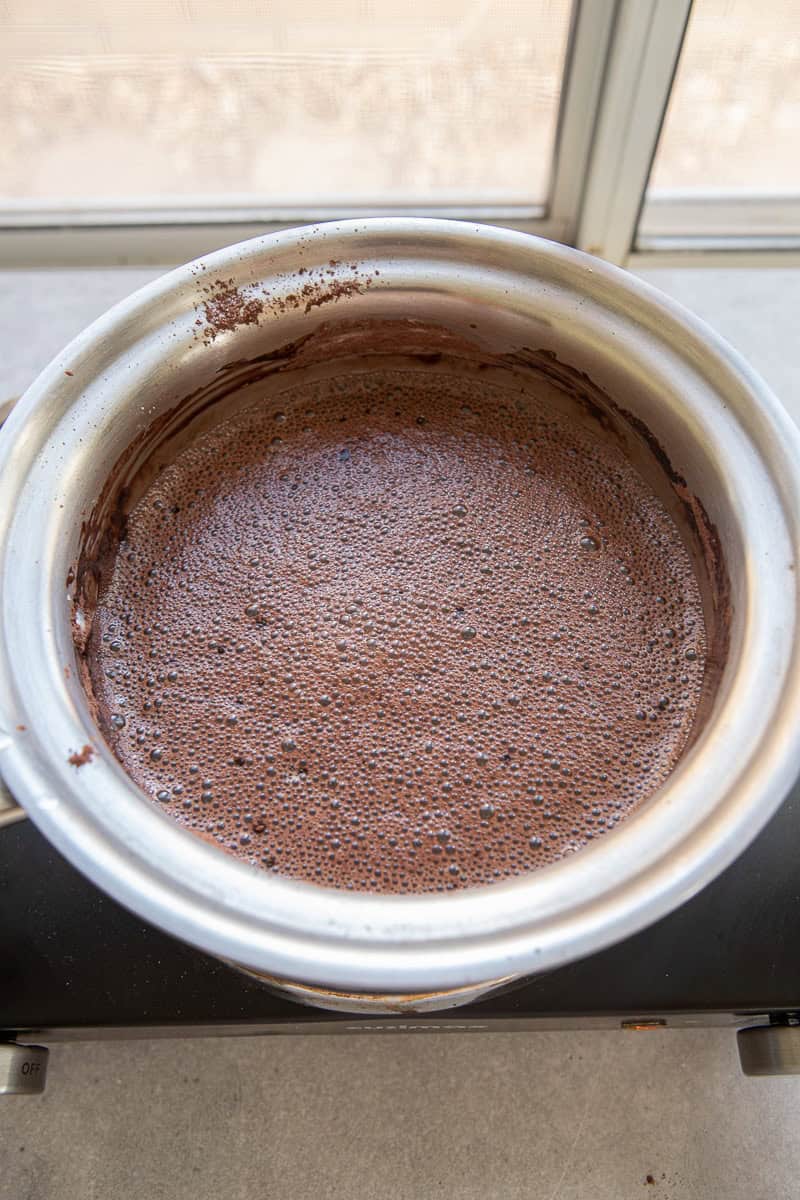 How to fill the popsicle molds?
Since this mixture is a little bit on the thicker side, you can use a measuring cup with a pour spout, a piping bag, or a ziplock bag with the tip cut off to fill up the molds.
You can also place the molds on top of a sheet pan before freezing to ensure they don't spill when you are transporting them.
Frequently asked questions – FAQ
How to store these chocolate popsicles?
They can be stored in their mold for up to a week. After that, I strongly recommend pulling them out of their mol wrapping them in wax paper and freezing them in an air-tight container. They will last for up to 2 months this way.
Can I make dairy-free fudgesicles with this recipe?
Yes, you can, use almond milk, unsweetened coconut milk soy milk, coconut cream or oat milk, and dairy-free chocolate.
What kind of popsicle mold should I use?
I used plastic molds but silicone molds will also work for this recipe. To make cool treats for your little ones, you can use different shape molds.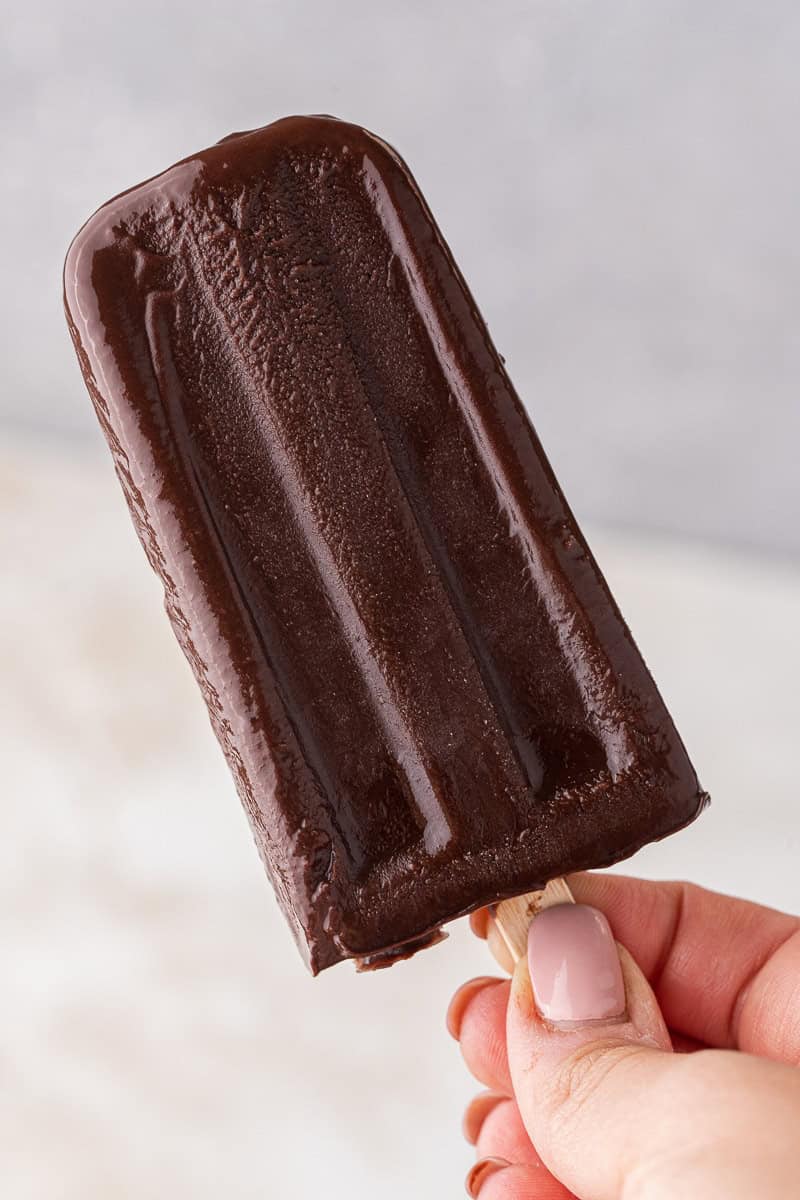 Homemade fudgesicles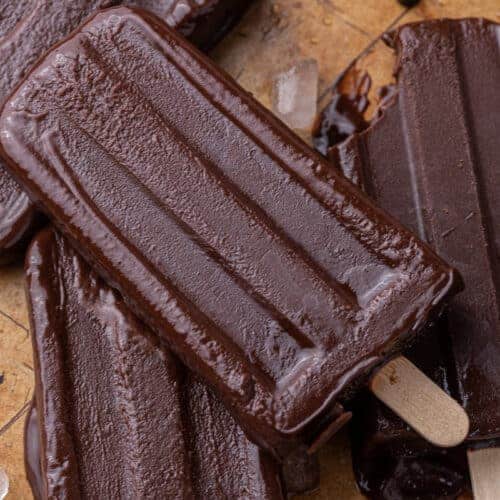 Homemade fudgesicle
This homemade fudgesicle is the perfect chocolate dessert to serve in the summertime.
Ingredients
¼

cup

cocoa powder

¼

cup

granulated sugar

1

tablespoon

cornstarch

¼

teaspoon

salt

1

cup

milk

¼

teaspoon

vanilla extract

¼

cup

semi-sweet chocolate chips
Instructions
In a small bowl, whisk the cocoa powder, granulated sugar, corn starch, and salt together.

Pour the dry ingredients into a medium saucepan, top it all with the milk, and cook on the stove on medium heat stirring constantly.

Once the mixture is thick, remove from the heat, add in the vanilla extract and the semi-sweet chocolate, and mix until the chocolate is fully melted and combined.

Let the mixture cool down fully before pouring it into a popsicle mold and freeze for 4 hours or overnight before enjoying.
Nutrition
Calories:
91
Calories
Carbohydrates:
21
g
Protein:
3
g
Fat:
1
g
Saturated Fat:
1
g
Polyunsaturated Fat:
0.03
g
Monounsaturated Fat:
0.3
g
Cholesterol:
2
mg
Sodium:
172
mg
Potassium:
186
mg
Fiber:
2
g
Sugar:
16
g
Vitamin A:
125
IU
Calcium:
88
mg
Iron:
1
mg

Shop this recipe
This post may contain affiliate links, meaning that at no cost to you I will get a small percentage of every purchase you make!
If you enjoyed this homemade fudgesicles recipe make sure to pin it for later!